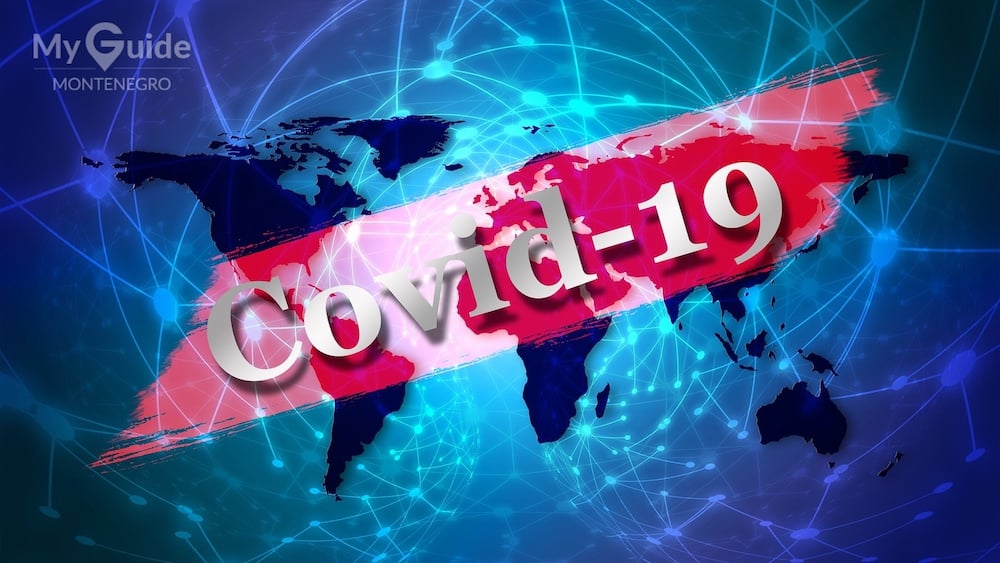 Coronavirus Updates in Montenegro
Press Releases
Covid-19 Measures and Prevention

As evidencing the very difficult situation with the covid-19 virus in the world, we wanted to inform you about all the actions taken by Montenegrin Government referring to local fellow citizens as well as travellers.

Updates on the situation in Montenegro


On March 17th in the evening, the first 2 cases of coronavirus in Montenegro have been registered. Now, November 28th, we have 11177 active cases while the total number since the beginning of the year is 34454. The number of cases recovered is 22796. Unfortunately, 481 persons passed away since the beginning of the year,​ some due to their previous health conditions, as covid-19 affected their state.
***
Montenegro
has been announced
the first covid-19 free country in Europe
, but because of mitigating the measure and opening the borders, the virus entered Montenegro again on June 15th. The case was imported from Bosnia & Herzegovina, as one person from Budva was travelling to this country. Other than this, a group of people travelled to a football match in Serbia and they imported the virus back to Montenegro, too.
* From June 30th, all EU citizens are allowed to enter Montenegro. Read more about the travelling to Montenegro during COVID-19
here
.
As the number of cases is growing rapidly, it is obligatory to wear face masks indoors and outdoors.
Detailed statistics you can find here.
Actual measures you can find here.
The number of active/recovered/died cases by municipalities:
| | | | |
| --- | --- | --- | --- |
| City | Active | Recovered | Died |
| Podgorica | 5005 | 8681 | 85 |
| Niksic | 845 | 3835 | 47 |
| Rozaje | 88 | 1058 | 30 |
| Bijelo Polje | 961 | 960 | 59 |
| Berane | 380 | 1423 | 39 |
| Budva | 536 | 736 | 11 |
| Bar | 630 | 718 | 39 |
| Kotor | 451 | 561 | 15 |
| Pljevlja | 293 | 839 | 25 |
| Cetinje | 360 | 596 | 16 |
| Herceg Novi | 461 | 486 | 16 |
| Tivat | 243 | 355 | 10 |
| Ulcinj | 207 | 726 | 32 |
| Gusinje | 5 | 40 | 4 |
| Andrijevica | 48 | 226 | 7 |
| Pluzine | 23 | 23 | 1 |
| Zabljak | 35 | 142 | 6 |
| Tuzi | 79 | 172 | 4 |
| Mojkovac | 207 | 79 | 8 |
| Danilovgrad | 160 | 475 | 2 |
| Petnjica | 28 | 53 | 1 |
| Kolasin | 81 | 122 | 4 |
| Plav | 42 | 144 | 11 |
| Savnik | 9 | 4 | 0 |
***
How it all went...
Measure by the Government
From March 16th, Montenegro was under lockdown. Measures and precautions were quite strict, to prevent spreading the virus. From April 22nd, curfew was mitigated, so it's now allow to be outside the house from 5 am to 11 pm including the weekends.​ From May 4th, clothes shops, cosmetic salons, dentist, taxis will start operating again by following the social distance and desinfection rules.​ From May 15th, cafes, restaurants and shopping centres are all opening again, by respecting strict measures and rules.


The Government of Montenegro and Ministry of Health have declared a new complement of temporary measures to secure the spreading of the new coronavirus.

The measures indicate:

FOREIGN VISITORS – ban of entry of foreign visitors, except ex-pats with permanent or temporary residence. Even when allowed to enter in specific cases, everyone will be first put into self-isolation for 14 days to prevent the possible existence of the virus.

MONTENEGRIN CITIZENS – if a person happened to be on the travel when the quarantine was announced, once returned to Montenegro, everyone will be put into self-isolation for 14 days with mandatory check-in to the Ministry of Health twice per day. The transport of these citizens is strictly under the Government's control in collaboration with embassies and consulates.

HOSPITALITY FACILITIES – all the cafes, hotels, discotheques, night clubs, restaurants, shopping centres, kids playrooms, fitness centres, casinos and betting houses will be closed until further notice.

GROCERIES AND PHARMACIES – groceries and pharmacies will stay open but will be limiting the number of customers that can be inside the shop at the same time. The mandatory distance between each person standing in line or shopping is 2 metres. From April 22nd, all the groceries and pharmacies will be operating up to 10 pm. ​

PETROL STATIONS – petrol stations will stay open but cafes inside the petrol stations (where existing) will remain closed for 14 days.

TRANSPORT OF GOODS – it stays unlimited and unimpeded, but with strict control of the goods entering the country.

TRANSPORT OF PEOPLE - the flights are stopped as well as trains and buses to and from Montenegro in the next 14 days. The borders are closed and all the transport of people is forbidden, except the flights in which the Government is bringing Montenegrin people back home. Also, transport between the cities is now stopped, so citizens can only stay in the cities of their residence.
The Government has prepared quarantine venues in Danilovgrad, Podgorica, Niksic, Bar and Ulcinj at the moment. From April 14th, several sports halls have been set and prepared to become a temporary hospitals, with all the medical staff needed. These are Bemax Arena and Sports Centre Moraca in Podgorica, School's Sports Centre in Golubovci, Sports Centre Topolica in Bar and Sports Hall in Berane.
Many sports players and corporations, as well as individual businessmen, donated a lot of money these days to help Montenegro in fighting covid-19. It is beautiful to witness such a united reaction of our Government and people who willingly help their country and fellow citizens.


The above-mentioned institutions started another campaign called #StayAtHome, together with the rest of the world, to prevent the occurrence and spread of the covid-19. Piece of advice given by the Government and Ministry of Health, as part of this campaign is the following:
stay at home if you have any symptoms
wash your hands often, for a minimum of 20 seconds and with the soap and warm water
cover your mouth when you sneeze or cough
avoid hugging and kissing others
do not touch your face
disinfect all the surfaces in your home, including phones, computers and tablets frequently.
The Red Cross
, in collaboration with telecommunication companies in Montenegro, has activated 2 phone lines for the support - FREE to call. This comes as a support to everyone who wants to know more, ask more and check the overall situation. It's a very good sort of psychologic support for the ones who are frightened and scared.
The phones are 069 19 44 75 and 069 19 44 76.
Our Partners and Their Efforts in Fighting Covid-19
Regarding the situation with some of our partners, these are the news we can share with you:
Hotel Regent Porto Montenegro
will organise their planned
job-fair online
, using all the digital channels. So, all the candidates who wanted to apply will still be able to do it and even without visiting the hotel.
The enthusiastic Regent Team came up with an idea to help you with home-cooking and their Chefs are sharing their recipes twice per week, via video. Take a look
here
.
EastWestVoyage DMC
is celebrating their 9th birthday during this quarantine time and to make your time at home more interesting, they organised a
giveaway
that you can find on their Instagram channel.
Click here
for information and participate, as you can
win prizes even during the quarantine
and use these once the situation is back to normal.
In case if you prefer to go to a private hospital, for any health issue during the quarantine time, we want to inform you that
Medical Centre Budva
is operating without changes, so their working hours remain the same.
Lazure Hotel & Marina
will be closed for new guests and hotel and restaurant will be operating for the guests who are already checked-in.
Spa centre will remain closed
for the next 14 days.
Travel Board of Kotor
in the Old Town will be only operating for residence tax and check-in, every day from 9 am to 2 pm. Other spots of information will be closed during the next 14 days.
Travel Board of the Old Royal Capital Cetinje
will be operating daily from 8 am to 12 pm, only for residence taxes and with limited number of employees involved daily.
Hotel Leon Coronato and Restaurant Djardin
in Perast will be closed in the next 14 days, as well as
Tre Canne Hotel in Budva
,
Hotels Trebjesa and Yugoslavia in Niksic
, while
Obuca Minja
will be operating online and you will be able to shop online with delivery. ​
Tavern Catovica Mlini
won't be operating in the next 14 days.
Hotel Onogost in Niksic
kindly gave their capacities to the Government, to use it in the worst-case scenarios, if it's necessary to form more quarantines or give help to the ones infected. It's such a nice gesture, well done. Also,
Kalamper Hotel & Spa
donated 10.000 € to the National Coordinating Body for Combating Infectious Diseases with a purpose to use it against the covid-19 virus.​ Company
doMEn,
one of the organisers of the
Spark.me Conference
, donated 25.000 € to the same Body.
Hotel
The Chedi Lustica Bay
is not working during the quarantine time, while its employees are working from home.
Lustica Bay
employees are also working from home and their generous team donated 20.000 € to Tivat Health centre, to help fighting the covid-19. Besides, the owner of Lustica Bay and a very important Montenegrin investor,
Samih Sawiris, donated 500.000 € to the National Coordinating Body
and with the purpose of buying necessary medical equippment.
Have a great time at home, stay safe, enjoy with your family and read our blogs to have some fun and information on the destination. We will be updating information on the covid-19 situation in Montenegro and follow the Government and Ministry of Health releases.

Take advantage of these times, do your hobbies, do online courses, plan your next travel, or whatever you didn't have enough time to do before this!
#StayAtHome #MontenegroInTheTimeOfCorona