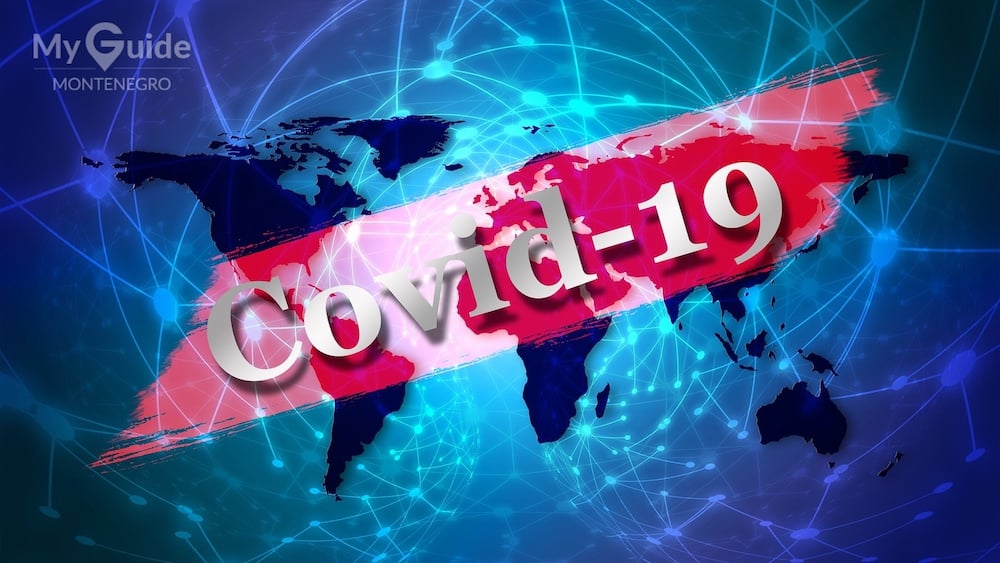 Coronavirus Updates in Montenegro
Press Releases
Covid-19 Measures and Prevention

As evidencing the very difficult situation with the covid-19 virus in the world, we wanted to inform you about all the actions taken by Montenegrin Government referring to local fellow citizens as well as travellers.

Updates on the situation in Montenegro


On March 17th 2020 in the evening, the first 2 cases of coronavirus in Montenegro have been registered. Today, August 21st 2021, we have 5577 active cases while the total number since the beginning of the year is 108742. The number of cases recovered is 101502. Unfortunately, 1663 persons passed away since the beginning of the year,​ some of them due to their previous health conditions, as covid-19 affected their state. The total of citizens vaccinated with the 1st doze is 201841 and with the second doze 171108.
***
- You can now enter Montenegro without any covid-19 test!
- Vaccination started in March 2021. Today, May 19th, 201841 citizens have received the first dose of the vaccine.

Detailed actual measures you can find here, but with the latest updates Montenegro has stopped all the limitations.
The number of active cases by municipalities:
| | |
| --- | --- |
| City | Active |
| Podgorica | 1141 |
| Niksic | 372 |
| Rozaje | 205 |
| Bijelo Polje | 267 |
| Berane | 167 |
| Budva | 739 |
| Bar | 517 |
| Kotor | 261 |
| Pljevlja | 83 |
| Cetinje | 115 |
| Herceg Novi | 329 |
| Tivat | 253 |
| Ulcinj | 767 |
| Gusinje | 19 |
| Andrijevica | 18 |
| Pluzine | 21 |
| Zabljak | 7 |
| Tuzi | 62 |
| Mojkovac | 11 |
| Danilovgrad | 66 |
| Petnjica | 44 |
| Kolasin | 19 |
| Plav | 85 |
| Savnik | 9 |
Source:
Institut za javno zdravlje Crne Gore
***
How it all went since the beginning...
From March 16th, Montenegro was under lockdown. Measures and precautions were quite strict, to prevent spreading the virus. From April 22nd, curfew was mitigated, so it's now allowed to be outside the house from 5 am to 11 pm including the weekends.​ From May 4th, clothes shops, cosmetic salons, dentist, taxis will start operating again by following the social distance and disinfection rules.​ From May 15th, cafes, restaurants and shopping centres are all opening again, by respecting strict measures and rules.
In June 2020, Montenegro
has been announced as
the first covid-19 free country in Europe
, but because of mitigating the measure and opening the borders, the virus entered Montenegro again on June 15th. The case was imported from Bosnia & Herzegovina, as one person from Budva was travelling to this country. Other than this, a group of people travelled to a football match in Serbia and they imported the virus back to Montenegro, too.
* From June 30th, all EU citizens are allowed to enter Montenegro. Read more about travelling to Montenegro during COVID-19
here
.
Many sports players and corporations, as well as individual businessmen, donated a lot of money these days to help Montenegro in fighting covid-19. It is beautiful to witness such a united reaction of our Government and people who willingly help their country and fellow citizens.


The Montenegrin Government started a campaign called #StayAtHome, together with the rest of the world, to prevent the occurrence and spread of the covid-19. Piece of advice given by the Government and Ministry of Health, as part of this campaign is the following:
stay at home if you have any symptoms
wash your hands often, for a minimum of 20 seconds and with the soap and warm water
cover your mouth when you sneeze or cough
avoid hugging and kissing others
do not touch your face
disinfect all the surfaces in your home, including phones, computers and tablets frequently.
Have a great time at home, stay safe, enjoy yourself with your family and read our blogs to have some fun and information on the destination. We will be updating information on the covid-19 situation in Montenegro and follow the Government and Ministry of Health releases.

Take advantage of these times, do your hobbies, do online courses, plan your next travel, or whatever you didn't have enough time to do before this!
#StayAtHome #MontenegroInTheTimeOfCorona