Best Beaches
Montenegrin Coast and Lakes
Being located along the Adriatic coast on the Mediterranean has its perks. Montenegro, with a total of 117 beaches scaling over 294 km long coast, tells it all! This coast regularly draws hordes of tourists from all over Europe.
 
Montenegrin beaches are various: from pebbles and docks in the Bay of Kotor, through sandy Budva and Bar beaches and long ocean-like wild beaches of Ulcinj Riviera, but also amazing lake beaches located in the central and north Montenegro. Our team has worked on the list of the best ones, to make it easier for all of you that are visiting our country!
One important thing to keep in mind about
Budva beaches
is that they are so popular they usually get overcrowded. But there is something for everyone, so read the recommendations below.   
One of the first beaches that tourists check out is
Sveti Stefan.
Sveti Stefan is well known all around the world as a popular town-hotel that is actually a peninsula attached to the coast with a short narrow path. On both sides of the path there is a nice sandy beach, all tidied up and beautifully arranged. Sveti Stefan is now recognised as a luxury spot, as
Aman Resorts
took over the peninsula a decade ago and built up this reputation. It is well known that Novak Djokovic got married in this very place! Back to the beach - strolling, swimming and sunbathing are great ways to relax here. Near the beach, in its hinterland, there are 2 amazing restaurants:
Olive Terrace
and
Nobu Montenegro
- places where you can enjoy delicious Mediterranean food, after a nice day at the beach!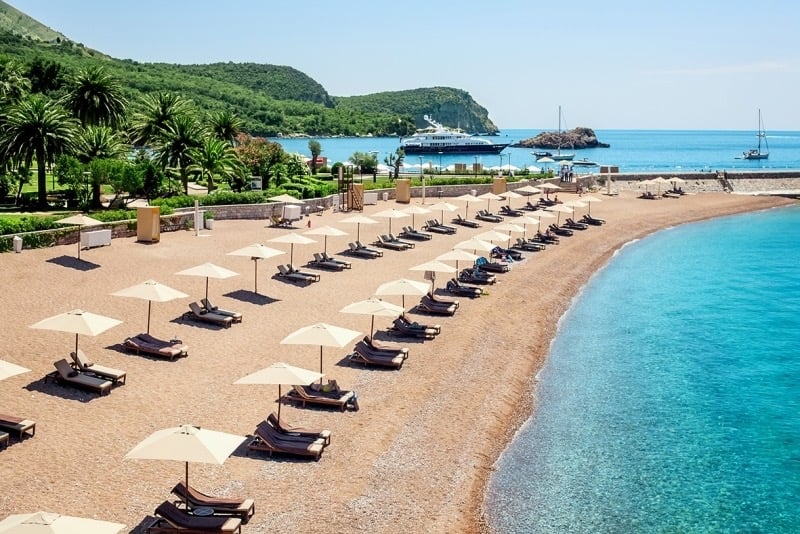 Sveti Stefan Beach
Besides the beach located directly by the resort, the area includes more than this. In the forests in the back of the peninsula, there is a famous
Milocer Park
that leads to the
Przno Beach
in one direction or
Milocer Beach
in the other one. Milocer Beach is located in front of Milocer Villa, also part of
Aman Resorts
, and this is where you can expect a high-end treatment, too. The beach itself is beautiful but mainly used by the guests from the Villa in the back.
The Queen's beach
 is located right next to Miločer beach and it fits into this ambience. The beach is 120 m long, surrounded by cypresses and olive trees. Due to the configuration of the terrain, the access to the beach is only possible by sea. The Queen's beach or 
Kraljičina plaža 
got its name in the honour of Queen Milena, King Nikola's wife. This was one of the favourite places for summer holidays of the Queen, because of the ambient and clear sea.
 On the other hand,
Przno
is a very small,
family beach
, usually used by the people who are renting vacation accommodation in this small village. It's a perfect family place, assuming that you have all of it in one spot –
beach, supermarket, numerous restaurants, cafes etc
. A lot of people like to have their dinner in this part of the coast and having in mind that this is an old fishermen village, all the catch is fresh and consumed shortly after it's been caught! The beach is nice and sandy, perfect for families with kids, so in case you are described in this – you know what your spot in Montenegro is, to have the vacation this summer!  
Budva Riviera is pretty long, so besides the ones mentioned above, you can check some of these below!
For the younger population, willing to party on the vacation, there are numerous beach bars on the
Slovenska Plaza
, located in the heart of the city of Budva. Close by, splashing the Old Town of Budva by its waves,
Ricardova Glava Beach
is located. It's a popular spot even during the wintertime, not for swimming or sunbathing, but as a posh spot where people are spending sunny weekend days and doing
a lot of Instagram shots
. ☺ And they come from all around Montenegro and the region, especially for the New Year's holidays!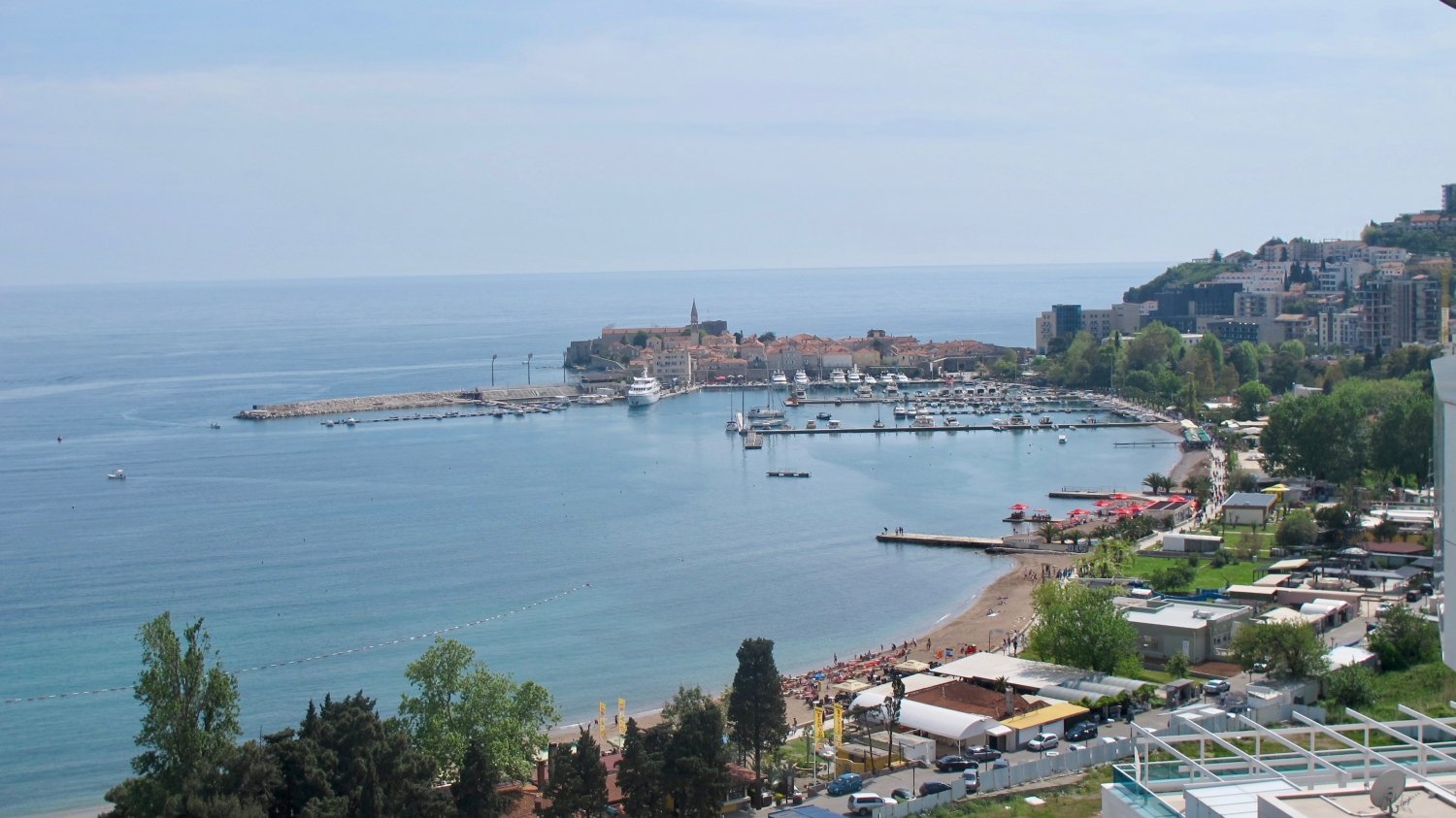 Slovenska plaza captured from Tre Canne Hotel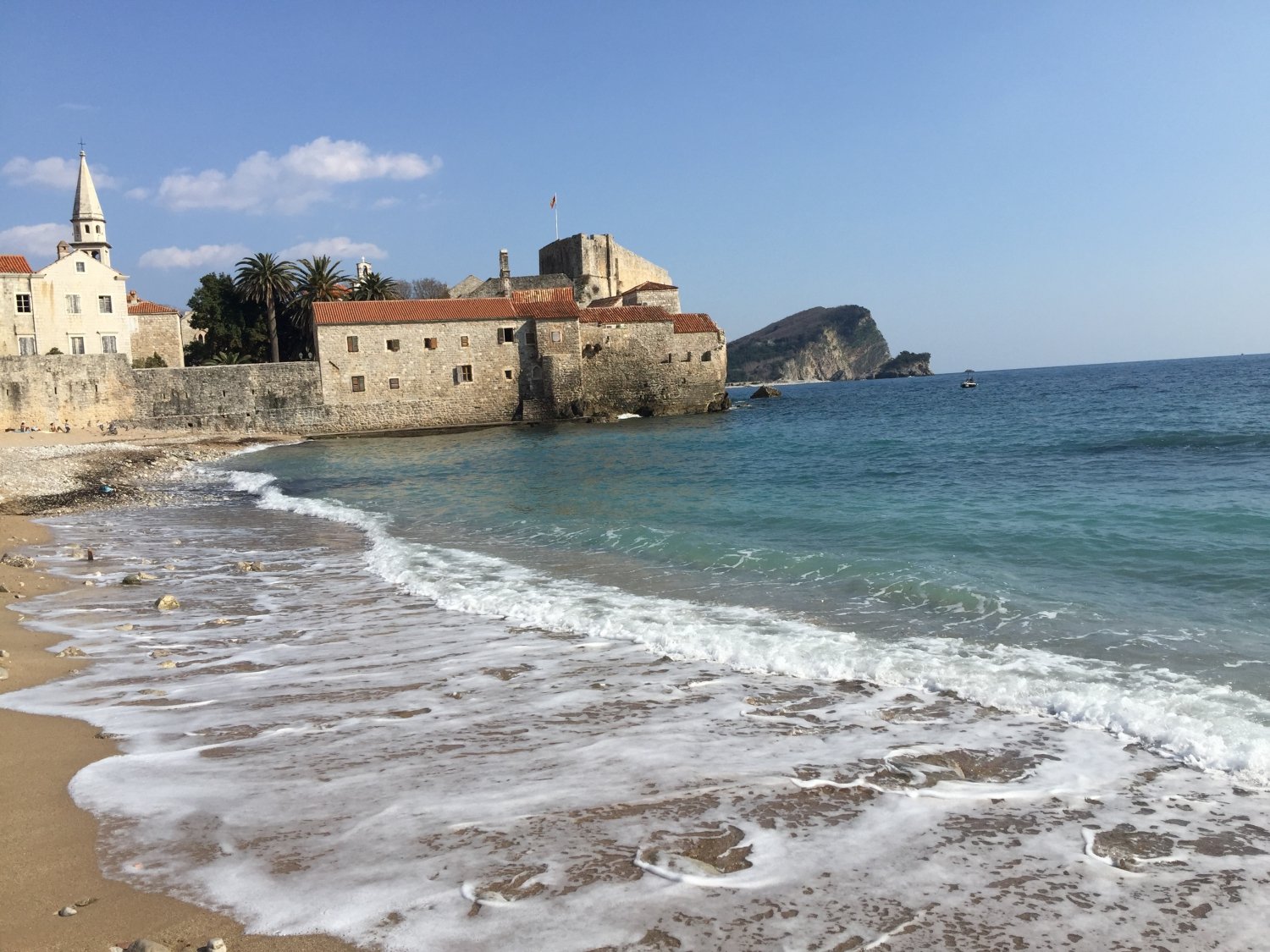 Ricardova Glava Beach
Practically next to this one, there is
Mogren Beach
. Cliffy, but beautiful, this is still a favourite spot for locals, who are spending the beach time here, hidden from the tourists and visitors. Of course, a lot of tourists explore, so they stumble upon this beach or somebody recommends it, and it became very popular in the last couple of years, especially for expatriates who feel like locals already! Mogren is a long beach interrupted by the edge of a rocky mountain in the middle. The beach looks more like two beaches that are connected by a small tunnel. One side is 80 metres long and the other 150 metres. It was named as one of the cleanest beaches in the country, many times.  
A couple of kilometres from here, towards the Bay of Kotor,
Jaz Beach
is located. In the last 4 years, it was best known by the
Sea Dance Festival
and it was announced as the most beautiful beach in Europe by Lonely Planet.  The festival later moved to
Buljarica
beach. The beach has 2 parts
Jaz 1 
and
Jaz 2
, out of which Jaz 2 is quieter and frequently visited by locals. Crystal clean waters, freshness and cleanness are what describe Jaz the best, and it is equally good for young tourists, families, elderly guests…
Just 2 kilometres from the city centre, on the road to Bar, there are several more beaches worth mentioning: Becici, Rafailovici, Kamenovo, Crvena Glavica, Drobni Pijesak, Perazica Do, Buljarica and Petrovac.  
Becici and Rafailovici
are not clearly divided, but what is noticeable is that in Becici you can experience the wide and spacious beach and in Rafailovici you get to a more intimate atmosphere, similar to
Przno
and best for families, as most of the hotels in this village are located directly at the beach, having their own private spots for their guests.  
Cliffs separate
 Kamenovo 
from these two beaches, and it forms sort of a bay. You can reach it by car or by boat and this area is well known for the freshwater, compared to the rest of the Budva Riviera. Kamenovo Beach is surrounded by rich vegetation, which makes this spot very interesting and most of the cafes and restaurants are actually located at the beginning of the forest, forming breathtaking natural shades and pleasant atmosphere for having meals. This beach works for everyone, but young people love it pretty much and some of the traditional parties are held here annually, such as
Spring Break Montenegro
.  
Crvena Glavica
is a small place between Kamenovo and Sveti Stefan, which literally translated in English means
Red Hill
(Cliff). The environment will immediately explain the name of this beach, surrounded by red-stones cliffs, giving the sights that will mark into your memory! This is a camping spot, so in case you are a
camping-soul,
you can park here! The camp has all the basics needed and small beaches around it are numerous. Several of these are
nudist-friendly
; so don't get confused if your neighbour on the towel next to you is naked! Just accept it or join them, if you are liberal enough! These beaches are not tidied up or arranged for massive visits, which is the most special thing about this place – only the selected ones can enjoy it!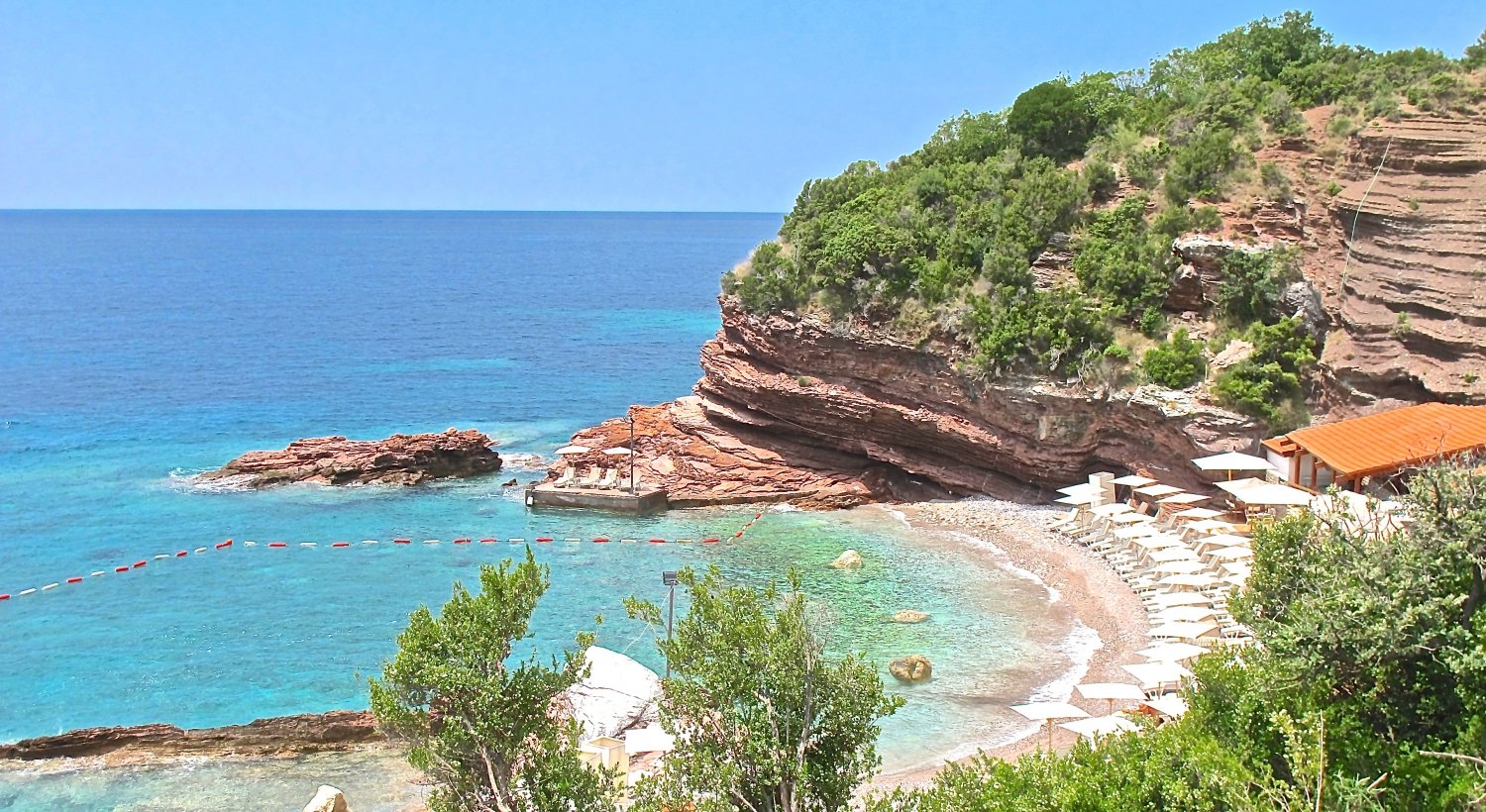 Crvena Glavica Beach
Considered by many as the most beautiful beach in Montenegro (if not the whole of Europe),
Drobni Pijesak
boasts clear waters and fine yellow-white sand. It is a secluded beach, which makes it perfect for tourists who wish to get away from the noise and chaos of the city. The usual sight from Instagram photos, you can expect to see here – the contrast in between the bright coast and turquoise sea!  
Perazica Do
is closed to Petrovac and it's a small but perfect beach! Here you have a beach restaurant and the sunbeds and umbrellas are all made of natural materials. Perfect for a peaceful time with a loved person or enjoyment with friends.  
While Drobni Pijesak is distinctly yellow,
Petrovac
beach is red. Other than for its red sandy beach, this old fishing town is widely known for its old churches, harbour and monasteries, as well as modern bars and restaurants. It is also near the popular Skadar Lake, one of the top Montenegrin attractions, just half an hour drive.
Buljarica
 is the largest beach on the Budva Riviera, and the second largest beach on the Montenegrin coast after Velika plaza in Ulcinj. It is about
2250 metres long
, and it is mostly pebble, while the central part of the beach is covered with fine sand. In the hinterland of the beach, there are several car camps and resorts. It attracts a large number of guests, both because of the clean sea and mesmerising nature and because of the barely existing crowds on the beach during the summer season. Buljarica has been protected as a natural monument since 1968.  
... is very rich with numerous beaches, so we recommend you to explore this area in details, especially if you have a boat! We will mention the most popular beaches, but we invite you to give us your recommendations too!  
Sutomore Beach
is a long, sandy beach, great for enjoying real beach life! Swimming and sunbathing are what define this beach! Assuming that many hotels are located right at the beach, it is always crowded with hotels' guests, so if you aren't a crowd-lover we advise you to skip this one.  
Ratac Beach
is located at the entrance to the city of Bar, in the woods, hidden from the curious spectators' views. This made a rumour that this place is popular amongst the gay population. Knowing that traditional local Montenegrins are not always liberal, gay people feel safer here than on some other public beaches!  
The beach in the town centre
, close to the port, is usually visited by the locals, who are looking for refreshment after the work and who are bringing their kids here to enjoy. The city of Bar is the biggest port in Montenegro with a lot of hotels, so during the peak season, this beach is always crowded. Have this in mind when you decide to relax on the beach in Bar.  
Going towards Ulcinj, beaches are getting wider and more sandy. There is a nice bay called
Utjeha
, worth visiting, as it's a beach with olive-forests in the back and several camping spots too. The most frequent guests here are from Montenegrin diaspora and the region of Balkans.
Veliki Pijesak
beach is located close by and it's very similar to Sutomore beach, as it's crowded with hotels and numerous hotels' guests are spending their time on this beach. Diaspora is very common here, too.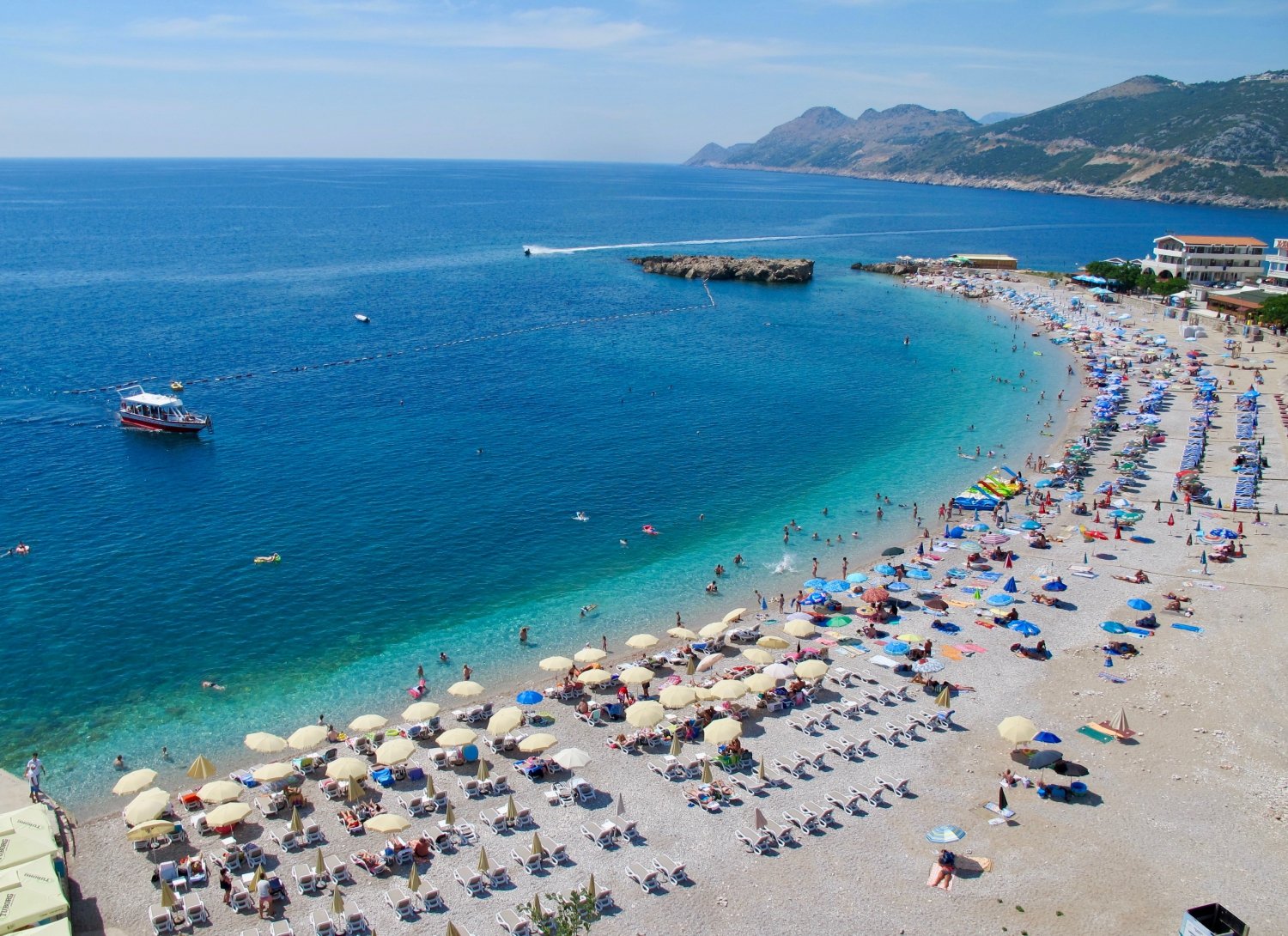 Veliki PIjesak Beach
... contains 2 beaches – Short and Long one, but also Valdanos Beach.
Short Beach,
or
Mala Plaza
, is located by the walls of the Old Town of Ulcinj and it's crowded all summer long! It's a place where tourist and visitors from the nearby hotels are spending their time. As Ulcinj is mainly inhabited by Muslim citizens, you can expect to experience different cultural influences that are also expressed in the beach outfits and behaviour.  
Long Beach,
or
Velika Plaza,
on the other hand, is ocean-like part of the Montenegrin Adriatic and includes various activities from kite surfing to nudist camping on Ada Bojana. Long Beach is an enormous space, always under winds influence, which makes it perfect for water sports. You will find many fully equipped beaches along this part of the coast and they all offer unique experiences!
Ada Bojana
is located very close to the border with Albania and it's a river-island formed by river Bojana that flows into the Adriatic, pouring out from the Lake of Skadar. This place is best known for its
nudist camp
, dating back from the ex-Yugoslavia, but still in use and wonderful! Note that if you don't feel like the nudist, you can still enjoy Ada Bojana, but just outside the camping area. There, you'll experience
a real wilderness and freedom
!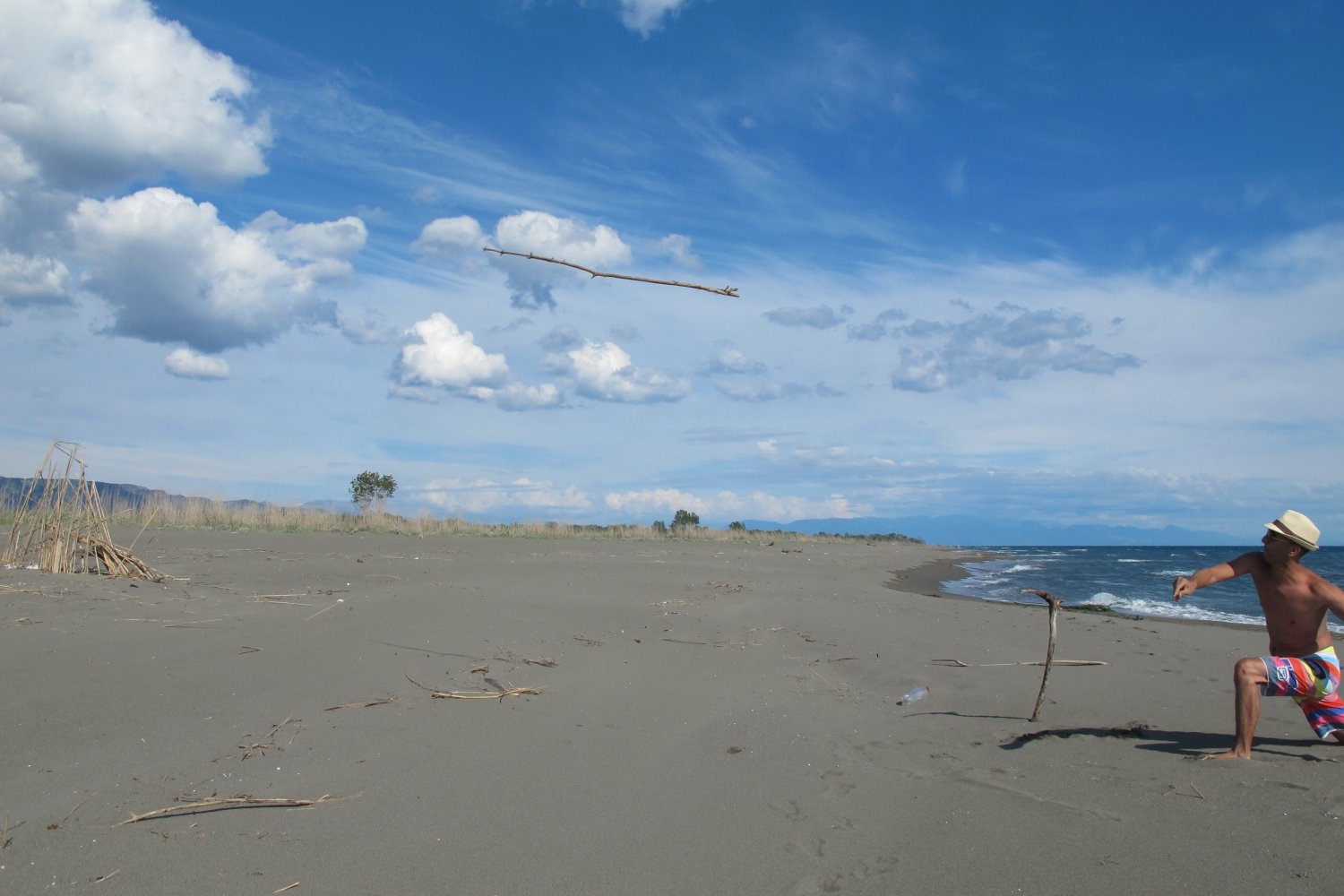 Velika Plaza
Valdanos
is a small bay, tucked in the evergreen forest and barely known amongst the tourists. It was popular back in the Yugoslavian era but today is rather abandoned and not very popular. Besides, this beach is absolutely amazing and it's craving for visitors who appreciate the silence and the pace of nature.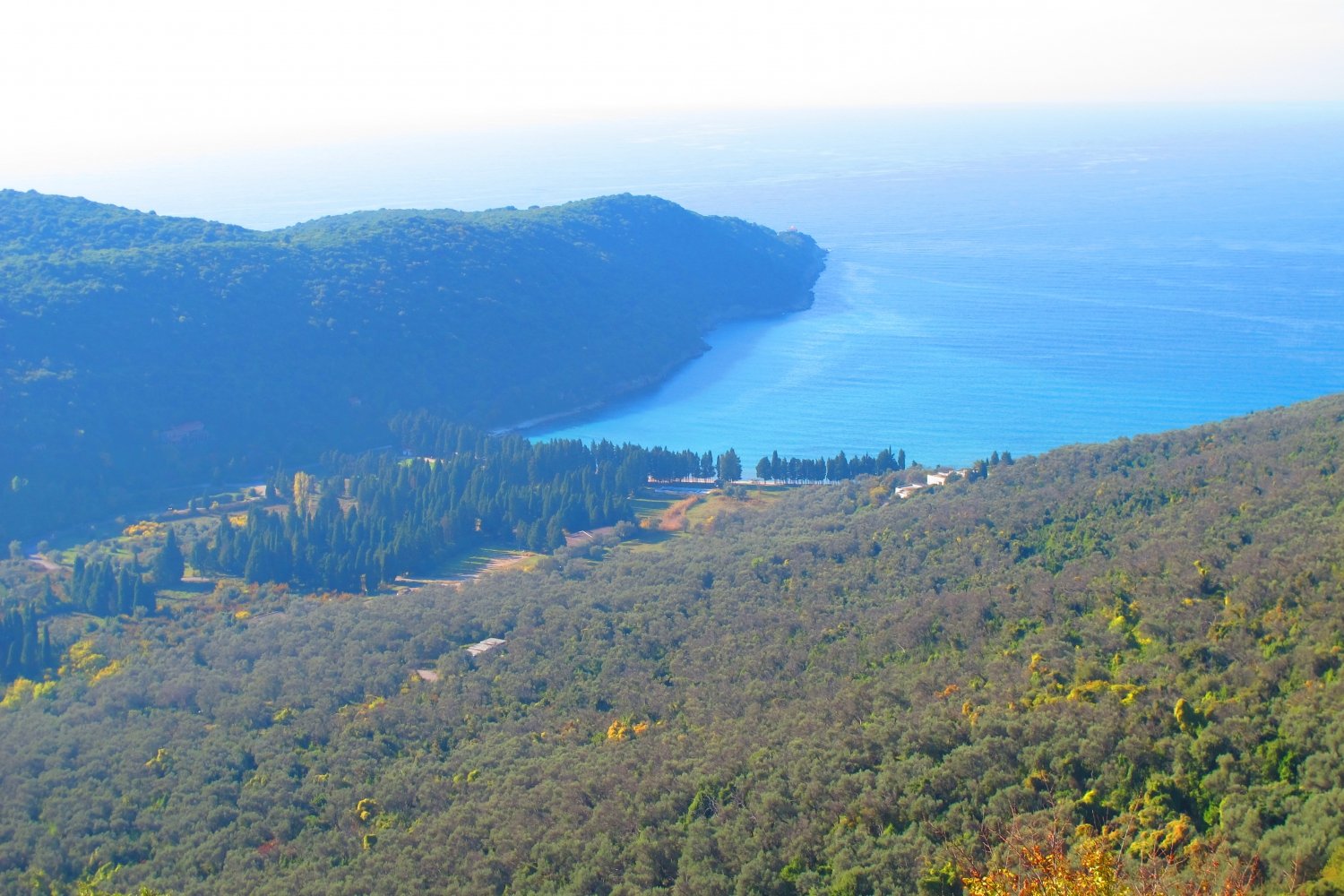 Valdanos
Last, but not least, is the Bay of Kotor!
Well known all around the world, as one of the most unique bays, picturing the real natural treasures of Montenegro, this bay is not really crowded with long, sandy beaches. The bay is surrounded by steep mountains that look like they are jumping right into the sea, so here is more about docks and tiny private beaches rather than long sandy ones.  
The Bay of Kotor
consists of 4 towns (Kotor, Risan, Tivat and Herceg Novi) and numerous small villages amongst which the most popular is
Perast
. Literally, on every step along the Bay, you will be stunned by its beauty, small charming beaches and docks, with restaurants or beach bars. It's a totally opposite kind of the tourist offer than the one mentioned above (in Bar or Ulcinj, but even in Budva). Less crowded and more classy, definitely!  
The Lustica peninsula
, part of this Bay, has the most charming beaches such as
Dobrec Beach
, usually used by the
Regent Porto Montenegro
 guests. The beach in the new village of
Lustica Bay
is also adorable. We recommend you to take a taxi boat, or use your own boat if you have it, and sail around Lustica peninsula, because you'll find so many hidden gems and small restaurants, serving freshly caught seafood. Another popular one in this part of the Bay is the beach
Plavi Horizonti
, probably the only sandy beach of this kind in the Bay of Kotor.  
All the beaches around the Bay are offering so much to experience, from exploring the hidden spots such as the
Blue Cave
to the amazing forts as Mamula and Arza, and finding your own secluded spot to enjoy!
Another beach that can only be accessed from the sea is 
Mamula beach
which is located on an uninhabited same-named island at the entrance to the Bay of Kotor. The beach is rocky and concreted in some places. Since the sea is very deep and almost transparent in this area, it is a favourite place for divers. This island also houses the preserved impressive Austrian fortress Mamula from the 19th century, which was used for defence.
Rt Veslo
 is a beach in Luštica peninsula, which is rockier than most of the other beaches, so if you're not a fan of sandy beaches, this is your place. It is a great place for snorkelling and cliff-jumping. The beach can be reached by a country road, which runs along the coast, or by sea. Also from the beach by the sea, you can go to the famous Blue Cave.
For those who prefer concrete beaches, there is 
Mirište
. Mirište beach is located in the same-named Bay, between Žanjica Bay and Cape Arza. The beach is partly sandy and partly concrete. It is fully infra-structurally equipped and what characterises this beach is the clean, turquoise-green sea, which ranks it among the most beautiful beaches in this area.
The city of
Kotor
recently got a nice addition to its summer offer, a beautiful beach located in front of the
Huma Kotor Bay
hotel, called
Virtu Beach
! VIRTU offers a lot of good vibes and if you fancy day parties this is a place to be. Kotor as a fortress-city usually doesn't have this kind of beaches so we can say that this beach is something new and special at this location.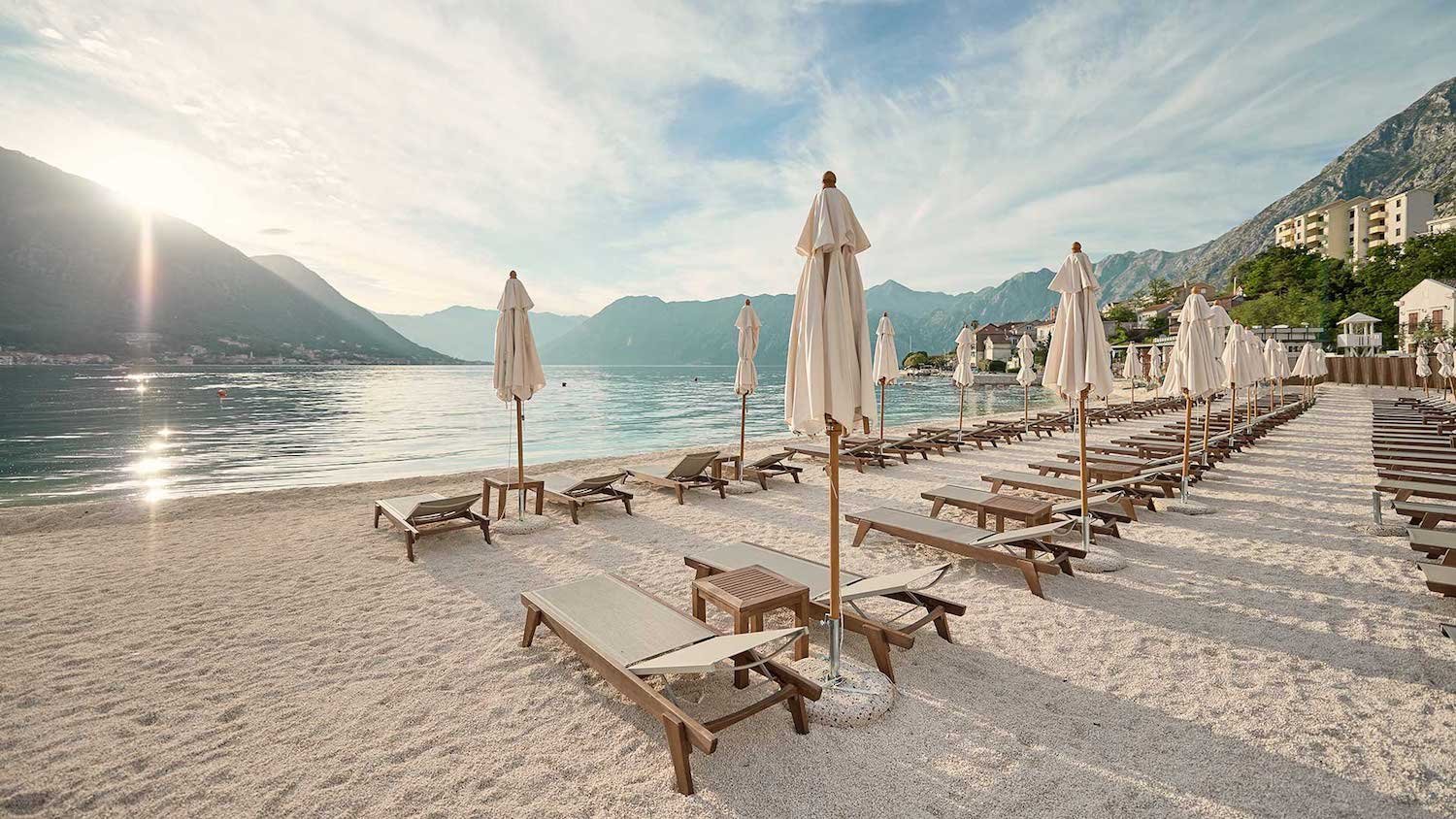 Virtu Beach at Huma Kotor Bay
Lakes Beaches
The Adriatic coast is not the only spot where you can enjoy swimming and sunbathing! Montenegro is extremely rich in lakes and rivers, and many of those are popular for summer activities. Let us mention the biggest ones!  
Skadar Lake
is a famous lake in the Balkans, attractive to all the visitors because of its unique flora and fauna. Sailing around with
Zabes Holidays
you can see many monuments and monasteries, but also some hidden villages that are no accessible by foot. In one such place, people of Skadar Lake have put their efforts into adding some value, so
Murici Beach
was created. The beach existed naturally, but people made it more attractive by adding some sand and widening it up. While sailing on the Skadar Lake, this beach is a favourite stop as all the visitors can get refreshed from the summer heat.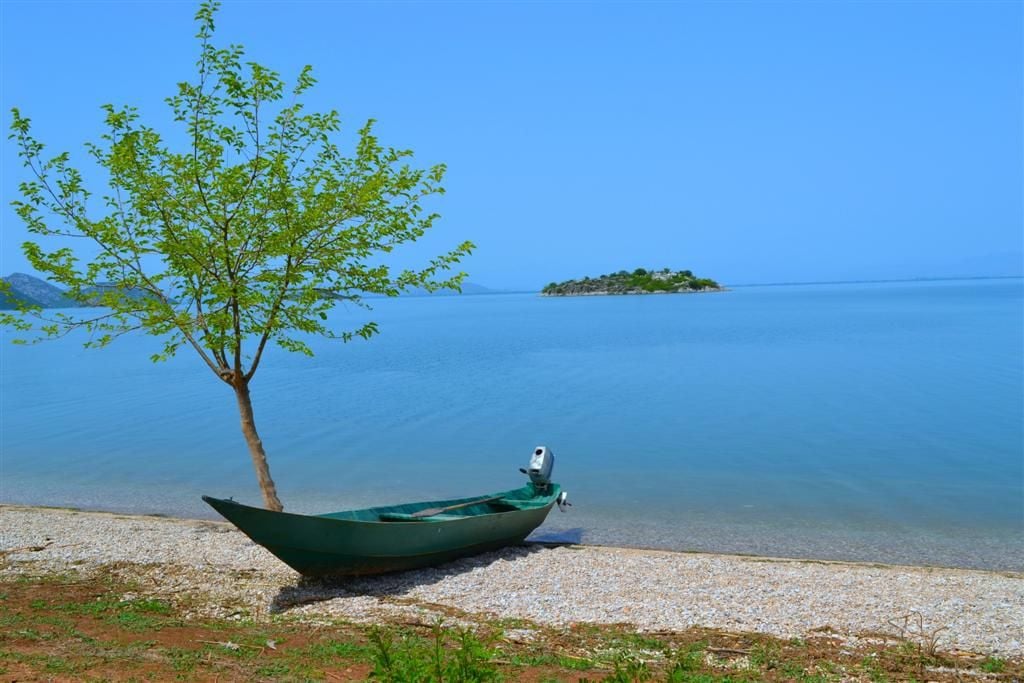 Murici Beach on Skadar Lake, Photo: Pinterest
Krupac Lake
is very popular in Montenegro. Firstly, because it's known as the Niksic Sea and secondly because a big rock-festival,
Lake Fest
, is held here annually. Krupac is an artificial lake that looks like a bay, fenced by a dam on one side. This beautiful lake has two nicely arranged beaches, with volleyball court,  a lot of greenery, a restaurant and cafe. Younger people like to hang out on the dam, too, jumping into the water, playing card games on the dam stairs and so much more!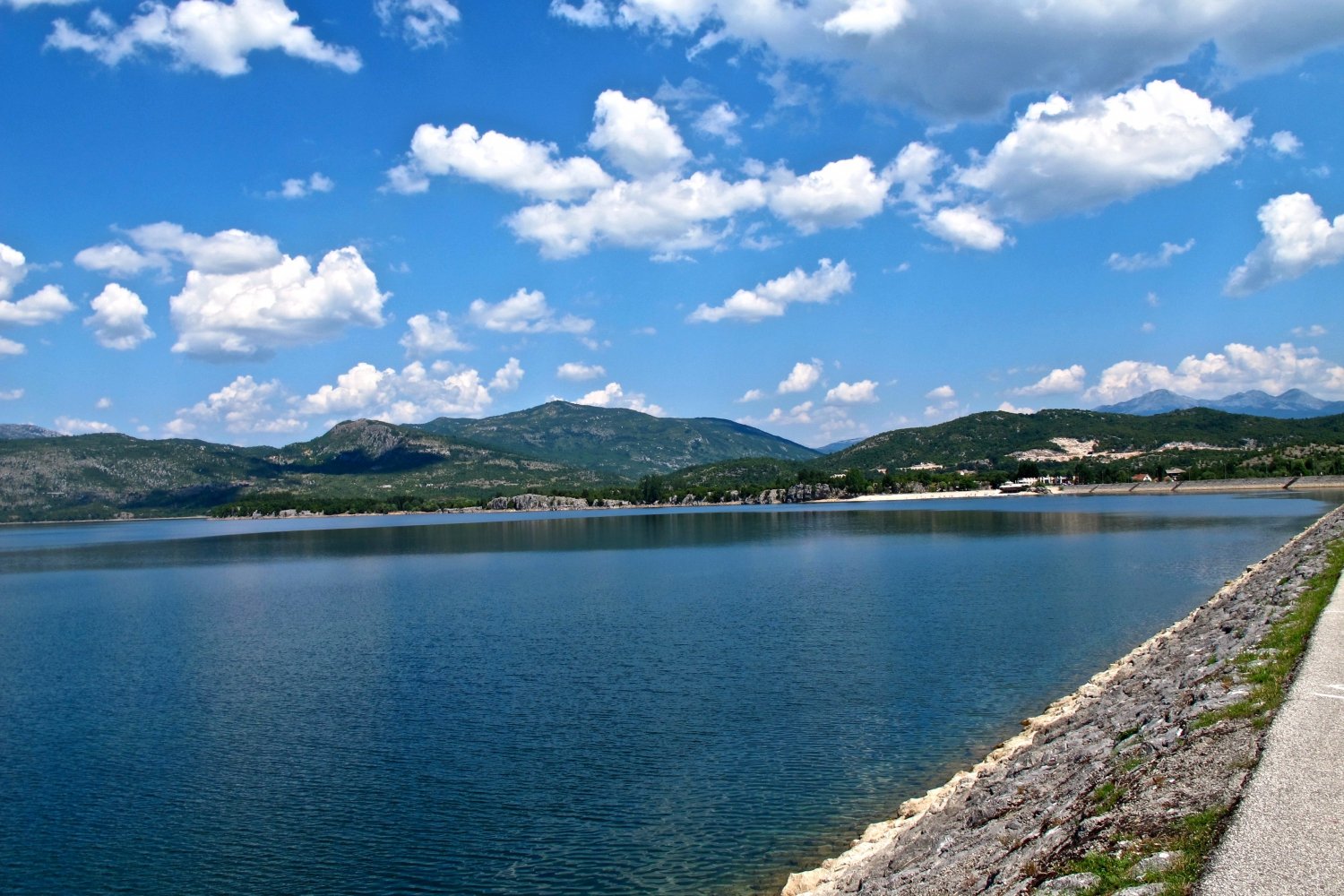 Krupac Dam overlooking Krupac Beach
Going up north from Niksic, there is 
Piva Lake
, also artificially made one for the electricity production. This area gives an impression of being in the Alps and the small city of Pluzine, located just on the lake, is frequently called Switzerland. The citizens of
Pluzine
, together with the city authorities, have made a beach on the lake a couple of years ago, that became very popular for swimming, diving, sunbathing, savouring the nice summer weather. So, if you happen to pass by this town during the summer, remember that you can experience swimming in the beautiful Piva Lake and don't skip it!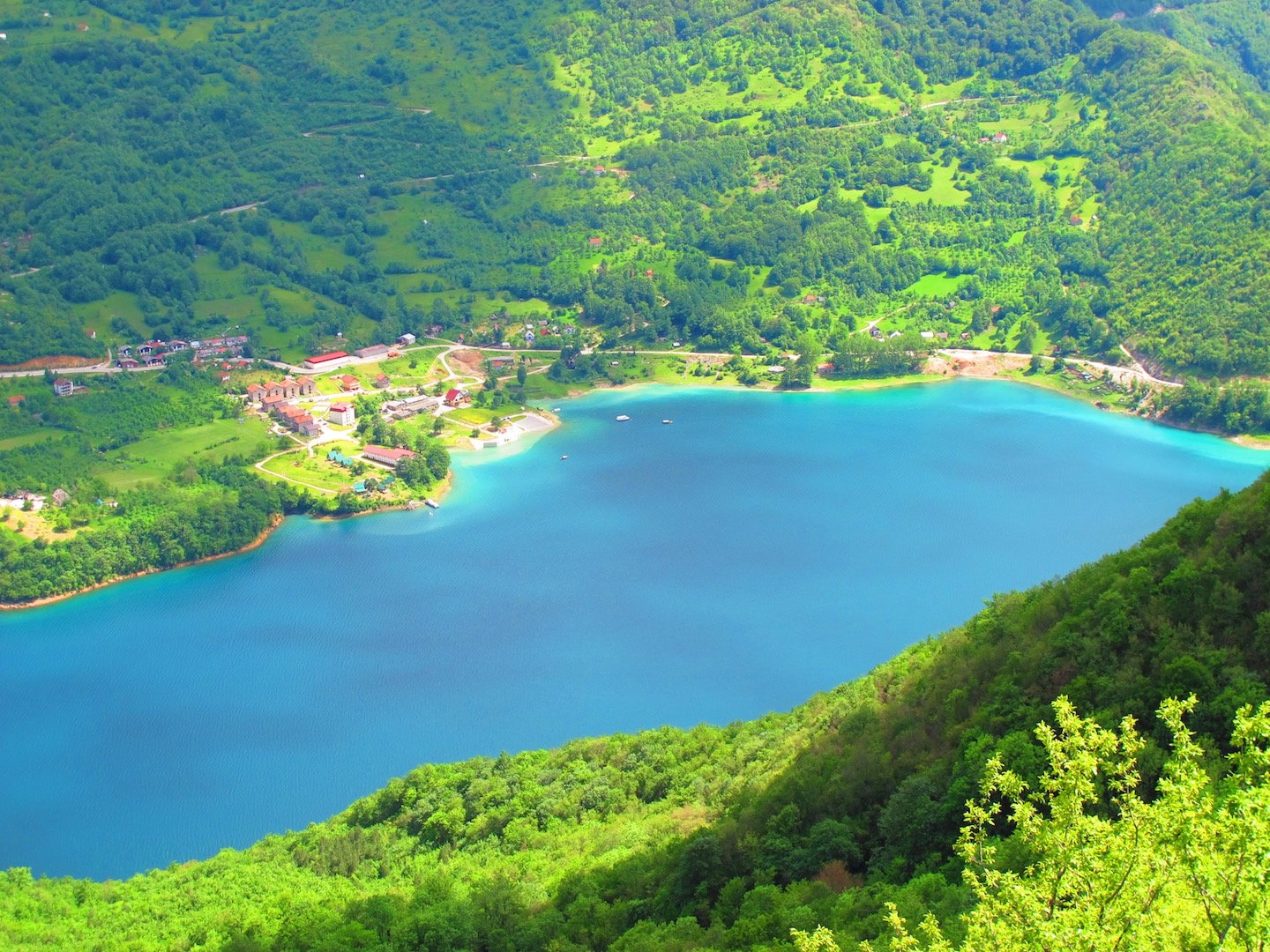 Piva Lake from the air
Black Lake 
is the largest and most famous lake in
Durmitor
, and one of the symbols of this region. This is the second-largest mountain lake in Montenegro, and it consists of two water surfaces, the so-called Small Lake and Large Lake, separated by a narrow surface of the mainland, called "stuga". The water temperature exceeds agreeable 22 degrees in summer, so it's a true idyll for swimmers.  
Plav Lake 
has the shape of the irregular eclipse and it is located at 906 m above sea level. The lake has the shore length of 7.520 metres and it has great tourist and recreational potential. It is believed that the lake has many healing properties, which is why a large number of tourists come here regularly. There are many types of water activities and recreations are available such as
rowing, sailing, canoeing and kayaking
.
In case you are looking for some more recommendation, don't think twice - contact us right away!
Save
Save
Save
Save
Save