Camping Holidays in Montenegro
Adventure Family Fun Hot List Retreats & Relaxation Top 10
The list of the most visited camping sights
Camping is a recreational activity which in recent years has become one of the most popular outdoor activities in Montenegro. Most commonly defined, camping is an activity pursued in a natural environment, where one can set up a tent or live in a caravan, camper-van, or motor-home when camping. It is both an individual and collective activity, convenient for families with kids, which can be combined with other outdoor activities such as hiking, trekking, fishing, rafting, etc.

As this branch of tourism is gaining popularity, this is a true opportunity for Montenegro to start a more active promotion of existing campsites, and being with building governmentally-funded campsites. Currently, in Montenegro, there are dozens of campsites most of which are placed on the Adriatic coast, and here we have made a list of the most popular ones.


Camp Full Monte – Herceg Novi
Camp "Full Monte"
is located in the beautiful setting of the Boka Bay in Herceg Novi, close to the border with Croatia. This
eco campsite
offers you a unique experience with all accompanying services needed for a comfortable stay. The accommodation capacity is
20 tents
, so you can either rent a tent or bring your own. This is a place ideal for families and individuals who seek a calm and peaceful place for their holiday.
This camp offers an eco camping experience with
eco-friendly facilities
which include toilets, showers, and a shared kitchen. There is also a
vehicle-free site
with a separate parking area. Here,
clothing is optional
as the camp welcomes naturist and nudist guests.
This is not an auto-camp
so mobile homes cannot be accommodated, and due to hectic summer months, booking in advance is recommended.
The
prices
vary depending on whether you rent or you bring your equipment. If you have your tent and camping equipment, the price is €12 per person per night. If you're renting a tent, the prices start from €20 per person per night, again depending on which package you choose. Children under 2 years of age don't pay, while children aged 2-11 years pay half the standard price, and children over 11 years old pay the standard price.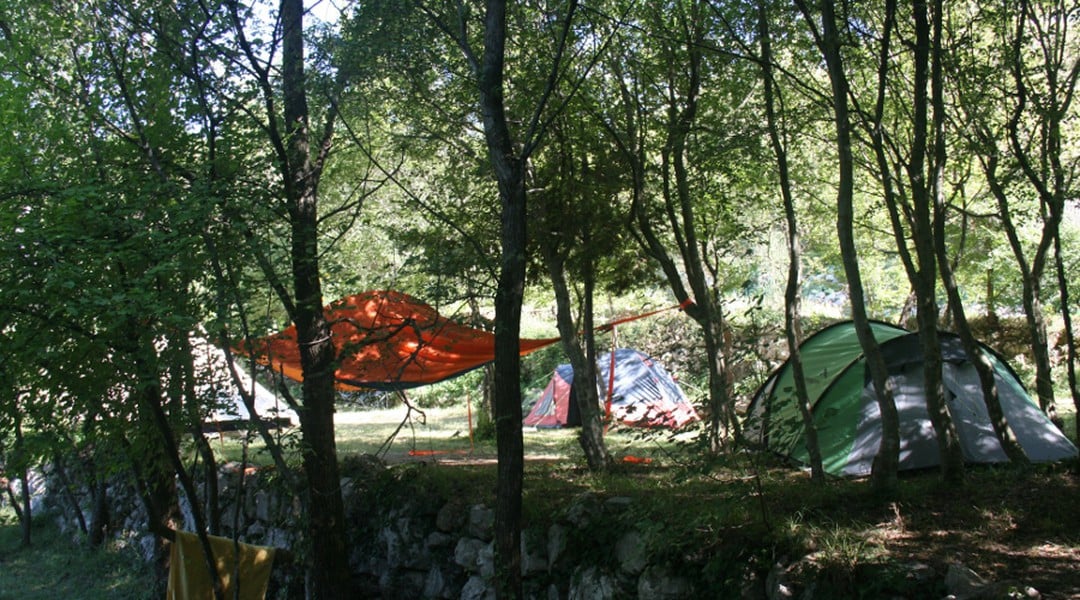 Camping Oliva – Bar
Camp "Oliva"
is located on of the main road
Bar - Ulcinj
, near the area of the
2-thousand-year-old olive tree
, which is an internationally ecologically recognised area. This is a friendly and welcoming place where you can relax and enjoy nature. It is recommended both for solo travellers and families.
The campsite owns bathrooms with toilet cabins; showers for outdoor use with hot water; washrooms and places for hand-washing laundry and dish-washing. This camp has the capacity of
25-30 camping units
and guests are delighted by the kindness and friendliness of the owners. The site is
50 metres away from the beach
, and there are many restaurants and shops nearby.
The
prices
range from €2.50 for adults and €1.30 for children to 7 years; tent prices are €3, cars €1.50 and campers for €5. The residence tax per person is €1 per day.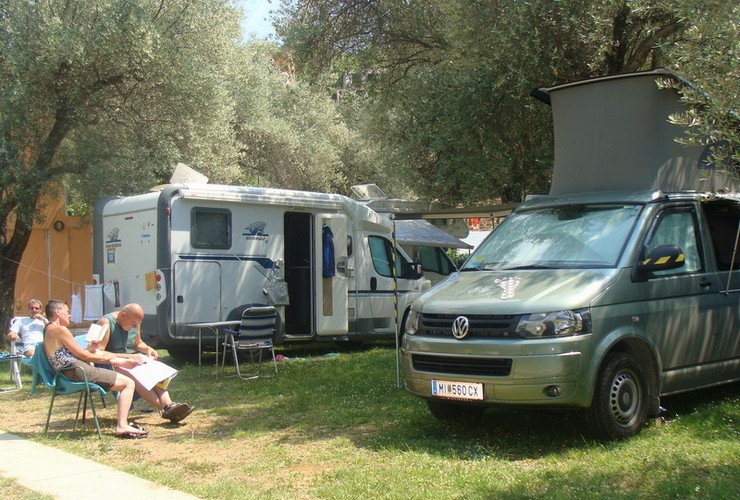 Camping Utjeha – Ulcinj
Auto-camp "Utjeha"
is another camping site along the main road
Bar-Ulcinj
, right by the sea. The campsite is easily accessible and has an accommodation capacity of
25-30 camping units
. It also has a 220v electricity connection as well as all the necessary facilities for a quality stay. Those facilities include bathroom, shower cabins, WC, washing machine, outdoor laundry units, Wifi, etc.
Thanks to the good location, during their stay in the camp, guests have the opportunity to visit the sights of the cities of Bar and Ulcinj, as well as the surrounding towns. The camp is fenced and does not allow people who are not guests. This camp also offers the possibility of
renting sea-boats, bicycles
, and the offer includes a children's playground, which indicates that it is suitable for families with children.
Prices
are: adults €2, €2.50 for auto, €2 for tent, and tax per person per day is € 0.60.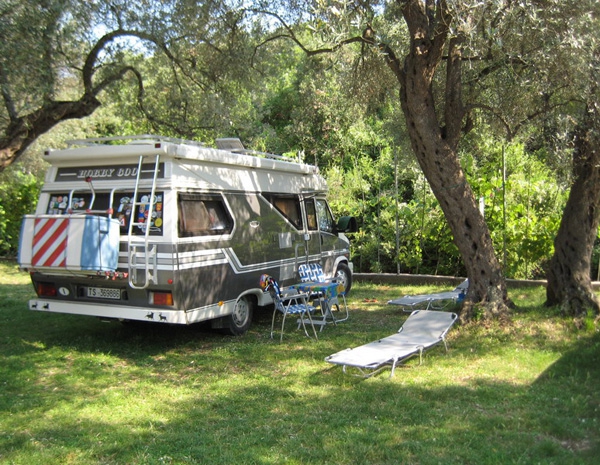 Auto Camp Naluka – Morinj
Auto camp "Naluka"
is a campsite located in the beautiful surroundings of the
Boka Bay
, halfway between the towns of Kotor and Herceg Novi, in a place called
Morinj
. Boka Bay is considered one of the most beautiful places in Montenegro, so you did not make a mistake when choosing the location. Also, Morinj is famous for its
milling traditions
, where one of the most famous traditional family-run restaurants "
Ćatovica Mlini
" is located.
So, this campsite has many things to offer. Situated amongst the green lush and a walking distance to the
beach
this is a well-maintained campsite. Showers, washrooms, toilets, and other sanitary facilities are available, as well as electricity, free wifi, free parking and pets are allowed.
The great location
allows easy access to other places such as restaurants, shops, beach, etc.
The
price
range goes from €4 for adults per day, €3.50 for a tent, and €8 for a mobile home.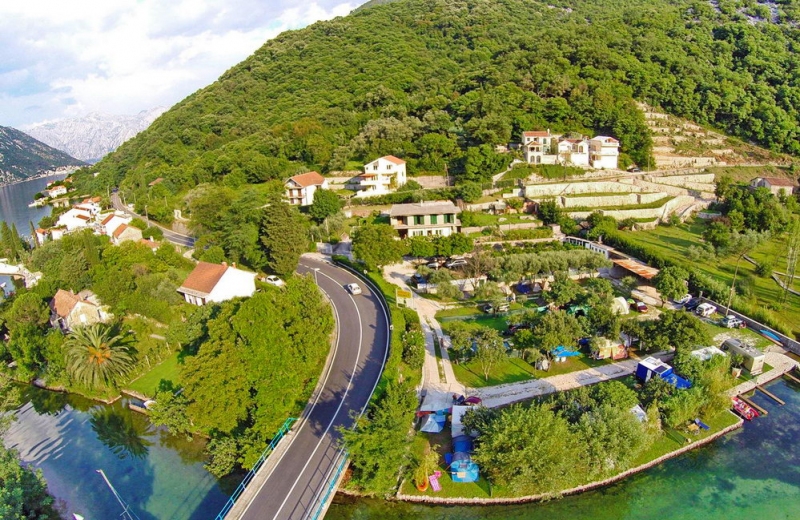 Camping Ivan Do – Žabljak
Camping "Ivan Do"
is located 2 kilometres from the city of
Žabljak
, and is surrounded by the massifs and peaks of the breath-taking Durmitor Mountain. This is a
real green oasis
for all those who want to experience the natural way of life and make genuine contact with nature. This campsite offers a space for approximately
30 vans or camp trailers
, where guests have access to the electric power and bathrooms with hot water, places for dishwashing, and toilets. Also, there is an area reserved only for tents that can accommodate up to 100 tents.
In this camp guests have
access to drinking water
, connection for electricity, Wifi and there is also a canopy with a gas stove for preparing food and drinks.
When it comes to
prices
daily, it goes €2 per person, €2 for a tent, €1.50 for a car, €3.50 for SUV&VAN, and €5 for a camp vehicle or a trailer. The tax is €0.60 for adults, children up to 12 years old are free of charge.
From this location, you can indulge in many other activities such as
rafting on the river Tara
, or
visit Black Lake
, or
Djurdjevića Tara Bridge
.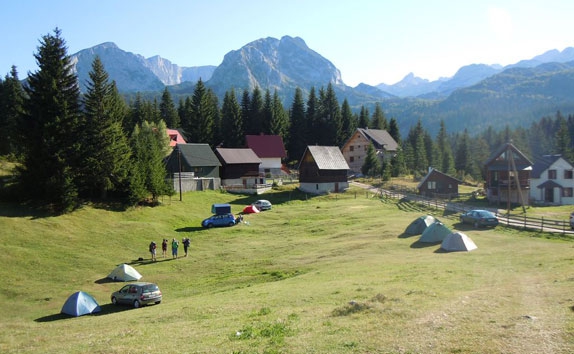 Camping Eco Oaza Tear of Europe – Mojkovac
Camping "Eco Oaza"
is located in the
Tara Canyon
, which is at the heart of
National Park Durmitor
. This is a family-run campsite with welcoming hosts, who are more than willing to give you tips on how to make the most of your time. Here, all the included facilities like toilets, showers, washrooms, laundry rooms, are clean and well maintained. Other amenities offered include free Wifi, an on-site restaurant, and free parking.
The campsite has
the perfect location
being only 200 meters away from the emerald-water Tara River. The name of the campsite "Tear of Europe" is given after the Tara River which is known for its
crystal waters
, and is also
the largest European supply of drinking water
. Besides, an array of activities can be enjoyed on-site or in the surroundings, such as cycling, horse riding, and fishing.
Price
is upon request.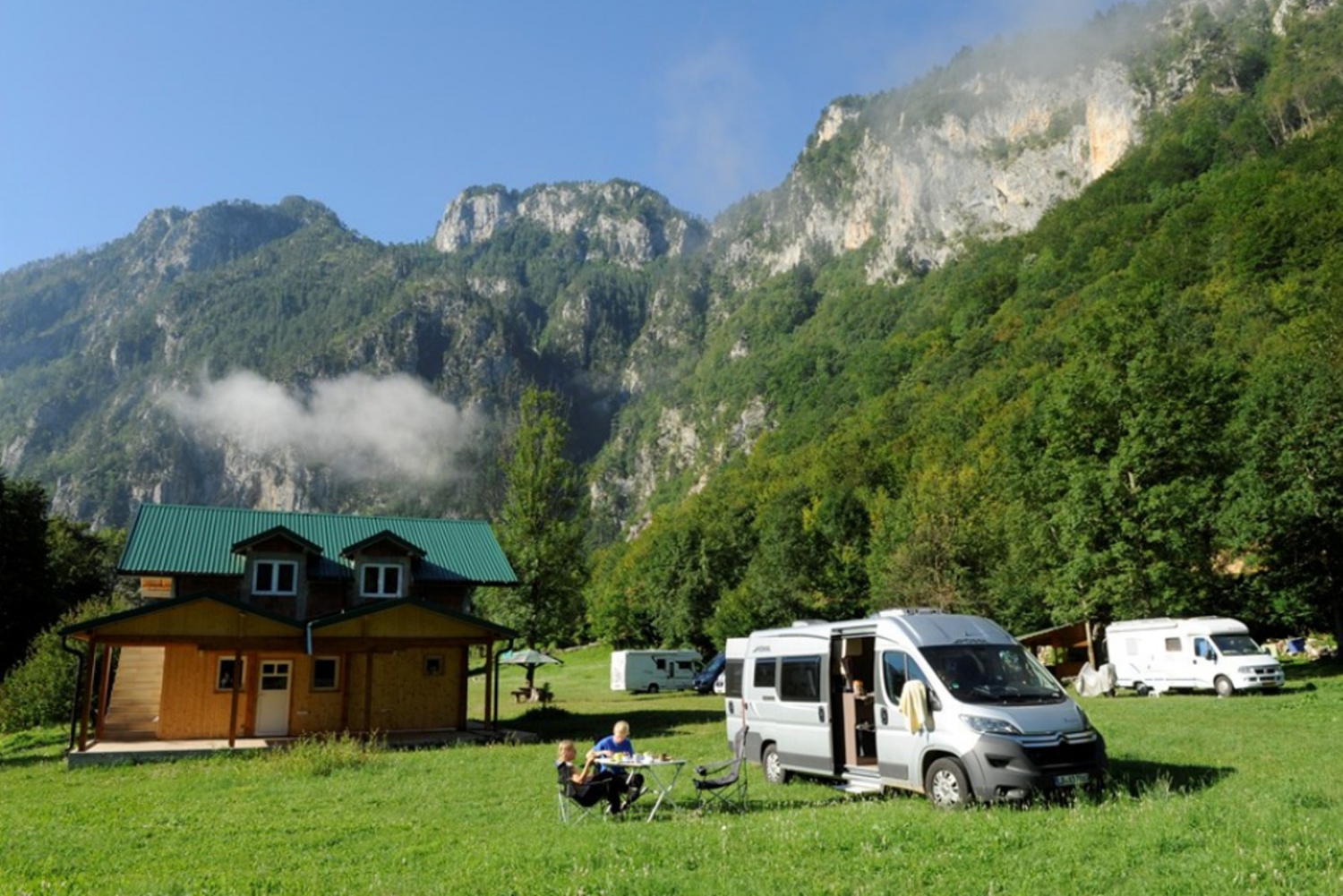 Camping Savardak – Bijelo Polje
Camping "Savardak"
is a camping site which is the part of the
Ethno-village Vuković
. The Ethno-village is located in Tomaševo, around 15 kilometres away from
Bijelo Polje
, in an amazing green scenery. Even though is far away from the city, the road to the village is well maintained.
The name Savardak comes after the
typical round mountain cottage
that can be used by the camping tourists. This is an ideal place for both
adventure lovers
and for those who prefer
a calm holiday
. The camp offers many activities such as
jeep excursions, rafting tours, fly-fishing, paragliding, speleology, canyoning, walking and mountain biking
etc.
The campsite has the capacity of
18 tourist areas
, and it includes toilets and showers with hot water, a washing machine, a restaurant and also a swimming pool for its guests. The location of the campsite is close to the
Biogradska Gora NP
, which is a true example of unspoiled nature.
Price
is upon request.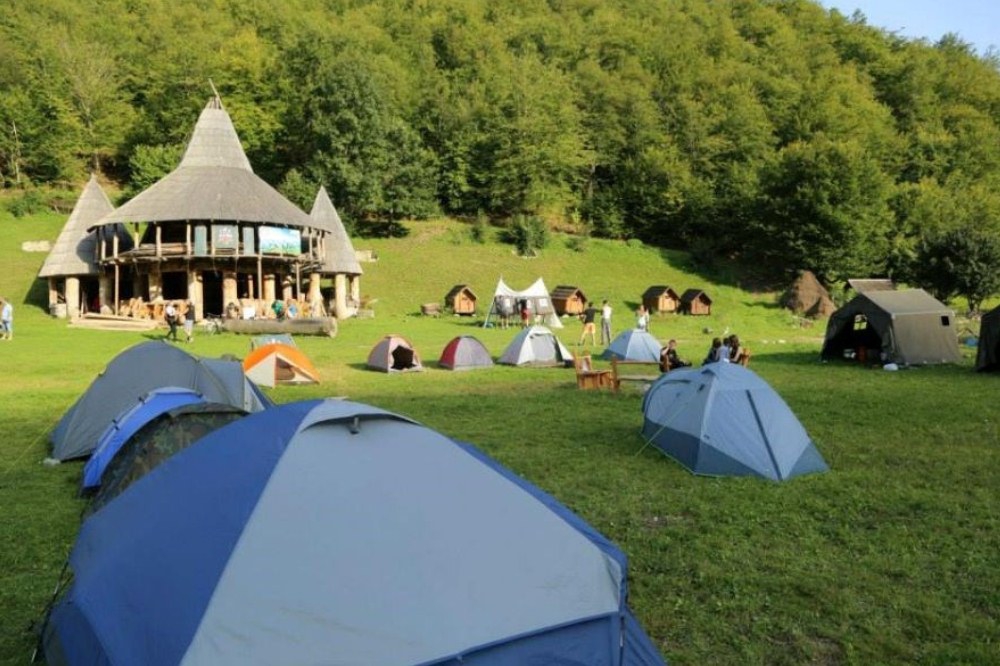 FitCamp Montenegro
A new resort, that will be ready to open its doors in the summer season 2021, is a place of a unique approach with an idea to bring you to the next level of vacationing. Only their
program participants
can join to the location, and they do accept camping vans, cars and campers in tents.
Programs
consist of a series of self-grow, healthy lifestyle, wellbeing techniques that include locally grown, organic food and juices. The estate where the camp is located is slowly going towards
self-sustainability
, as they use
rainfall
instead of Governmental water supply and they are building
a solar plant
to take off the regular electric network. Assuming that the food is also produced here, at the estate, this is a unique spot that comes as a real resort for the
nature lovers, adventurers and self-grow practices
.
It operates all year round, so usually during the winter, they have enquiries from
digital nomads
, who are interested to come for a workation period. It is suitable for groups of friends, couples or active families.
They offer
multi-activities holidays
on their
website
, that will help you meet authentic Montenegro.
Prices
to be announced soon.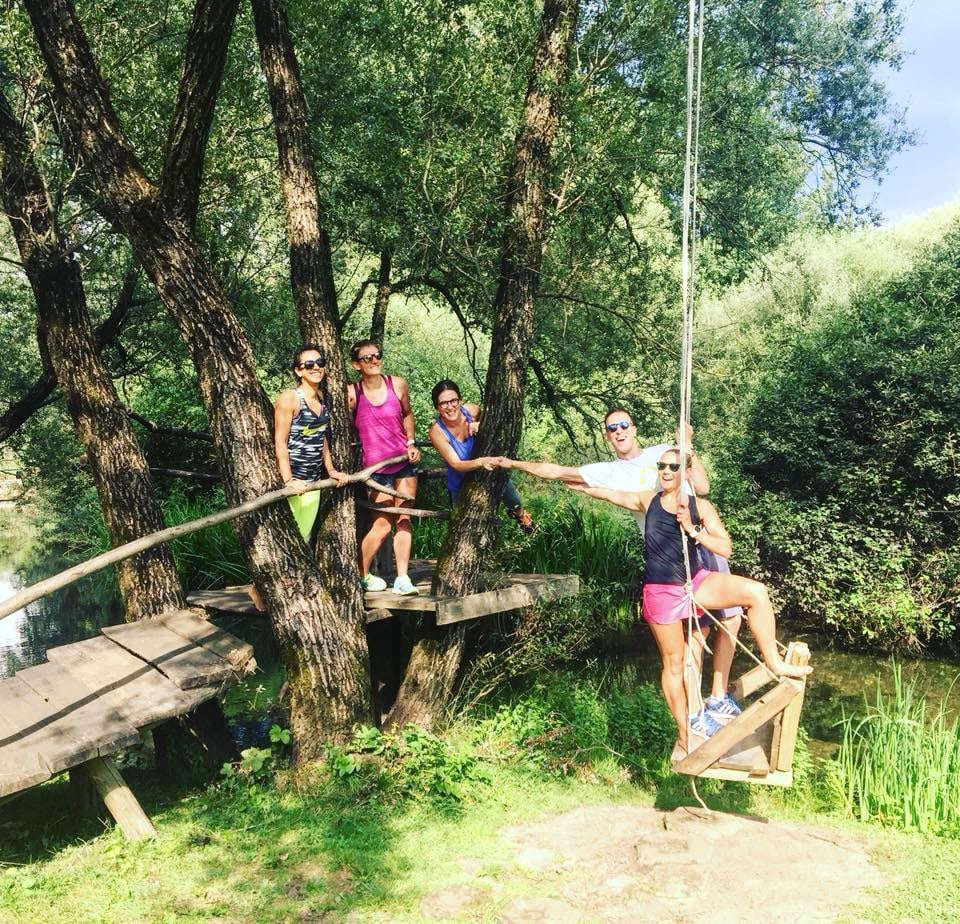 ***
Other than the above mentioned, here are some more:
Frutak Resort
Glamping Tramontana
Buljarica Camps
Ada Bojana Nudist Camp
Piva Glamping.