Medical Centar Budva
Montenegro
Medical
Experts with the superb equipment will make you look like a Hollywood star!
The Medical Centar is a private medical facility located in Budva (Becici) and is one of the few in Montenegro, which is engaged in providing a wide range of medical and laboratory services, as well as aesthetic and physical therapy. The Medical Center Budva is run by a team of professionals using the latest equipment available in the global market.

This hospital is well known for its unique service both in Montenegro and throughout the whole region with the accent on Belgrade substation called Dekoll Clinic. People from many parts of the world are attending here to get the best service with the most modern equipment and for a very reasonable cost when compared to other parts of Europe and the rest of the World.

Dermatological services offered at Medical Centar Budva:
General Dermatology - dermatological examination of your skin and all the visible mucous membranes by MD Spec in Dermatovenerology, Vanja Banicevic, including examinations of nails and hair.
Laser Dermatology/Cosmetology - permanent hair removal with the world's number one laser Candela Gentle Max Pro. This device is also very useful in laser treatments of Acne, Acne scars, enlarged pores; laser removal of the vascular changes on your face and body; laser cure of the pigmentation; laser tattoo removal.
Radiowave Dermatology - fibroma removal; stigma removal; wart removal.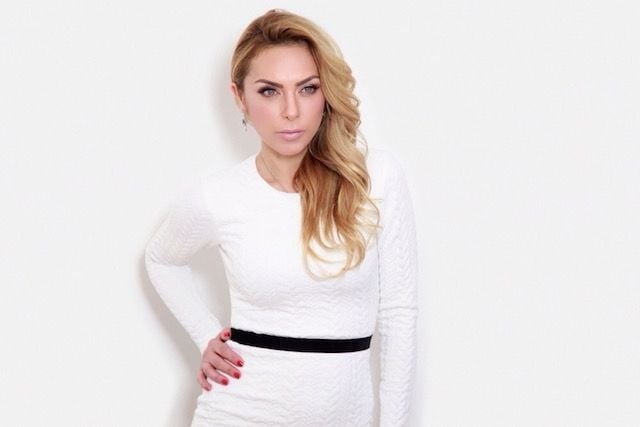 MD Vanja, Dermatovenerologist

Anti-ageing Centre for your beauty and weight reduction, with one of the top experts in Europe:
noninvasive methods including botox, hyaluron, chemical peelings, mesotherapy;
noninvasive liposuction (exilis) with the most modern equipment that works thanks to the radiowaves frequency and totally replaces liposuction, tightening your skin and making it visibly younger;
anti cellulite massage, lymphatic drainage (manual or with the lymphatic drainage device).
nutritionism - special diet programs with one of the most popular doctors in Europe who uses bio hormone therapy based on cocktails which are unique for each patient.
Besides these high-quality beauty treatments, in this hospital, you can get all you need:
General medicine (examinations, house visits, daily care, bandaging or sewing wounds etc.);
Paediatrics (specialist examinations, therapy, children gastroenterology)
Gastroenterology
Cardiology (ultrasound, Holter ECG, monitoring ABP, EHO)
Ultrasound diagnostic
Urology
Endocrinology
Physical therapy
Lab examinations.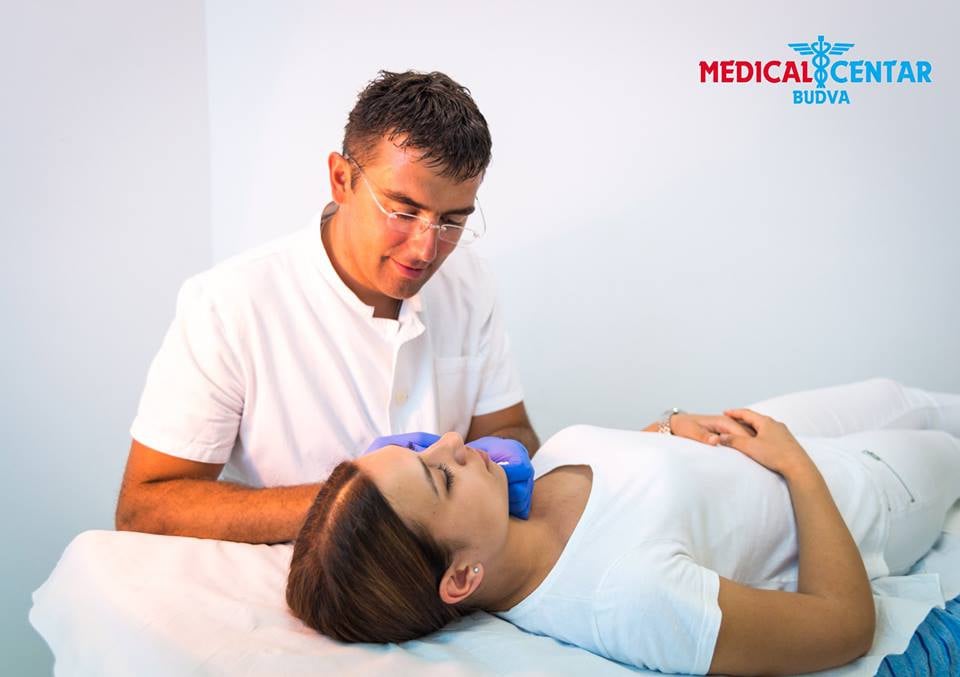 Botox Treatments
SKIN CARE TREATMENTS IN MEDICAL CENTAR BUDVA

Cool Lifting Gun is a revolutionary registered system to perform a shocking facial rejuvenation. The treatment consists of projecting a power CO2 flow, combined with an extremely high concentration of atomized actives at a very high pressure and a very low temperature. The attenuation of the facial wrinkles and the facial rejuvenation has always been the cornerstone of aesthetics, but now it is easier! After just one treatment, you can expect:
Intensive hydration of your skin
Collagen stimulation
Dermis regeneration
Better skin texture
Wrinkles reduction
Radiant skin.

Microdermabrasion is a noninvasive, skin resurfacing procedure that gently exfoliates or polishes away the top layer of dead skin cells, while stimulating collagen growth, to reveal healthy new skin that looks and feels smoother. Fine lines, blemishes, dull skin and sunspots can be improved, especially with regular treatments. Products such as moisturizers, creams and lotions are more easily absorbed and therefore more effective after a microdermabrasion treatment. This is a painless, low-risk skin treatment that can be added to your beauty routine. Results are visible after the first treatment, but 5-7 treatments are recommended. This treatment is used on:
Impure skin
Sun Damaged Skin
Hyperpigmentation
Age Spots
Acne Scars.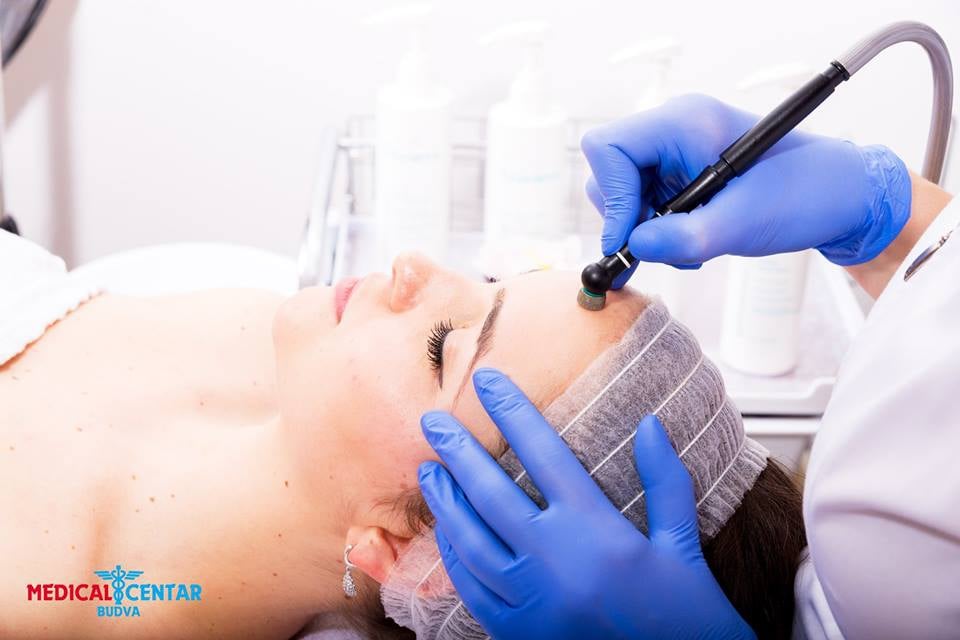 Microdermoabrasion

Exilis is a state of the art powerful RF (radio-waves) device that provides thermal energy to break down fat deposits and tighten and smooth skin. This device uses a monopolar radio wave that selectively heats the target area to the desired temperature, which can be monitored in real time through the hand-piece. The treatments are comfortable and feel like a hot stone massage. Each treatment session can last from 30 to 90 minutes depending on how many areas are treated, how large each is and how much correction is desired. A series of 4-6 treatments spaced a week to 10 days apart make for the best results, although some result is seen in just one treatment. Patients are encouraged to be well hydrated before, during and for a few days after treatment and some form of mild exercise post treatment will aid in fat removal.


AWT - Acoustic Wave Therapy is a gold standard in aesthetic and cosmetic anti-ageing medicine. AWT therapy is performed using a radial d-actor set that uses high-frequency acoustic waveforms up to 5 bar, that penetrates aesthetically and functionally modify tissue in the form of high-frequency pulses. Specifically, AWT therapy with acoustic waves uses the existing ability of the organism to regenerate, so that it tightens the tissue and begin the process of consuming fat stocks. Indications for AWT application:
Cellulite Treatment
Volume Reduction
Treatment Stretch
Lymphatic Drainage
Fixing the Skin
Wellness Massage.
e-Two Syneron Candela combines the unique Sublime and Sublative applications for comprehensive facial rejuvenation. Sublime TM uses the elōs combination of safe and effective levels of infrared light and bi-polar radio frequency energies to remodel the deep dermal layer of the skin by stimulating new collagen growth. Sublative TM fractionated bi-polar radio frequency technology places the heat energy effectively into the upper dermis where it can produce a significant increase in both collagen and elastin with minimal epidermal disruption. e-Two Advantages:
Visible Results, Low Downtime
Intelligent Feedback System, real-time information on skin condition, impedance and the energy delivery of each pulse
Safe & effective for all skin types
Quick treatments: typically 20 - 40 min
Short treatment protocol
Lightweight, compact, multi-applicator platform
Easily transports between practice locations.
PRX-T Treatment - A unique formulation of 33% TCA and hydrogen peroxide, enabling chemical stimulation of deeper layers of skin and fibroblasts, without sacrificing the skin barrier. For this treatment, it is often said that it is peeling without peeling because no exfoliation of the skin's superficial layers occurs, as is the case with the peeling, and the skin immediately becomes bright and transparent. Benefits:
a quick recovery period,
painless without needles,
immediately visible results,
can be done all year round,
intended for all types of goats,
can be combined with other treatments.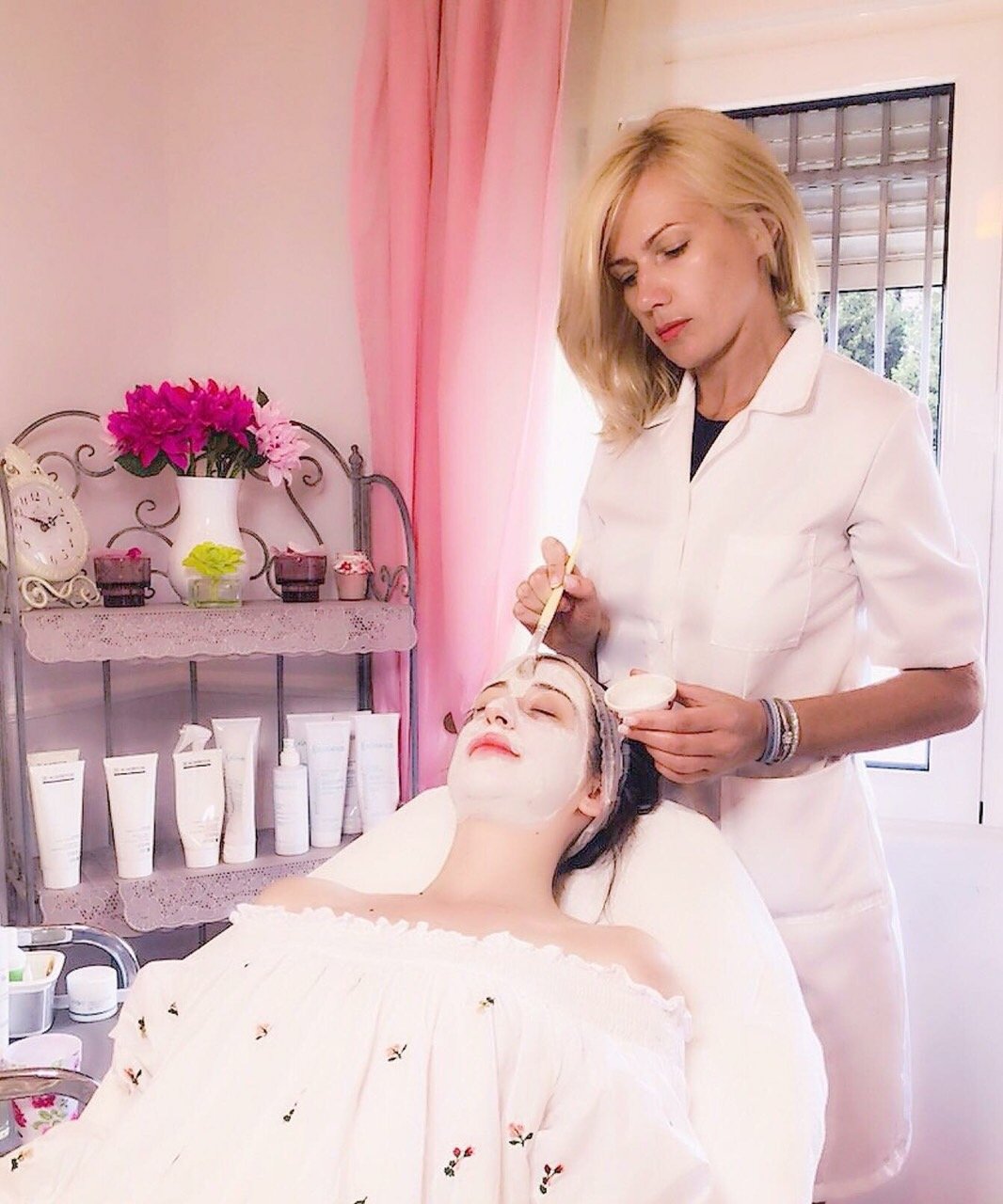 Julia, the cosmetologist, while working
Deep Face Cleansing
This treatment implies exfoliation, extraction of impurities, nourishes and hydrates the skin and reveals a fresher, healthier and shinier look of the face, neck and decolletage skin.
Chemical Peelings
This is a perfect treatment if you want to rejuvenate and regenerate the face, neck, decolletage and hands skin. Successfully solves the problem of the imperfection of complexion, removes the scars from acne, decreases the pores and excessive production of sebum, removes melasma, bad texture and fine lines and wrinkles. If applied regularly, it presents a unique anti-age treatment which improves the skin tones and its flexibility.
Ultrasound Cleansing
This is the safest and the most effective way of cleansing and rehydration, which can be done as a separate treatment or as an introduction in combined treatments.
Oxy Treatment
During this treatment, the face is treated with oxygen. The goal is to achieve the gloss, that the tissue is oxygenated and to feed it with active substances.
Face Massage
This is the best muscle stimulation of the skin. It raises the tone, tightens the skin, stimulates bloodstream and lymph stream, improves the oxygenation.
Skin Needling
This is a treatment which is being done with derma-pen, the device with which is effectively stimulated the production of collagen and which ensures better absorption of cosmetic and healing preparations. The great number of little needles enable the regeneration of the skin and injection of the active substance at the same time.
TCA Cross Technique
This treatment implies the removal of deep scars with TCA Cross technique - putting the high concentrated chemical substances in scars (Ice Pick Scar).
Mesotherapy
Biorevitalisation
PRP (Platelet Rich Plasma)
The natural method of rejuvenation of the skin.
Removal of permanent tattoos on eyebrows.
Permanent make-up (lips, eyes, brows).
Budget
Best For Whom
Business Travellers

All Ages

Mature Travellers