Brazilian passport and Montenegrin soul
Montenegro
He loves Montenegro and we love him!
This amazing guy loves Montenegro more then his homeland Brazil! Recently, his friends made his dream come true and he is here now! We made a short interview with him and here it is! 

Dear Marcelo,
 
Welcome to Montenegro. It is a real pleasure to see that your dream came true! We have several questions for you, and when we receive your answers we will publish it as an interview on our portal. We are, as you might have heard already, global travel guide, which promotes Montenegro in Europe and worldwide. We are part of the My Guide global network. So, lets start:
 
Marcelo, tell us a bit about yourself - where are you from originally, what you do in Brasil, do you have family and kids?
 
I'm Marcelo Roveda, I'm 36 years, I was born in Montenegro (the city), Rio Grande do Sul state, Brazil. I lived in Montenegro, the city, only 3 years, but I always worked there as nurse. I live in Portão, 30.000 inhabitants. I'm not married; I can't have my own children.
 
When did your passion and love for Montenegro start?
 
I still remember the day when I was 10 years old and Ms Angela Cruz said 'come on, children; let's open the books and study about Yugoslavia.' Everything started that day, but we are so poor, no culture, I couldn't know more about that small piece of Yugoslavia called Montenegro. Then, when I created my Facebook account, I tried to make contact with city halls in Montenegro. Municipality of Rožaje, in name of Mrs Anela Škrijelj, Fikret Kuč and Mr Nusret Kalač, sent me the Montenegrin flag and lot of gifts to Brazil. People from Rožaje started to add me on Facebook.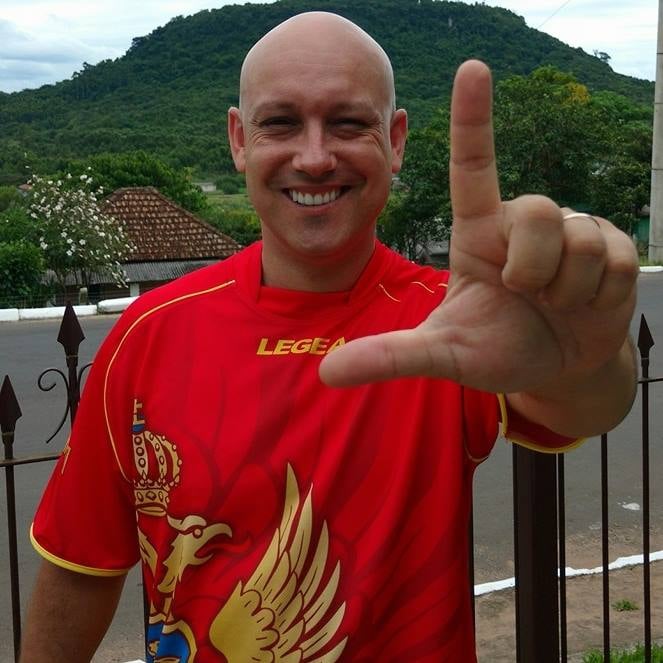 Do you have a lot of friends in Montenegro? Did they help you learn Montenegrin language?
 
Montenegrin people are much more polite and friendly than Brazilian. They try to teach me all the time Montenegrin language, but I couldn't get to learn a lot of it, because life in Brazil was so fast, I worked during all the day, and when I finally come home, I only wanted to take a shower, eat and sleep. But I know some words and sometimes I can understand what people are saying, but not repeat the same words.
 
What are your favorite parts of our country?
 
In fact, I don't have a favorite part in Montenegro, because every city is a different world inside the same country. I love these 23 worlds inside only one Montenegro.
 
Back in Brazil, what do your friends and family think about your love for Montenegro?
 
Back to Brazil??? Never! I prefer to die than come back to Brazil! Montenegrins know how to live and be happy. Life here is lived with will, with happiness. Some Montenegrin people speak badly about this country. I really want that they know Brazil one day, then they will say: oh, God, I was happy and I didn't know it.
 
My Brazilian friends always listened about my dream, supported and when I started to plan the trip, with ticket already bought, they started to collect money and buy all the things that I would need to bring here. They helped me a lot, like Montenegrin people did.
 
In Montenegro (the city), reporters are looking for me to give interview. Everybody there is turned on this trip and liking and saying that I have reason, that Montenegro is a real paradise in the earth.
 
How do you feel now, when you are finally in Montenegro?
 
To be here, in Montenegro, really is a miracle. This kind of thing only happens on Brazilian TV, where they make dreams come true. In fact, I never believed that I would come here one day, until Milovan Vukov Jankovic, Beljo Radončić, Jovan Roganović, Anela Škrijelj and some others Montenegrin started some campaign to collect money to bring me here.
 
Do you have any future plans that include Montenegro?
 
I only want to leave one last message for those Montenegrin that speak bad about this country – Montenegro is the country of the past and will be the country of the future. This is the best country to create your sons, because only like this they will know where is the real happiness, because, believe me, happiness it's here in our eternal Montenegro.
 
Thank you Marcelo for answering us! Have a great time in Montenegro!