Love for Folklore as a Showcase of Montenegrin Cultural Heritage
Arts & Culture Interviews
Interview with Bojana Radonjic, Folklore Ensemble "Nikola Djurkovic" Kotor
Our Top Experiences and Tours in Montenegro:
If youʻre booking your trip to Montenegro last minute, we have you covered. Below are some of the top tours and experiences!

 

Montenegro is a country affected by many historical events and with a wide beautiful selection of cultural & historical legacy. One of the most beautiful ways of showing it off is

folklore

. We figured out that Montenegrin folklore would be an interesting topic for you to read about, so we decided to bring you this exciting story. And who would be better to tell a story about Montenegrin folklore than a girl who is living it? 

Dear readers, check out the interview below that we did with a dear friend

Bojana Radonjic

, who is a dancer at the

'Nikola Djurkovic' Ensemble from Kotor

. Follow Bojana's story at her Instagram page

@lady_boka_

and her exciting stories behind the hashtag #

izuglafolklorasa

(from-the-folklore-dancer-point-of-view).

 
MG: Since when have you been involved in folklore and how the love for this hobby started?
 
B
: I have been engaged in folklore for less than 6 years, more precisely since I was 25. Most people can't believe it, they think I do it for a longer time, which I find very sweet. My first encounter with it was in kindergarten and I felt interested in it in the elementary school. Even today, I remember the situation of asking my parents to enrol in folklore. The answer was negative because at that time there was no ensemble in
Kotor
, but only in
Tivat
, for which they did not have the budget and time to take me. It was more difficult back then and I knew their decision was final.
I somehow suppressed my wish or at least I thought I did, but from time to time I was thinking about it and didn't enrol again, as I thought I was a bit late for it.
Years after, I completed my studies and returned home to Kotor to finally decide to try it myself. The 
Đurkovićs
 
Ensemble
was only 5 years old at the time, but even then they were doing a great job. It took me 2 rehearsals just watching before even trying to step in the circle, seeing how much work it takes to reach the basic level of knowledge.
With the great support and unselfish help of the other members - who are partly my good friends today, and of course the excellent experience and knowledge of my dear
Professor Susic
, followed by my commitment (since September 2014), I've got the license for
a Teaching fellow of folk dances of Montenegro
, which was issued by
the Association of Folklore Ensembles of Montenegro.
 
Behind me, I have a large number of
seminars
; I work as an assistant in the ensemble and conduct rehearsals for two
children groups
and what is the most important to me is that I am the
"the right hand"
of the ensemble, something similar to the function of the Secretary of an association. That says enough about my love for folklore, which I have found and cherish.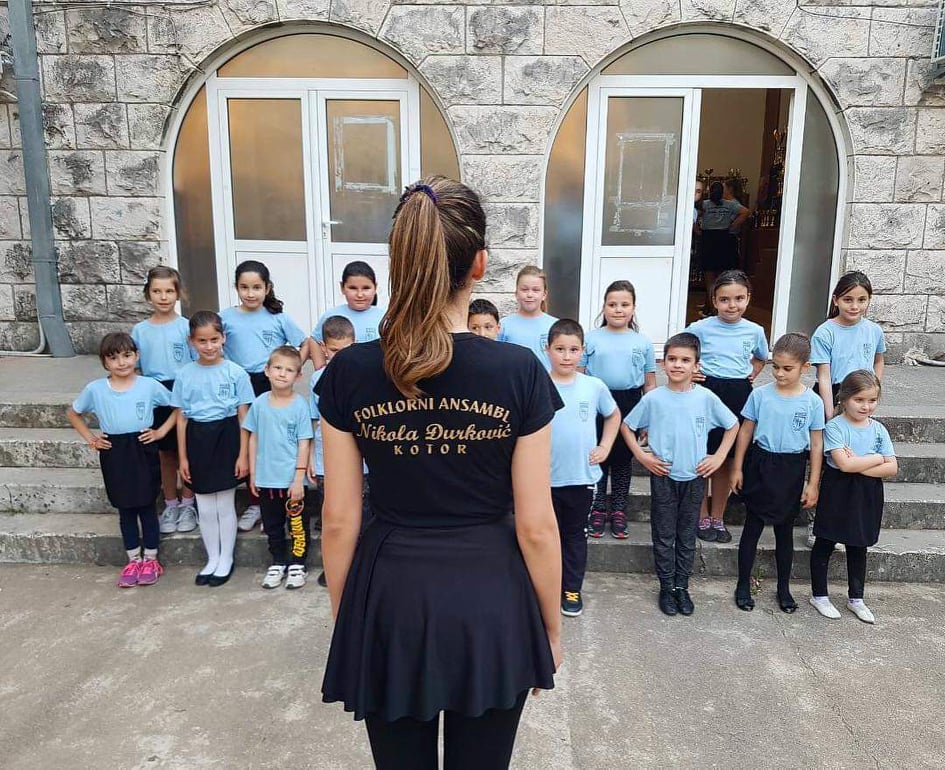 MG: How long has the ensemble been performing in and what is your focus in the folklore games?

B: The folklore ensemble "Nikola Đurković" was founded in September 2009 on the initiative of professor Predrag Susic, who is also the owner of the society. We are a private association and we strive and grow together thanks to the professor's knowledge in the field that he cherishes and has been in for around 30 years.

Our main focus, when it comes to doing rehearsals and later presenting them in choreographies, is a clear, precise and accurate rendering of dance patterns, correct in style; we are focused on the story we want to convey to the audience through song and play, but also acting which is often present on stage.

When it comes to folklore dances from the territory of Montenegro, our focus is especially on original performance, as much as possible.

Also, we procure folk costumes and enrich our holdings, on which we work constantly and allocate almost all our revenue. What I would add is that what matters most to us is the good energy that our members share and their satisfaction when it comes to the work of the ensemble.
 
MG: What cultural heritage is your favourite? Is it Boka Bay folklore or some other region?
Uh, that's the hardest question! :)
When it comes to
vocal interpretation
, I have to say that the tunes of the
continental part of Montenegro
fit me best. It is the style of singing that fits my voice and it's also the closest to my roots and therefore to my heart.
Regarding the
dance
, I love '
Poskocica
', our indigenous pattern by which we are known in the dance culture of the region and beyond, and which, most beautifully, describes the value, strength and wisdom of two young people who are dancing it.
When it comes to
Boka folklore
, I would single out a '
Sotic
' and a '
Dobrota Poskocica
' as the most beautiful dance elements. 
My favourite dance style could be related to games from Central, Eastern and Southern Serbia and Macedonia. I mostly like more dynamic dances.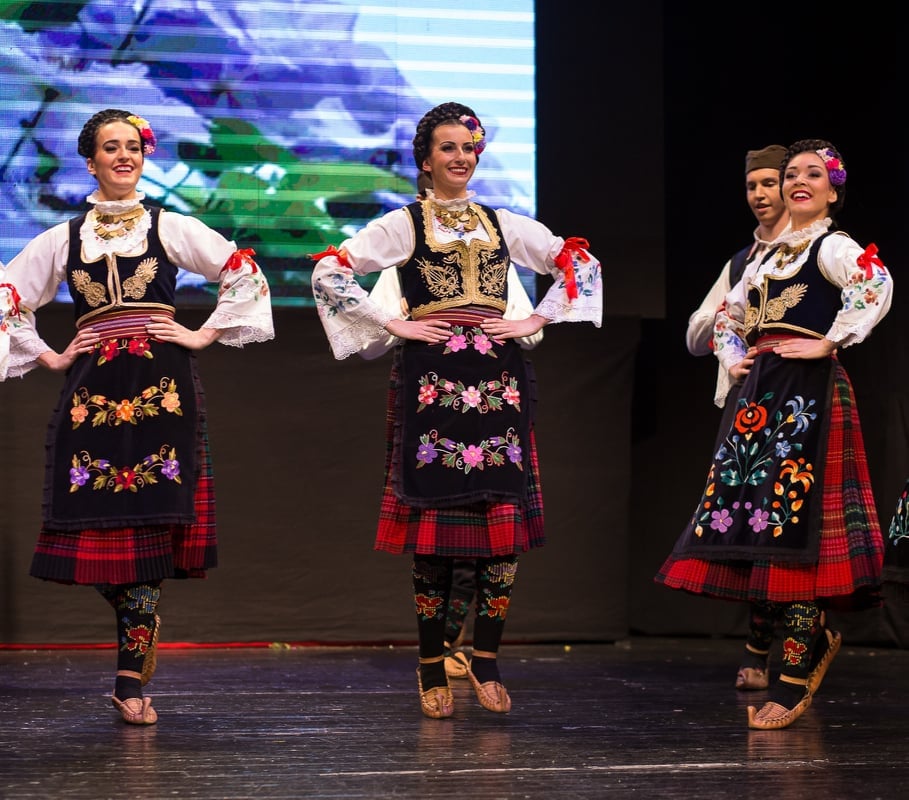 MG: How did the #izuglafolklorasa ('from the folklore dancer's point of view') idea come to you?
The idea of ​​#
izuglafolklorasa
was somewhat spontaneous. In my goals for this year, I very consciously wrote that I wanted to launch "
something mine"
in the world of folklore, still not knowing what it might be. Finally, a month ago, during a conversation, I realised what I want and delivered it a guideline.
It was
a really big moment for me
because I finally awarded myself the opportunity to write about what I love and what I do so that I can inform not only folklore dancers and admirers (who are part of what I am already writing about) but other people as well, who love to hear original songs and learn about traditional costumes. As it's all written from my perspective, I decided the name and tag #
izuglafolklorasa
which means 'from the folklore dancer's point of view'. One of the goals is to try to receive
a bit more space for folklore as a discipline in the media of Montenegro
.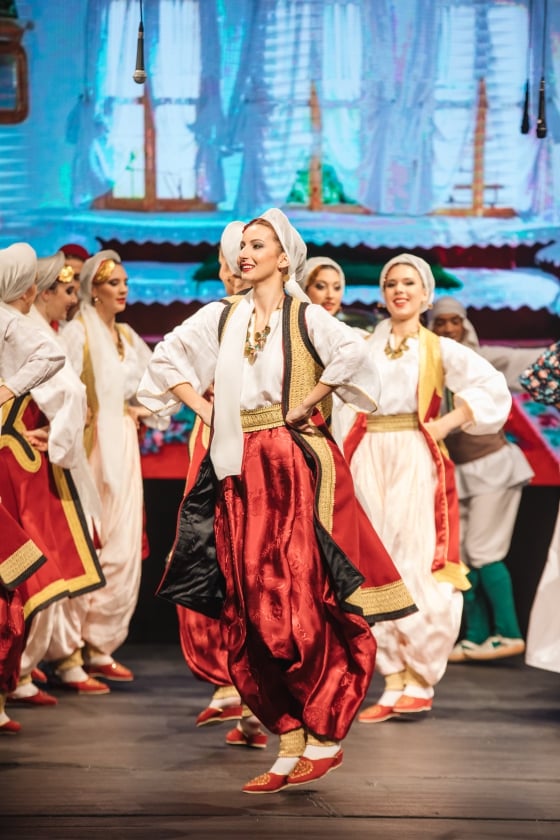 MG: Tell us your opinion about the importance of folklore dance for getting to know the culture, traditions and civilisation of a nation.
It is extremely important because all the dance, songs, customs and research that are done in the field
to preserve the cultural heritage of a country,
which ensembles, societies and other associations nurture, are the only constantly present demonstration of the heritage we cherish. 
Apart from presenting to our fellow citizens, the tourist presentation is also very important, here in
Kotor
. During the season, we are heavily engaged by travel agencies and hotels where we could have even up to 5 performances a week, which speaks enough about the demand for this kind of the cultural program from visitors.
Without any doubt, when all the #coronavirus madness passes and the season begins, our performances will start again, which makes me extremely happy. It feels amazing to show our cultural heritage to our visitors!
***
 
Thank you, Bojana, this was very informative and full of passion! We can't wait to see some performances of your folklore society and we promise to keep an eye on #
izuglafolklorasa
. 
Stay safe, stay at home and enjoy reading us!