Eat & Drink - Niksic Edition
Food & Drink
Our Top Experiences and Tours in Montenegro:
If youʻre booking your trip to Montenegro last minute, we have you covered. Below are some of the top tours and experiences!

The town of

Nikšić

is located in the central part of the country at the foot of the hill

Trebjesa

, 50 km from the capital Podgorica. This is the largest municipality in Montenegro, with 14.95% of the country's territory. It is a city that used to be one of the biggest industrial centres of Montenegro and ex-Yugoslavia. Nowadays, it is best known as the city of Nikšićko Pivo, the favourite beer of Montenegrins; the city of alternative art, music and festivals.

Just like we did previously for

Podgorica

, we have prepared an

Eat&Drink

selection for Nikšić as well, to make it easier for you to know where to go when you visit this town.

Let's start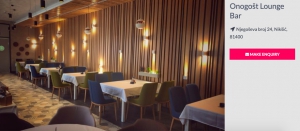 Onogost Lounge Bar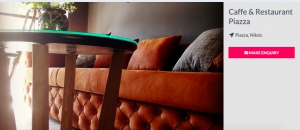 Cafe & Restaurant Piazza


Hotel Trebjesa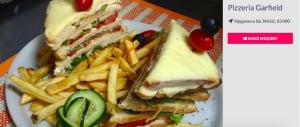 Pizzeria Garfield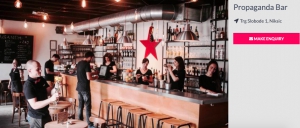 Propaganda Bar


Royal Garden Cafe & Restaurant
The newly built Royal Garden Event Centre is located in Gornje Polje, 3.5 kilometres from the Niksic city centre. This centre comprises many facilities, including the restaurant popular as a
wedding facility
. Although this facility is new in the tourist offer of Nikšić, it has already stood out with its unique offer. Here, national and international cuisine is at your disposal, while the a la carte restaurant is designed to the highest standards. Royal Cafe Bar proposes a diverse quality offer of wine, desserts, and coffee.
Burger Factory
Burger Factory is another relatively young company in Nikšić opened in 2016. It has started with its work modelled on the
US burger restaurants and fast-food market
, which has become one of the most popular food markets worldwide. What characterises the Burger Factory is seriousness and professionalism, but also friendly staff. Fast food from here will surely provide you with high-quality service, very tasty and affordable products.
Restaurant Pekara
...stands out as one of the favourite places not only for locals but also for tourists who visit Nikšić. This restaurant, located in one of the most picturesque streets in the city centre, has a modern and warm vibe at the same time. It offers great food, cakes, and drinks in a lovely ambience, and at fair prices too. It is especially known for good cakes and pastries, and its waffles are considered one of the best in town.
Bread & Pita
This bakery with the characteristic name "Bre(a)d(&)Pit(a)" (pita is pie in Montenegrin), has been operating in the centre of Nikšić for more than 3 years now. What sets this bakery apart from most others is the process of making products from fresh homemade dough, and thus offering homemade products to customers. The menu consists of different types of salty and sweet products such as tortillas, risotto, chicken (prepared in different styles), pizzas, pancakes, sandwiches, pies, etc. and they have a daily offer on discount.
In addition to great taste and unusual name, this bakery also offers an unusual interior. When you enter the bakery, you will see numerous flowerpots hanging on the wall. Each of these flowerpots has engraved verses by Vito Nikolić, one of Nikšić's most famous poets, which represents a unique atmosphere that carries the spirit of the city.
Floyd Food Niksic
This restaurant is another recommendation for the perfect escape from the city. Located a few kilometres from Nikšić, just by the road, it is surrounded by beautiful nature. It is a contemporary, clean and warm place where you can taste fresh and homemade traditional food. Overall, this is a place where you would want to have your weekend getaway breakfast or family lunch. An unavoidable place to make a shortstop, before you continue your trip towards the Durmitor region or Boka Bay.

Café Park Restaurant Manitovac
...
located only 1.5 km from the city centre, is placed on the banks of river Zeta, next to the main road Nikšić-Žabljak, as well as the road to Trebinje and Boka Bay. At the first glance, this is a place where most of the passengers stop for a short break from long trips. But, this cafe park of 15.000 square feet has also become one of the most beautiful picnic areas in Montenegro.
With its pleasant ambience, good food, friendly staff, mini zoo, and children's playground, Manitovac offers a delightful place for a break from the city crowd, for you and your family, friends, and business partners. Its appearance, construction, harmony with nature and men's work attract visitors of all ages; both the local population and tourists from other parts of Montenegro, the region and abroad.
Tavern "Kod Draskovica"
...
is located at the shores of lake Krupac, and it is known as one of the most unique fish restaurants in Niksic and further. This is confirmed by the fact that especially in the summer months, among the guests next to the locals you can often notice the French, Dutch, and many foreign visitors. The restaurant has a terrace just on the lake. This is a fantastic place for family lunch, business lunch, or just a place where you come to spend your leisure weekend afternoons. The main specialities are fish soup, trout, carp, chub.
Riverside Maksimović
Riverside Maksimović is a tourist complex near Niksic that comprises a restaurant, a sports field and a camp. The restaurant is located right next to the river Rastovac stream, which gives it a unique and wonderful ambience. Besides, guests are delighted with the service and friendly staff, as well as very tasty food.