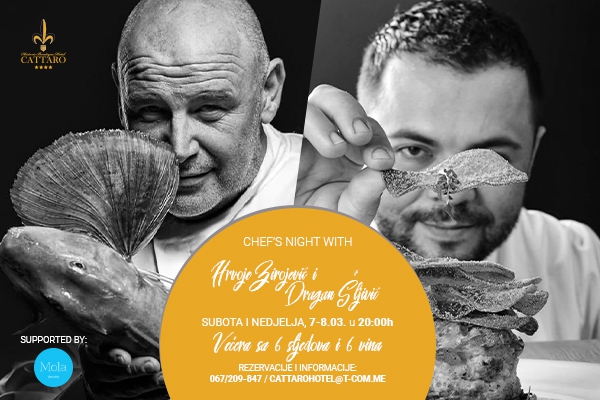 Event Details
March edition of amazing serial named 'Chef's night' will be held at hotel Cattaro.


The six - course dinner will be prepared by the duo of master chefs - Hrvoje Zirojevic and Dragan Sljivic, and the food will be paired with stunning Montenegrin Mola wines!


Menu in short is the following:

1.Tuna carpaccio stuffed with goose liver. Wine pairing - NOVEL 2018 - Rose.
2.Starter meat 'Cattaro'. Wine pairing - Merlot 2018.
3.Barley risotto 'In the sea'. Wine pairing - Chardonay Ch 2018.
4.Rye fillet in vegetable and wine sauce. Wine pairing - UNIQUE 2018.
5.Main Course Meat 'Njegosevi pjati'. Wine pairing - Doris 2017 - ( Merlot & Cabernet Sauvignon )
6.Dessert - Cuba Libre Mango. Wine pairing - Emi Rose 2018.



The dinner price is 50 EUR per person, and it includes the consumption of wines.

Welcome!