Spark.me - the biggest tech/business conference in Southeast Europe
Press Releases
Edition 2019 - Blaze the Trail
Another May is closing to its end and every May in Montenegro is a synonym for the
Spark.me
conference. That's the time of spring when many international speakers are brought to us by this great event dedicated to innovation in business and digital marketing.  
This year came with a slightly different setting, still with a strong Spark.me mark, but located in Tivat instead of Budva. Porto Montenegro and their company provided their conference room just next to the marina and it became the home for Spark.me 2019! Even though if our team was delighted to participate, there were some jitters - how it will be in the new environment, but once we entered the room, every fear disappeared as this unique Spark-energy was present to the fullest, no matter the room!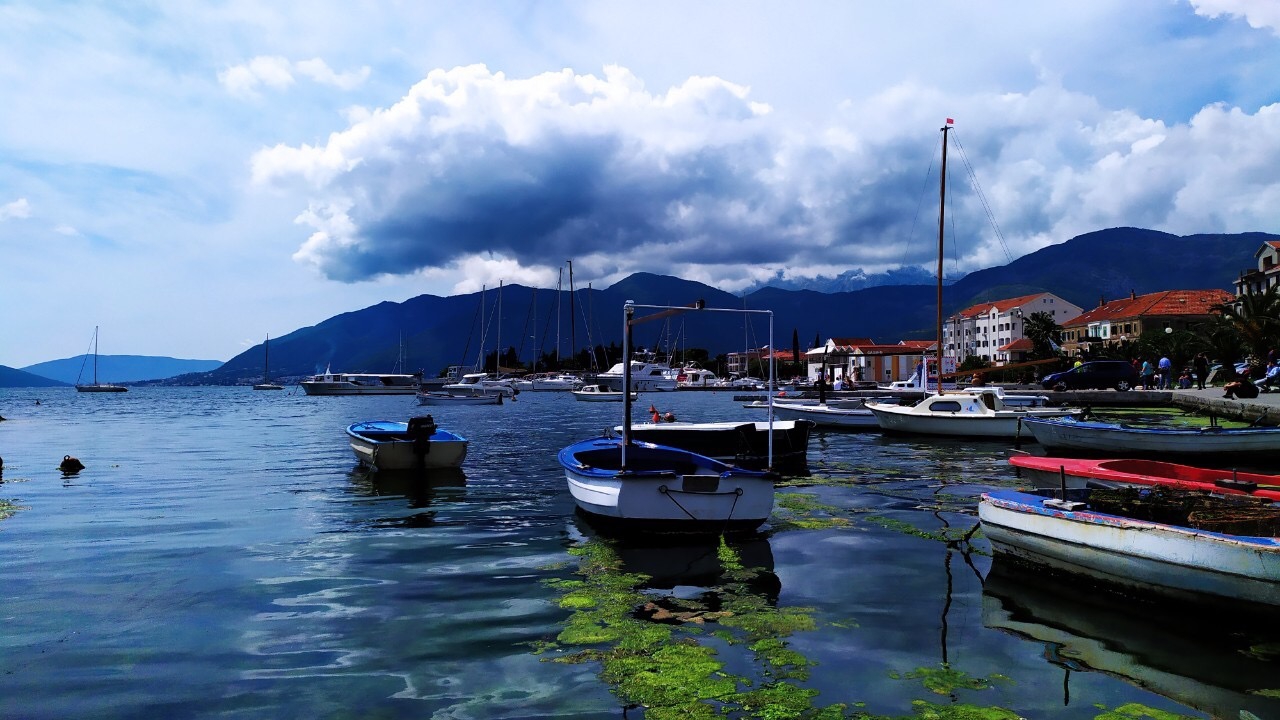 Just in Front of the Conference Room - Photo by MaraMax 
The whole Montenegrin team of My Guide Montenegro was thrilled to be there and some of us were looking forward to this conference since the last year. ☺ The program was well organised, with quality speakers and timetable that covered every single detail - from coffee/Pepsi breaks to organised lunch and speakers time.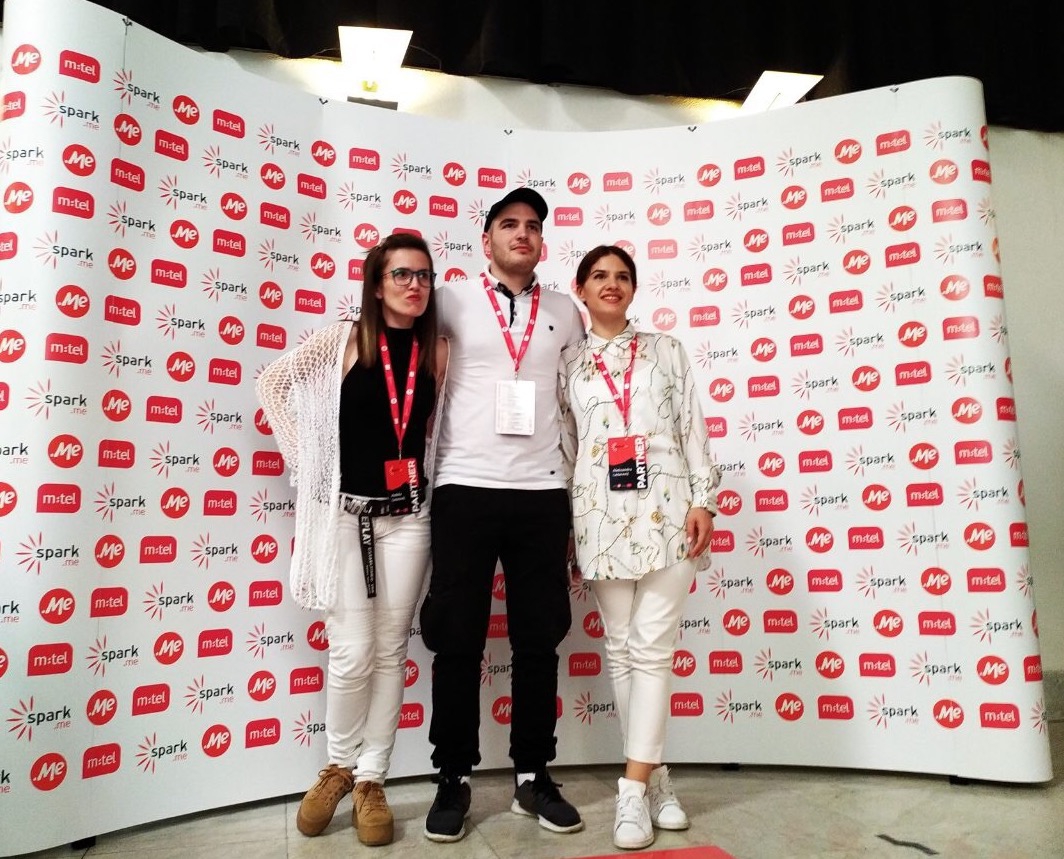 On Saturday, May 25th at 10 o'clock sharp, the conference room was full and the show was about to start! The music was a bit low and the stage looked strange and just for a second I thought – oh no, no technical issues, please! But, it was just a trick, as the stage turned into something WOW after the curtains went up and the music started playing louder! That was it! A perfect beginning to a great conference! Look the video below.   
DAY 1 - Speakers Overview
A keynote speaker to open the show was
Peter Shankman
! Well-known New Yorker, best selling author and serial entrepreneur said that he only wants to wow the audience and he succeeded in it! A nice message we heard from Peter and we couldn't agree more: "You don't control the direction of your company or the direction of your audience. Your audience controls it!"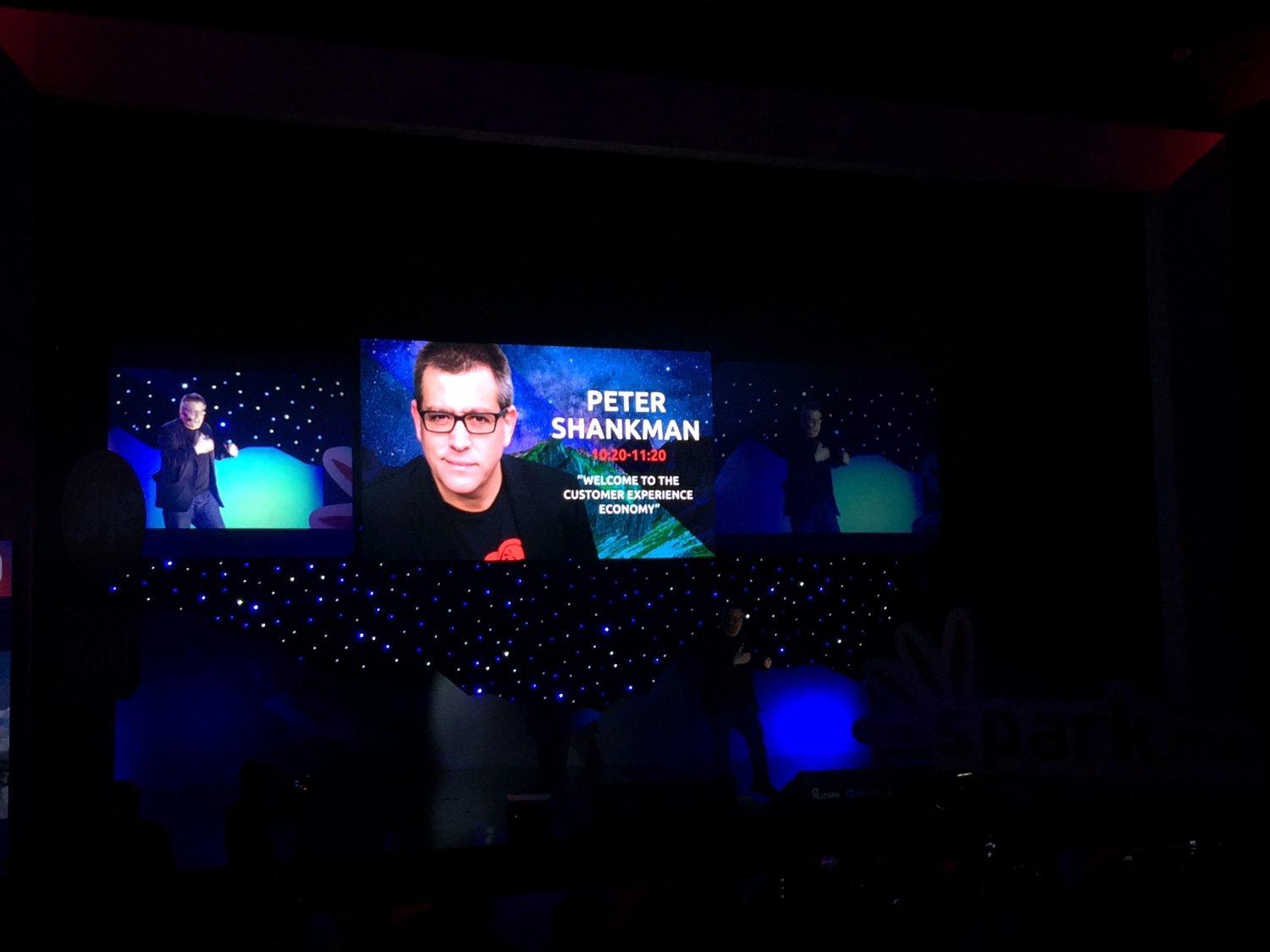 Next speaker on day 1 was
Jason Miller
, a brand marketing manager for the EMEA region at Microsoft, who told us more about the AI development and how it can affect our businesses. A cool message we heard from him was "Creativity is the only thing machines can't replace!" meaning that there is still hope that machines won't change human work!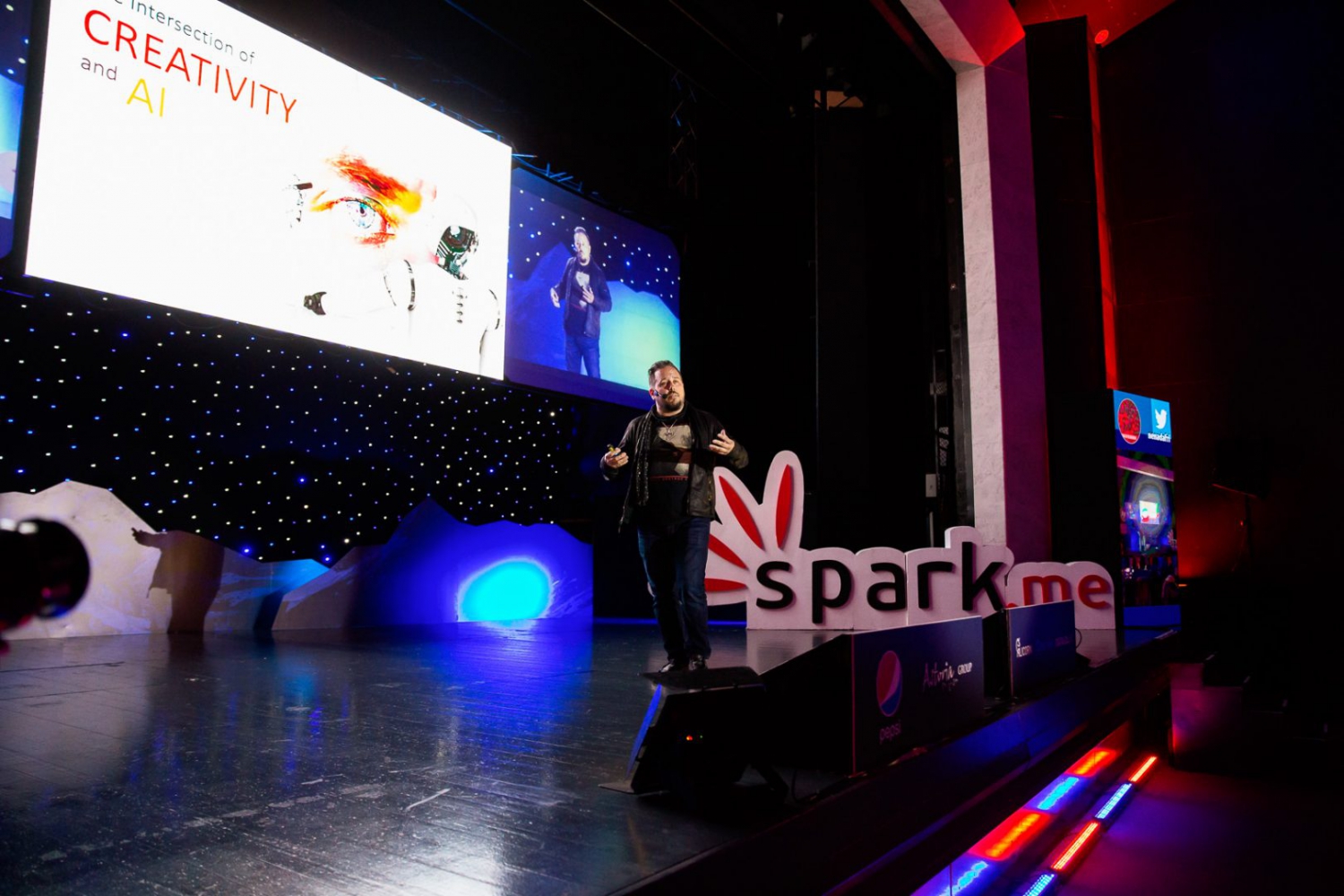 Photo by Spark.me
The first lady for the day was Cate Murden, CEO of
Push Agency
. Talking about stress at work, she explained to us how to put ourselves first with an amazing 4A methodology: Avoid, Accept, Alter, Adapt. The thing is that we can't multitask, as much as we wanted to think that we can and thus, her methodology is showing us alternatives we can apply in our lives - very useful for people working under too much stress.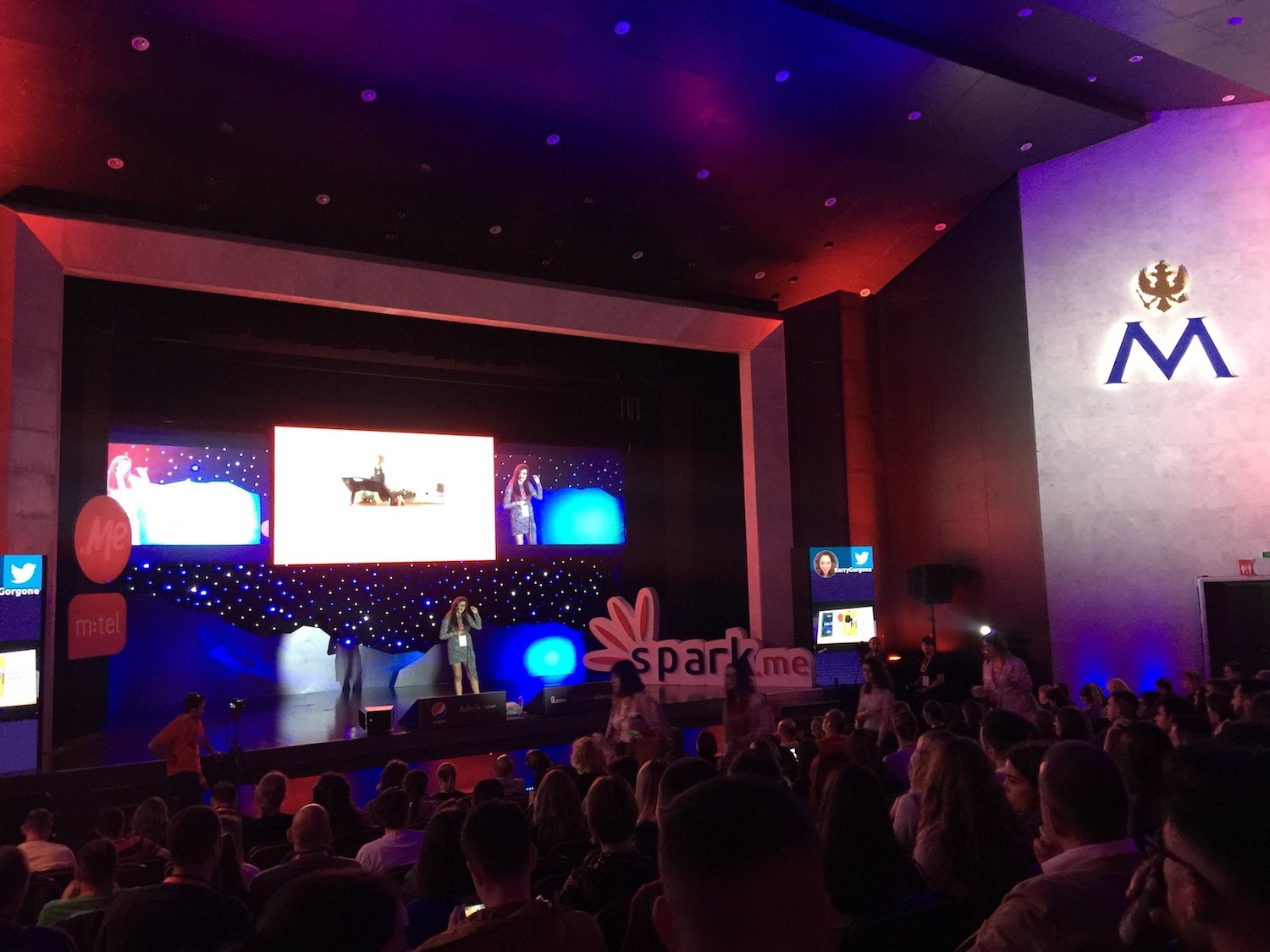 Just before lunch, on day 1, we had some magic on the stage! Literally! A magician
Julius Dein
was one of the speakers, as a person who managed to have multiple viral videos in the magic business he does. Julius taught us how to present ourselves online with an accent on the distribution of our content! Look at the video below.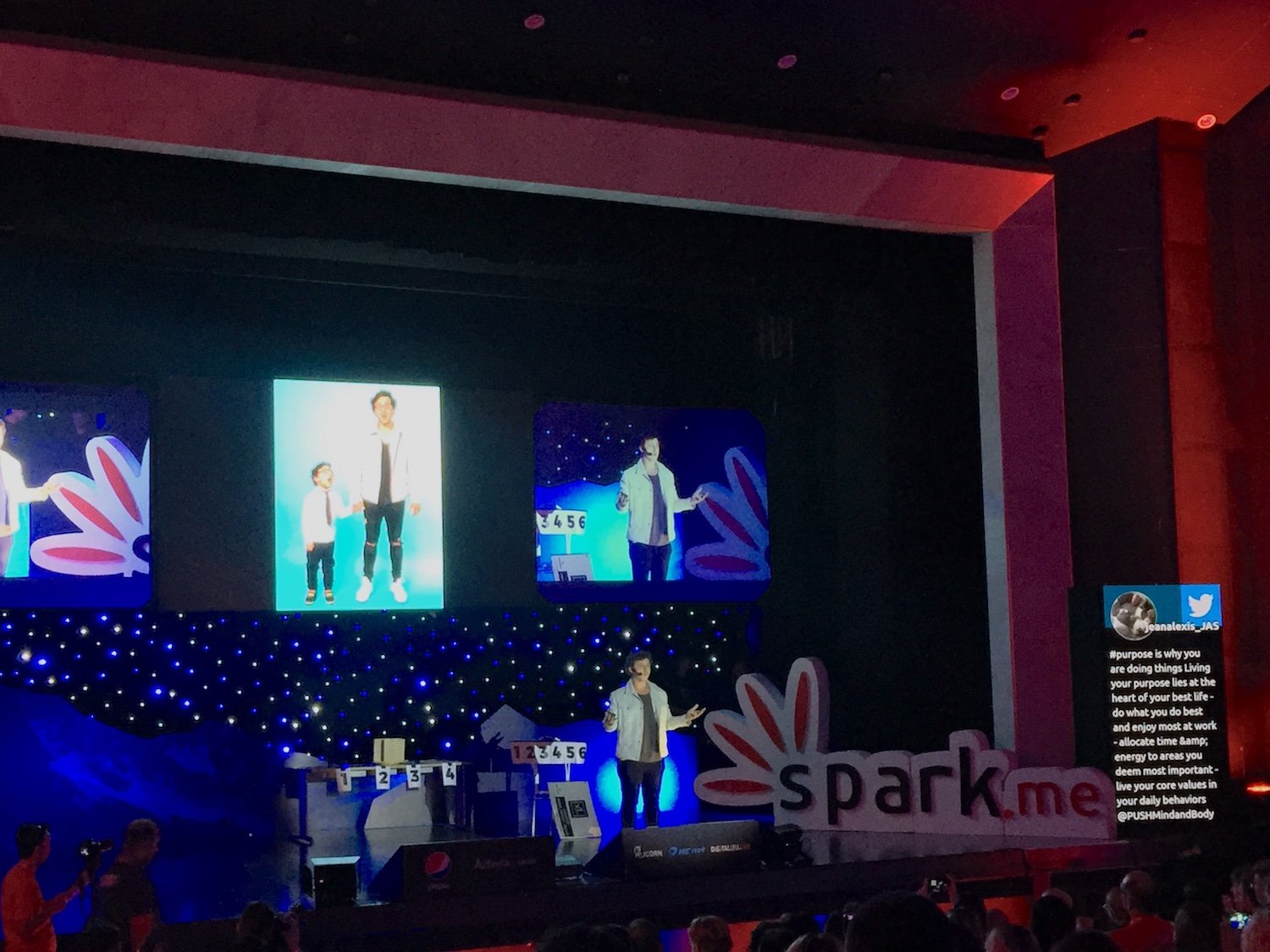 Just when we thought that the most interesting part of the day ended with Julius, Sam Conniff Allende proved us wrong! He came to the stage after the lunch and made a show that received standing ovations! With clear messages that no-one is coming to save us either we make statues for people who only follow the rules, he motivated everyone in the room to "be more pirate" and to start a rebellion for a bigger business cause, because sometimes when you here "NO" you should pretend you heard "GO"! His book "Be More Pirate" is available
here
, for all of you who would love to read it!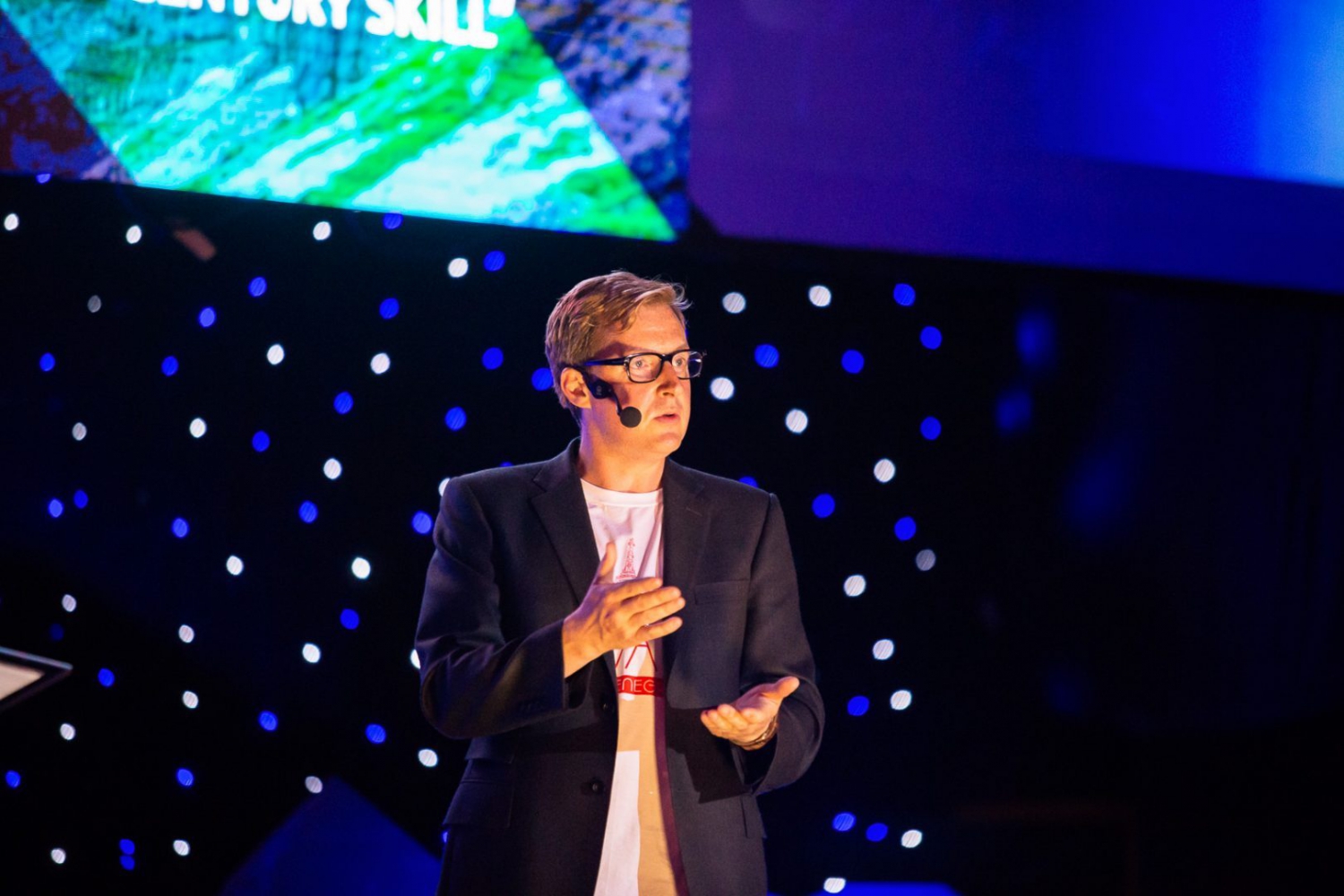 Photo by Spark.me
Last for the day was a lady, Anab Jain, who has gained international recognition for her work and commentary on design, innovation, emerging technologies and complex futures. Her company
Superflux
did a lot in using technology in order to help people all around the world to improve their environments and general health/elderly issues. A very useful story!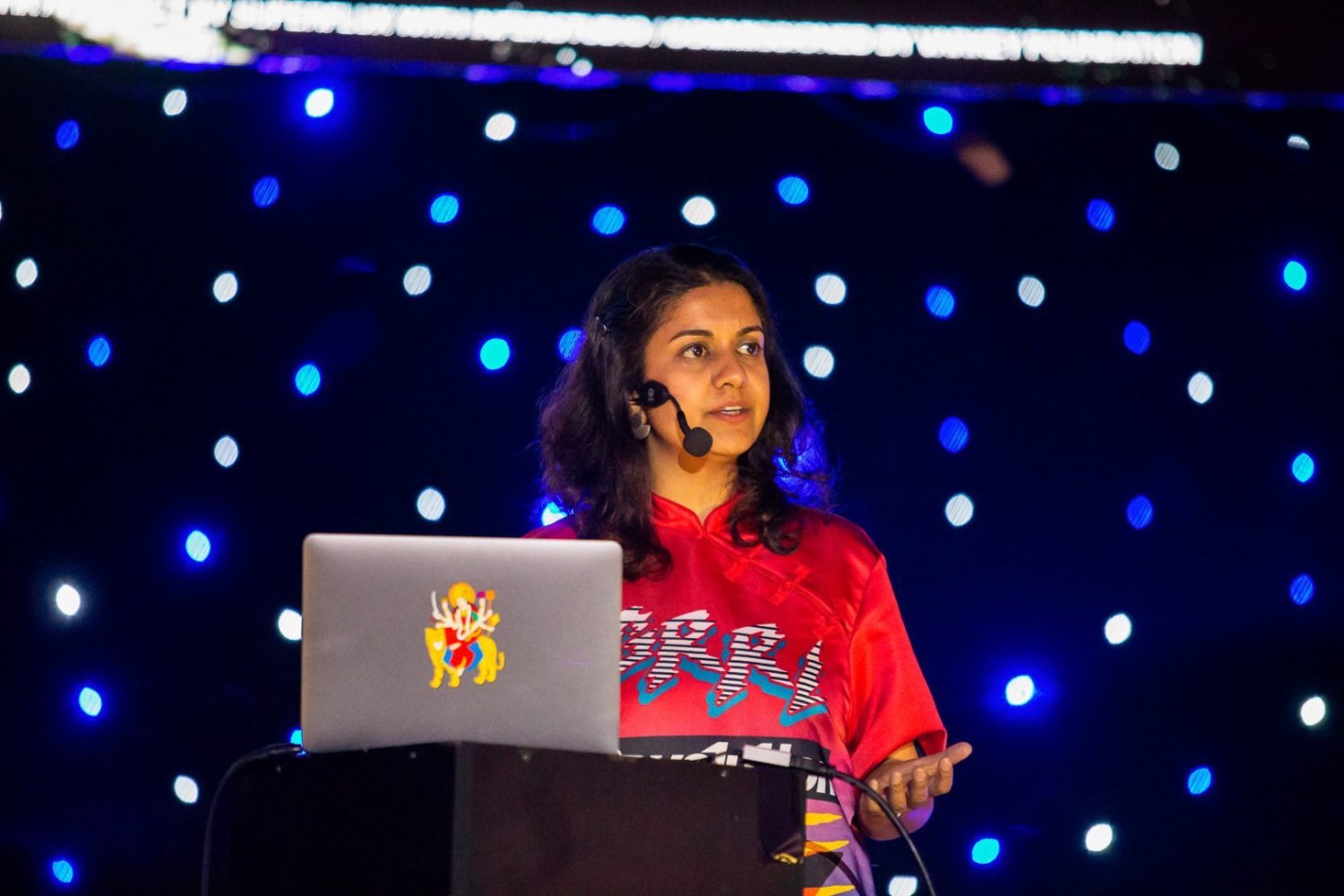 Photo by Spark.me
DAY 2 - Speakers Overview 
The next day, Sunday, May 26th, started with
Jeremiah Owyang
who led us through 6 digital eras in the world, explaining the modern wellbeing to the participants. The audience loved him so much and the applause lasted for several minutes at the end of his speech. His introduction was well noted, as he asked the audience to repeat "blaze our trail" (Spark.me 2019 slogan) 10 times, with crescendo effect! ☺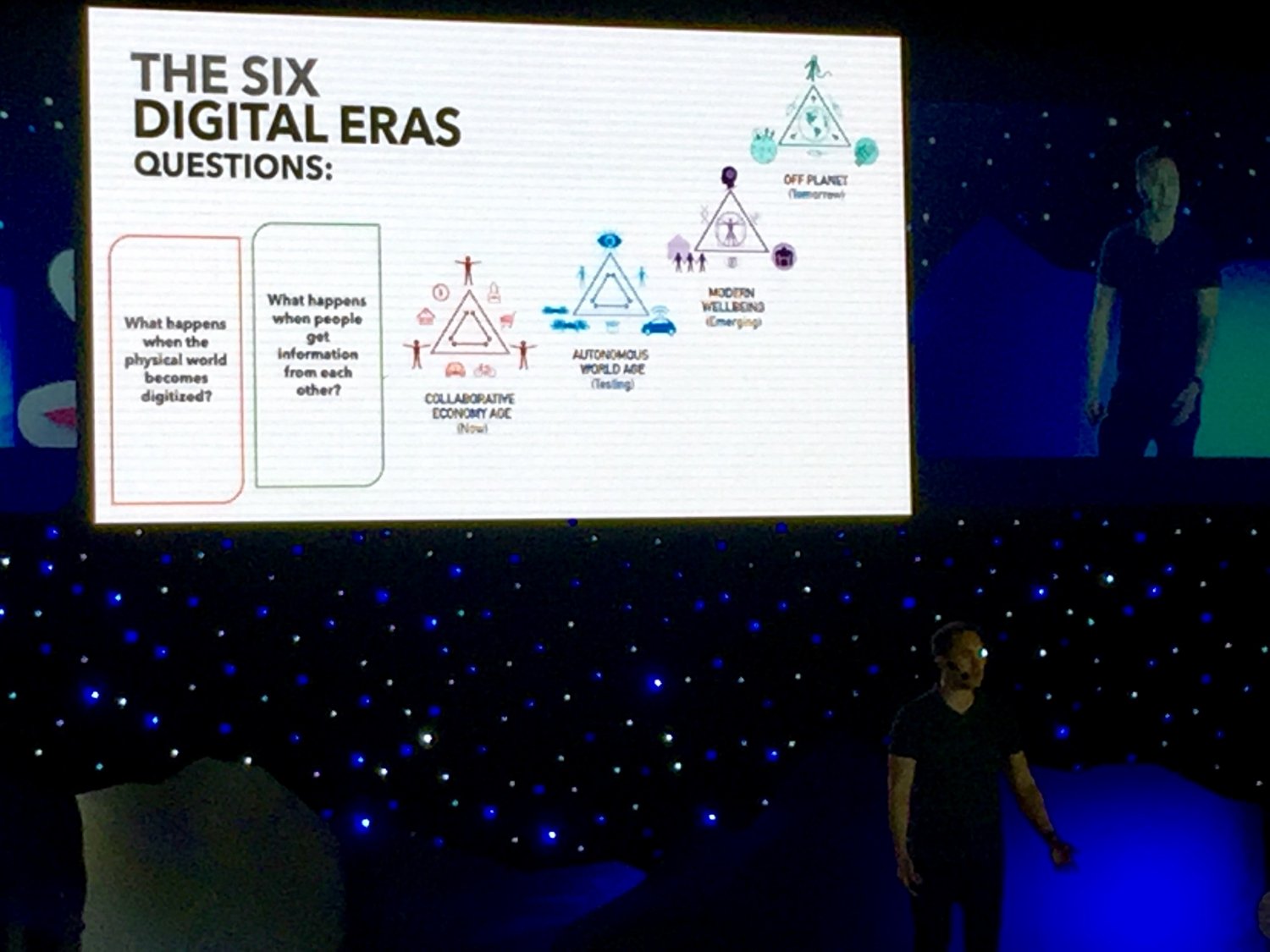 After Jeremiah, Mr
Brian Fanzo
came to the stage, with his effective pink outfit stating that "We are living in the greatest time of the history!" Technology gave us a lot, but we need to shrink the gap between online and offline and make our followers love us!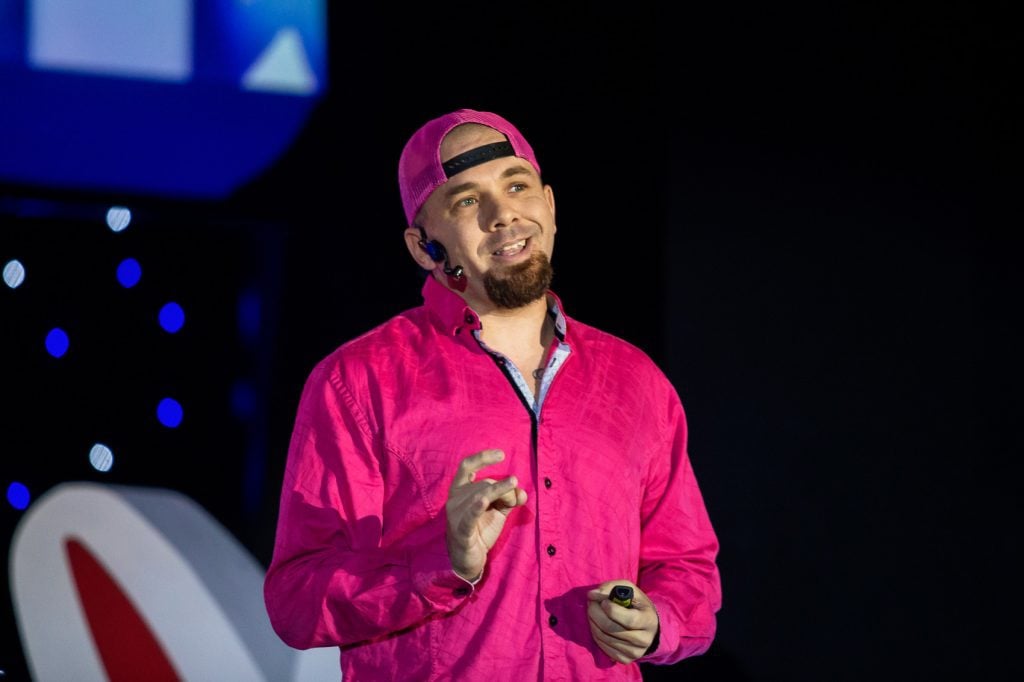 Photo by Spark.me
With a very effective story behind his speech, next on the stage was Tom Goodwin! Tom spoke about the power of rethinking and after all the talk about technology, AI, social media and digital trends he made us rethink about the real behaviour of people and customers out there! He elaborated this topic in his book "Digital Darwinism" available
here
.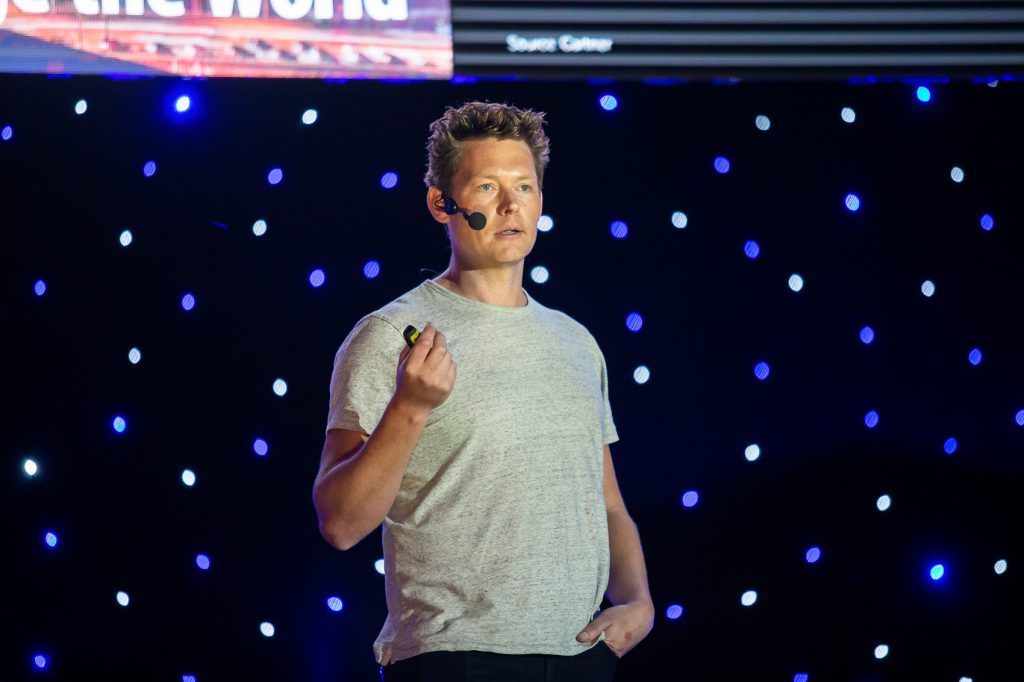 Photo by Spark.me
When the lunch break ended, Natasa from the organisation team brought Brooke Saward to the stage, for a talk on how social media changed the way we travel. Brooke is a founder of the travel blog "
World of Wanderlust
" and she travelled the world on her solo-trips, sharing her rich experience on the stage with us! She will be giving an interview to My Guide Montenegro soon, so stay tuned!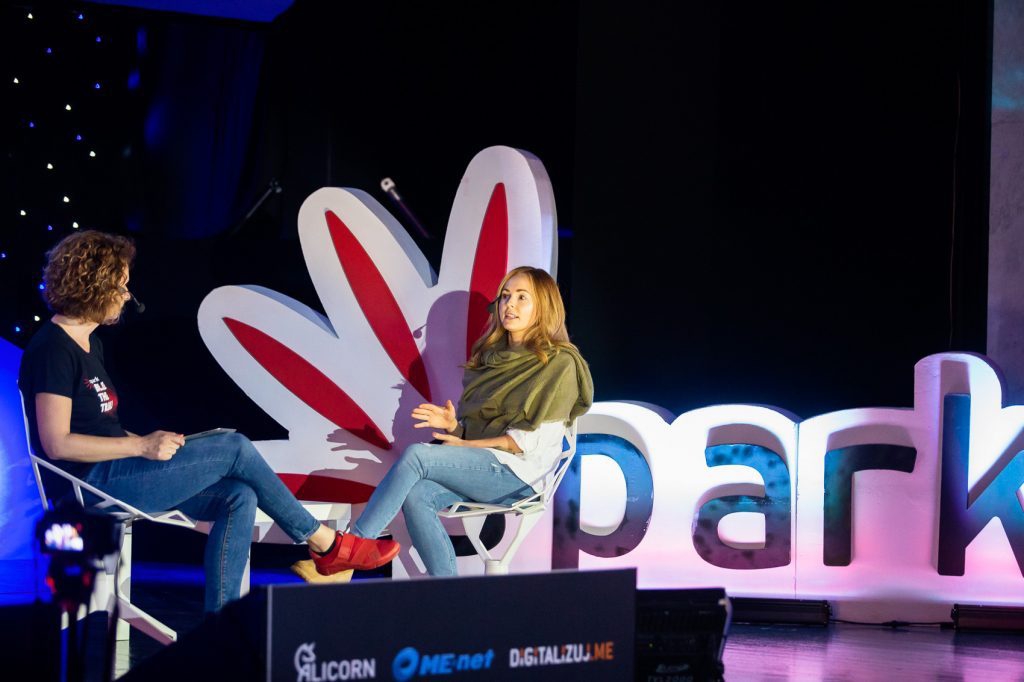 Photo by Spark.me
Lars Silberbauer
was next on! He was a Senior Global Director of Social Media and Video at LEGO, where he built the well-known, innovative toy company's social media and video strategy from scratches.  His advice to us was "Think like a kid. Bring your imagination to life!"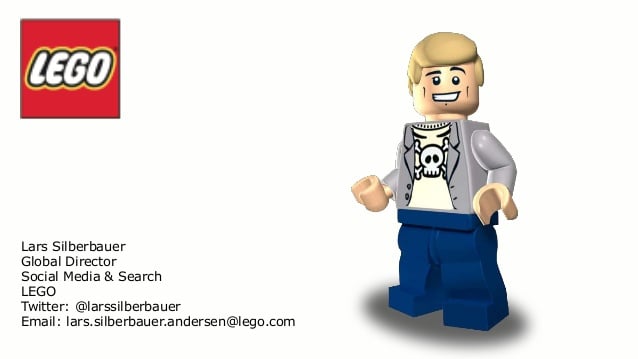 Photo by LEGO/An old business card :) 
Closing keynote speaker brought some divergence into the audience, by criticising the digital era and all that it brought with it. Andrew Keen is the author of multiple books and his latest one is "How to Fix the Future" where he speaks about how the human race is not digital technology beneficiary but its greatest victim! The majority of the audience disagreed, as who visits Spark.me loves tech, but we all agreed in one – we need to fix the future by regulating the technology and keeping it accountable in order to save us!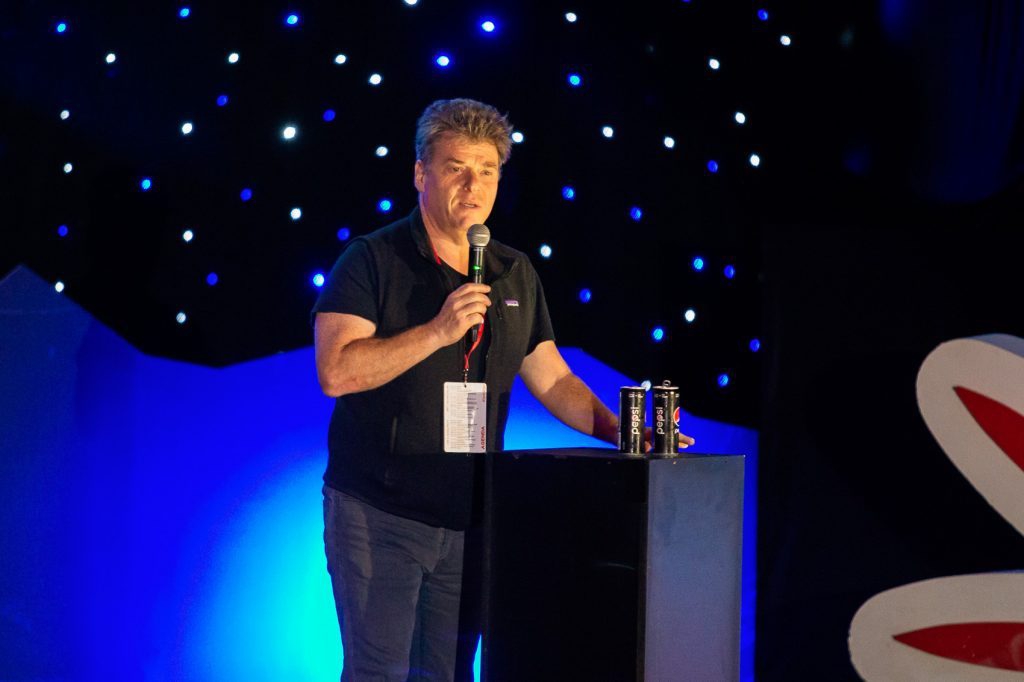 Photo by Spark.me

Startup Competition
Besides amazing speakers, Spark.me organised their annual startup competition where 10 startup ideas competed. On day 1 of the conference, 3 out of 10 startups were selected for the finals and the winner was announced on day 2 – it was Boostowski! They will get the opportunity to present their idea at the TechCrunch in San Francisco.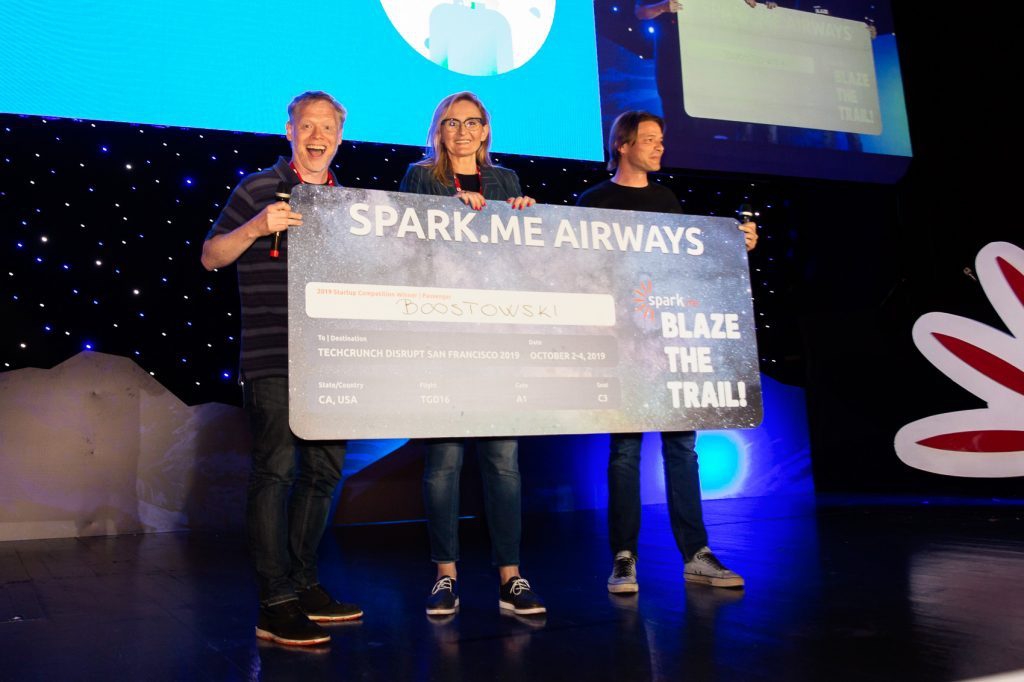 Photo by Spark.me
The overall impression was great and we again look forward to the next year, when we expect even more – as Spark.me always promises this! The vibe of this event is memorable and we are sure that who visited once will want to come back for sure! Especially with all the interesting content inside the venue, prize games and selfie spots for making great photos and memories!