Bridges Over Moraca River in Podgorica
Lifestyle Mini Break
Symbols of the Capital of Montenegro
Podgorica is one of the warmest Capitals around Europe, together with Athens, and thus it is planned to have many green areas, parks and riverside beaches where you can get some refreshment during the warm summer months. 

Amongst the Podgorica symbols, its bridges are jewels to the city centre, especially the ones over the Moraca river which crosses the city in two parts – Centar and Preko Morace. If you happen to be in Podgorica for a visit, some of these bridges listed below should be on your check-up list! You can make amazing photos here and always enjoy your memories from the Montenegrin Capital.
 
The Stone Bridge on Sastavci - the Perfect Instagram Spot
People from Podgorica would recommend this place as a romantic spot for love birds, as well known as
Skaline
(translated as steps) amongst the younger population. This old stone bridge is not only popular for lovers, but also for everyone who seeks refreshment in a pleasant natural ambience in the town centre. 
The exact location is between the
Saint Peter of Cetinje Boulevard
and the Old Town of Podgorica and this bridge is just at the confluence of the small river Ribnica entering Moraca. Sunsets from this place are something that can`t be forgotten or missed.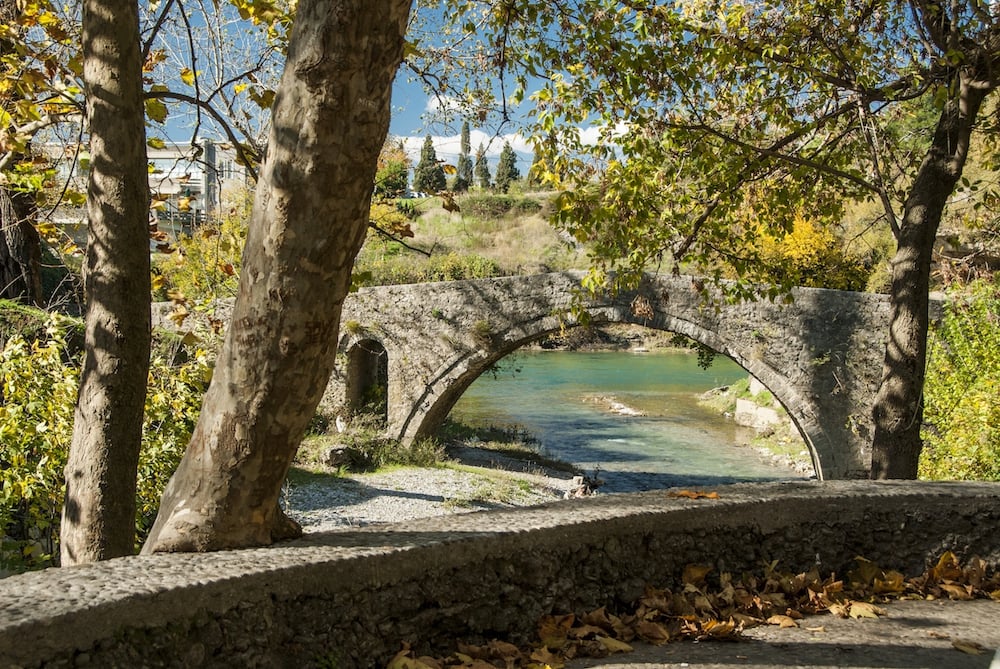 The Vizier`s Bridge 
According to history indicators, this bridge was probably built by Grand Vizier
Mehmed - Pasha Sokolovic
in the16th century. It was the only bridge in Podgorica for many years, used to be an arched stone bridge, with a large harbour and small side arches, which leaked water of swollen Moraca during heavy rains.
The Vizier`s bridge after the Second World War was thoroughly reconstructed (levelled and paved) and its name was also changed to The
Vako Djurovic Bridge
, but everyone in Podgorica still calls it by its old name.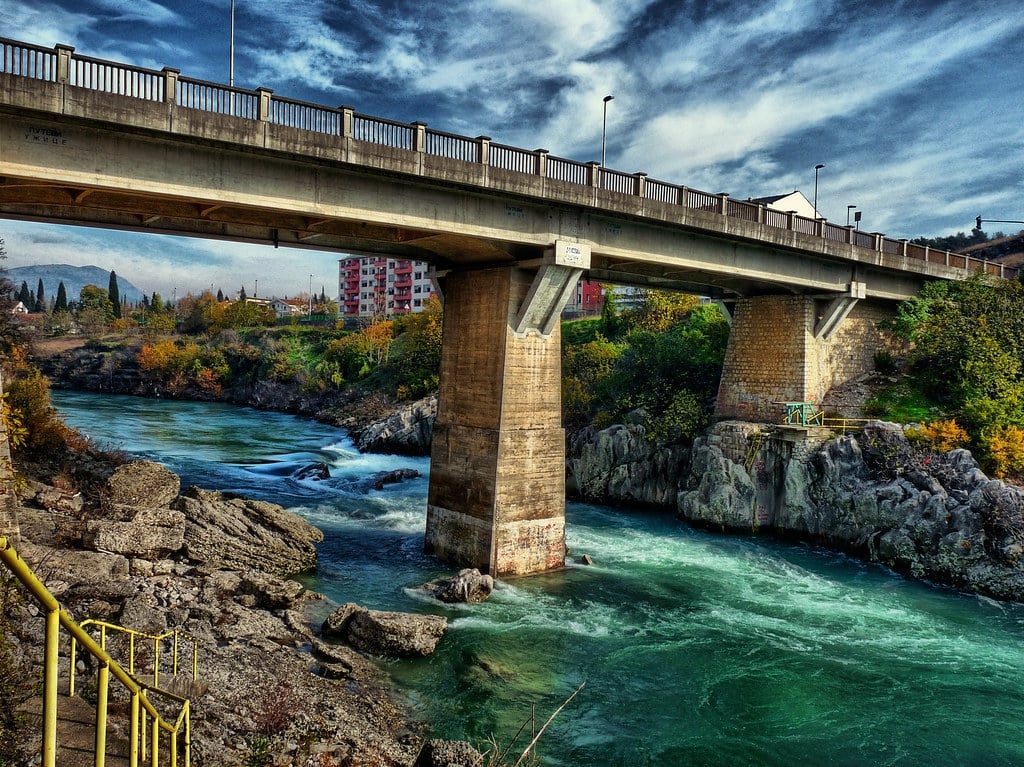 Source Flickr
It's not a very attractive spot to visit, but it's an important connection between the 2 parts of the city, connecting part
Preko Morace
to
Zagoric
. It's a good connection if you're heading to the
Adventure Park Gorica
by car or you are just passing Podgorica in transit towards the north (Kolasin, Biogradska Gora etc.).  
The Blazo Jovanovic Bridge
The Blazo Jovanovic Bridge was built in the fifties of the last century. The bridge was designed by professor Branko Zezelj and named after the national hero Blazo Jovanovic. It was reconstructed for the first time in 1985, and once more in 2009, when decorative lighting that adorns it at night was set. 
This bridge is, together with Millenium Bridge, one of the busiest spots in town, being set as a part of the main boulevard Saint Peter of Cetinje, so if you happen to be driving through Podgorica on your visit, be patient as this place can be crowded.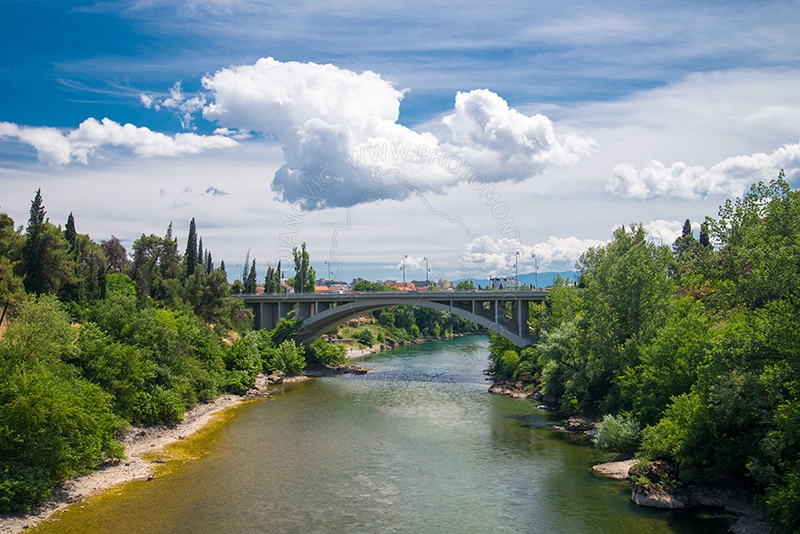 Source PhotoMontenegro.me
The Union Bridge
Located on the Revolution Boulevard, this bridge was built in 2003. Podgorica is a rapidly growing city and thus the infrastructure is constantly developing and this bridge is one of the proofs. Earlier, at this place, only
horses came down to the river water
(the so-called Konjski Ulaz or Horse Entrance), and today this is a beautiful and modern traffic connection called Union Bridge. 
Although it's not such an attraction for travellers, it's very important for the traffic around Podgorica and if you happen to pass it on a bicycle or by foot, we are sure you can make some amazing photos! It's a recommendable direction if you're in transit toward the south coast of Montenegro (
Bar or Ulcinj
) or heading towards
Albania
and border crossing.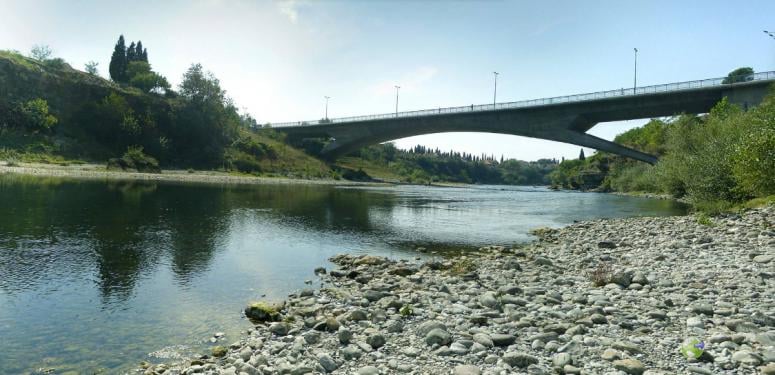 The Millennium Bridge
One of the newest additions to Podgorica traffic infrastructure, this bridge was designed by Mladen Ulicevic, a professor at the Faculty of Civil Engineering in Podgorica, built by the Slovenian company Primorje. It was opened on July 13th 2005 on the anniversary of the Uprising of the people of Montenegro against the Italian occupiers during World War II, which is officially a
Statehood Day of Montenegro
today!
The bridge is 140 m long, a pillar soars 57 m above the roadbed, 12 cables support the roadway platform, while another 24 are attached to the counterweights. It's very important for traffic in the Capital but besides this, it is one of the symbols of this city panorama and a place where you should definitely have at least one photo.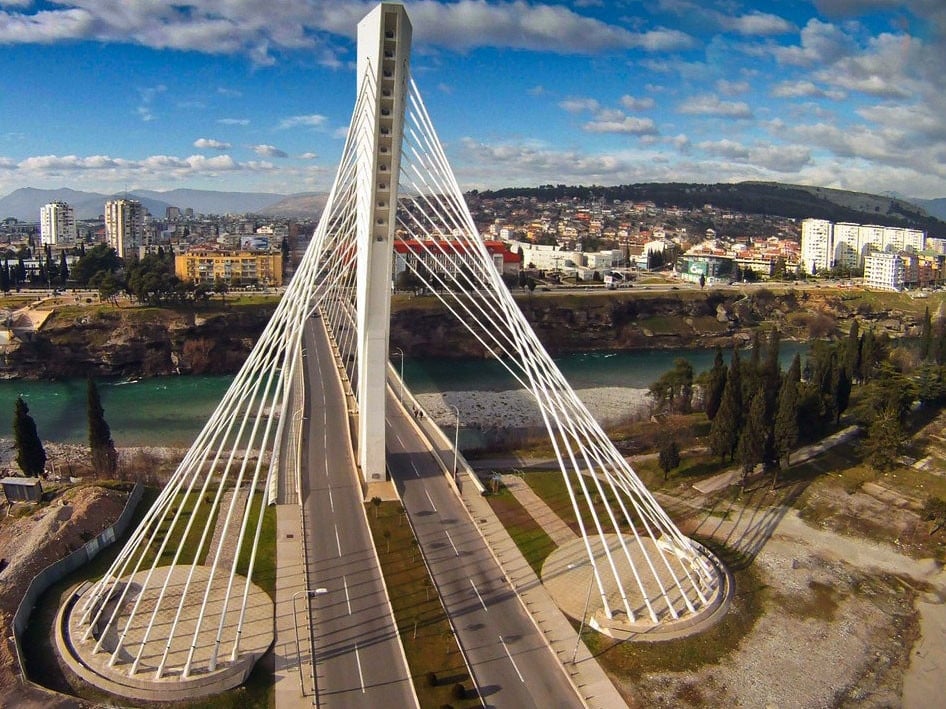 Bridges Gazela and Moscow
Just in between Blazo Jovanovic and Millenium Bridge, there are 2
pedestrian bridges
crossing the Moraca river. With no car traffic over these, both can be a perfect spot for filming panorama shots of Podgorica, with many bridges involved in a single shot! 
These two are always super vivid, full of people rushing to work during the day, or enjoying slow walks in the afternoons and early evenings, but also a bit of romantic time at night, especially
Moscow Bridge
with full infrastructure for pedestrians such as benches, bicycle parking etc.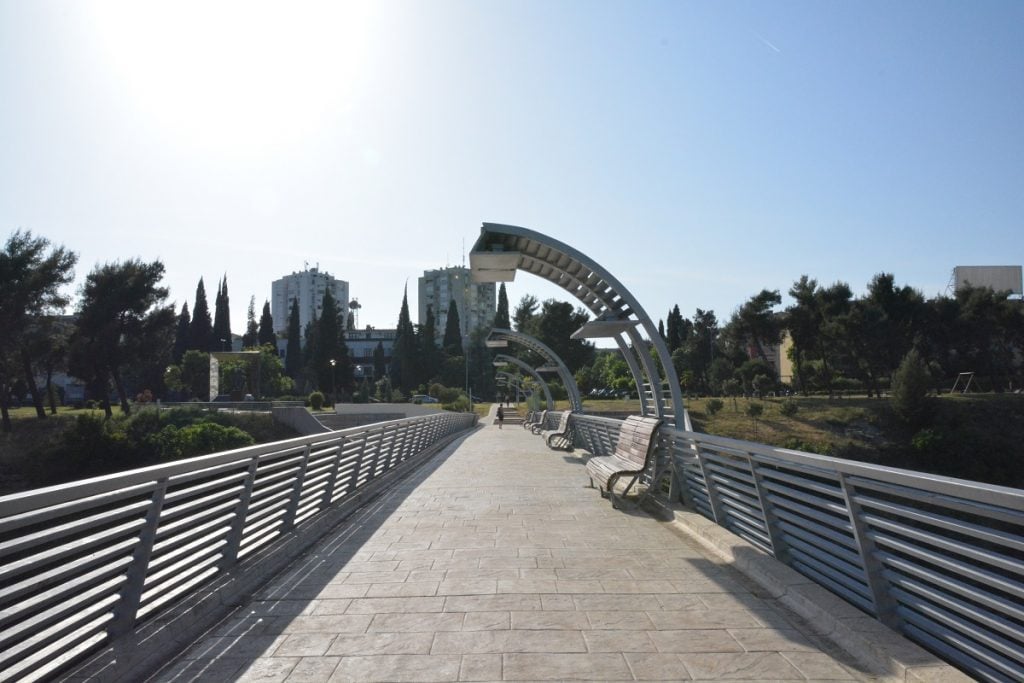 Gazela
is an older, metal-made bridge, that shakes a bit under your steps, so if you are afraid of heights, we recommend you to use Moscow Bridge instead. Gazela is entering one of the city parks directly,
Njegos's Park
, which makes it a great connection to people living Preko Morace to come and relax in this green zone of the city.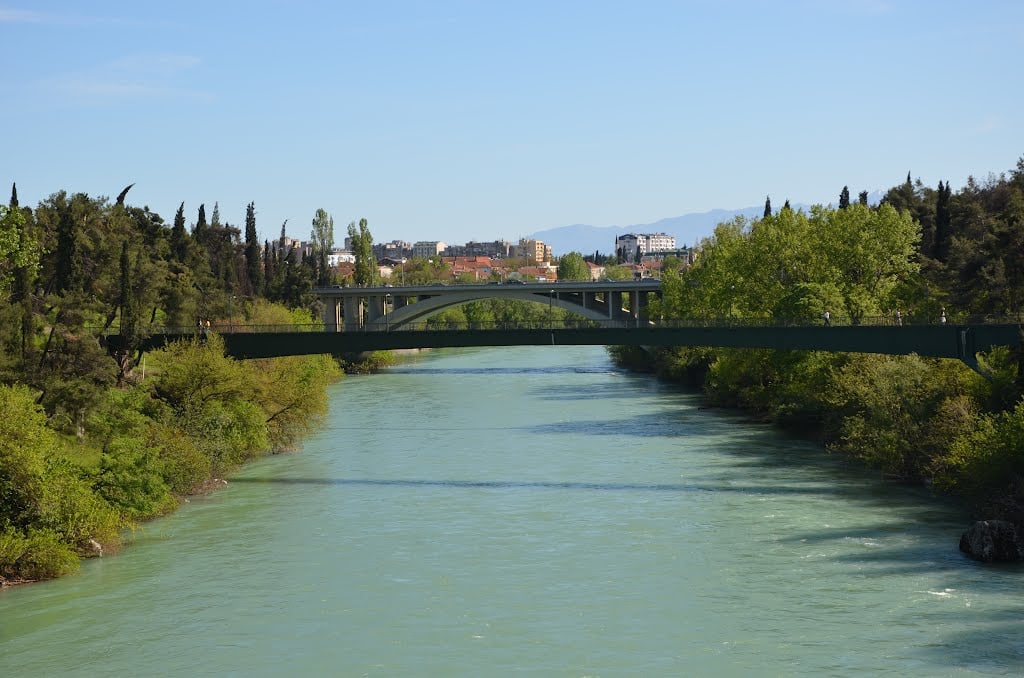 Source Mapio.net
***
If you happen to stay longer in the Montenegrin Capital of Podgorica, you will probably be able to hear many local stories about the bridges that are a real symbol to this city. There is even a
song
dedicated to Moraca River Bridges, which has a real etno sound from Balkans and you can listen to it
here
.