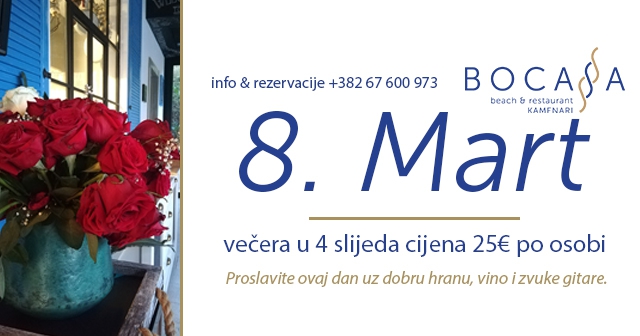 Event Details
Dear Gentlemen, do not forget to pay special attention to your beloved women especially on this day! Dear ladies, do not forget to share this day with your dearest friends.

March 8th in Bocasa, you can enjoy good food & wines with the sounds of guitar and the wonderful voice of our artist Novica, playing folk music for you.

The 4-course dinner menu includes:
Beetroot carpaccio on a mixed green salad with nuts, dried cranberries
Fresh marinated shrimp risotto
Monkfish with grilled endive and potatoes and leek sauce or Lamb chops with coleslaw salad and carrot puree
Date palm cake in caramel sauce with vanilla ice cream
Price 25 € per person
Welcome!