Flamingos Encounter at Ulcinj Salina
Adventure
Ulcinj Salina is located in the southernmost part of Montenegro and covers approximately 14.5 km2 of salty basins. Thanks to long periods of sunshine on the Adriatic this is an ideal place for a saltpan, which its salt production is derived from evaporation. The saline is close to the border with Albania and very close to the city of Ulcinj.
This area was well known as Zogaj mudflats (zog means bird in Albanian), it was a wetland with brackish water, but in the 1830s it was changed and today is an artificial, man-made system. Where the water level, filling and emptying of the basins with sea water, and salinity are all predetermined. The oldest saltpans were built in the period 1926-1934. The Ulcinj Salina was created by sea and represents a cultural lagoon.
The Ulcinj Salina is among the most important bird areas on the Adriatic. These important areas include: Beach Velika plaža, Ada Bojana Island, the Šasko and Skadar Lake and Velipoja in Albania. The Ulcinj Salina is one of the largest and newest saltpans in the Mediterranean.
The vegetation around the Ulcinj Salina is diverse. Currently, 114 plant species have been defined. Besides open fields of halophytes (60 ha), there are more than 8 ha of Phragmites reed beds. Tamarisks and other woody species cover 13 ha of dikes. One of the basins in the Ulcinj Salina is not active and it represents a museum of halophyte and wetland vegetation. Vegetation growing in the sludge of the Ulcinj Salina is mostly present in channels where the water and ground salinity are much lower.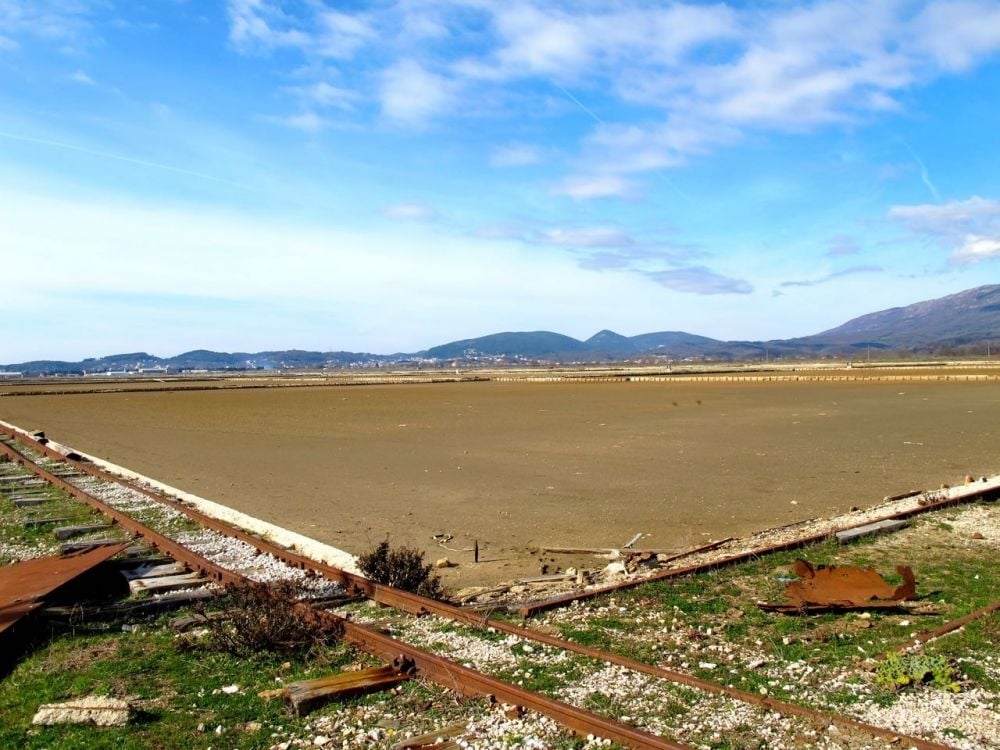 Ulcinj Salina is one of the most extraordinary places for birdwatchers in Europe. We suppose you're asking why? In this area, about 240 bird species have been recorded (even more in some spots), which is 50% of the total bird species recorded in Europe. The Balkans must be one of the top places for birdwatchers! 70 of the registered bird species in this area are of European Union special protection interest and are included in Annex I of the Birds Directive. Amazingly, an area of 15 km2 hosts 3% of the total global population of the Dalmatian Pelican (Pelecanus crispus), 3% of the global population of the Black Tailed Godwit (Limosa limosa) and the same percentage of the Spotted Redshank (Tringa erythropus)! 55 bird species breed in the Ulcinj Salina. Results of the IWC winter bird census, which has been performed since 1999 in the Ulcinj Salina, showed the presence of 20,000 birds every year, regardless of whether the basins are empty or full of water.
The most beautiful part of the year in Ulcinj Salina is spring, when lots of species come to enjoy this area. During the springtime the Ulcinj Salina is a transitory phase with more than 40,000 migrating birds a day. But, when spring is over, the summer heat becomes too hot and a lot of species are looking for cooler places. In autumn, the majority of nesting birds are getting ready for the journey south, whilst tired birds from Siberia and Northern Europe enjoy the Mediterranean winter, which is rainy but with little frost.
Beside being just a birds' paradise; Saline in Ulcinj has a great potential developing it's eco and medical tourism. With thanks to the anaerobic conditions of the mud in the basins that have created large stocks of medicinal mud. Preliminary assessments have shown the mud's high quality for healing of arthritis and skin diseases.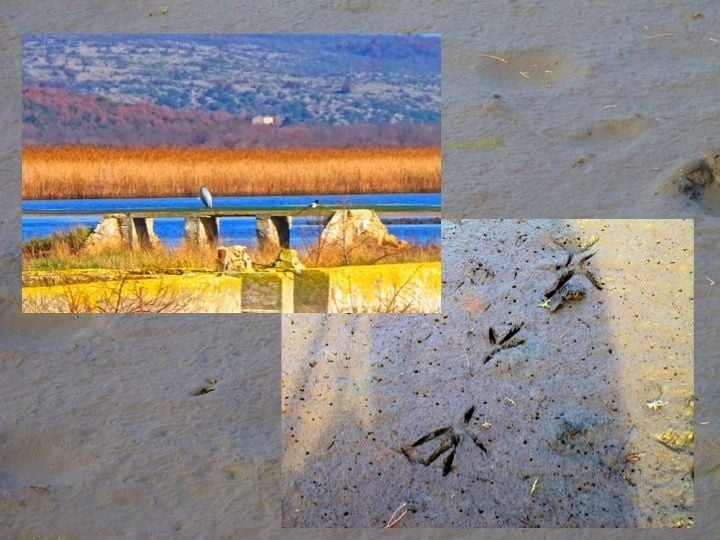 Center for Protection and Research of Birds (CZIP – abbreviation in Montenegrin) was founded in December 2000 by professional Ornithologists of the Republic Institute for Nature Protection, Natural History Museum, PE National Parks and by students of the Department of Biology (Faculty of Natural Sciences and Mathematics) from Podgorica. CZIP is a member of IUCN and BirdLife International. Centre for Protection and Research of Birds was awarded the Green Star in 2013, for public engagement and completed projects. The Environmental Protection Agency, Aarhus Centers of Montenegro and the Organization are delivering the Green Star Award for Security and Co-operation - OSCE. CZIP mission is to protect birds and other animal and plant species, their habitats, biodiversity monitoring of Montenegro, citizen education, popularization of scientific research, as well as cooperation with other organizations at home and abroad, dealing with the protection of nature.
It was CZIP who was to host exploring the saline with one goal – meeting the flamingos! We were well equipped with rubber boots, cameras, binoculars and a big wish to meet these pink beauties. Our host Aleksandar was very kind and patient. He explained everything to everybody from the group. A huge thanks to him! The group was very diverse – volunteers, media, curious people willing to learn more and ourselves from My Guide! The journey begun on the saline entrance, where our guide told us a bit about the medical mud, basins and how are those filled with water and so on. For the last 3 years, the saline is not producing any salt at all and all the employees are suspended because the company is in bankruptcy. Unfortunately, there are some rumors that the country of Montenegro wants to transform this area into a building ground and sell it to interested investors! We hope that CZIP and other organizations working with them will have enough influence to make this stop and preserve the saline and the habitat for all those flora and fauna species.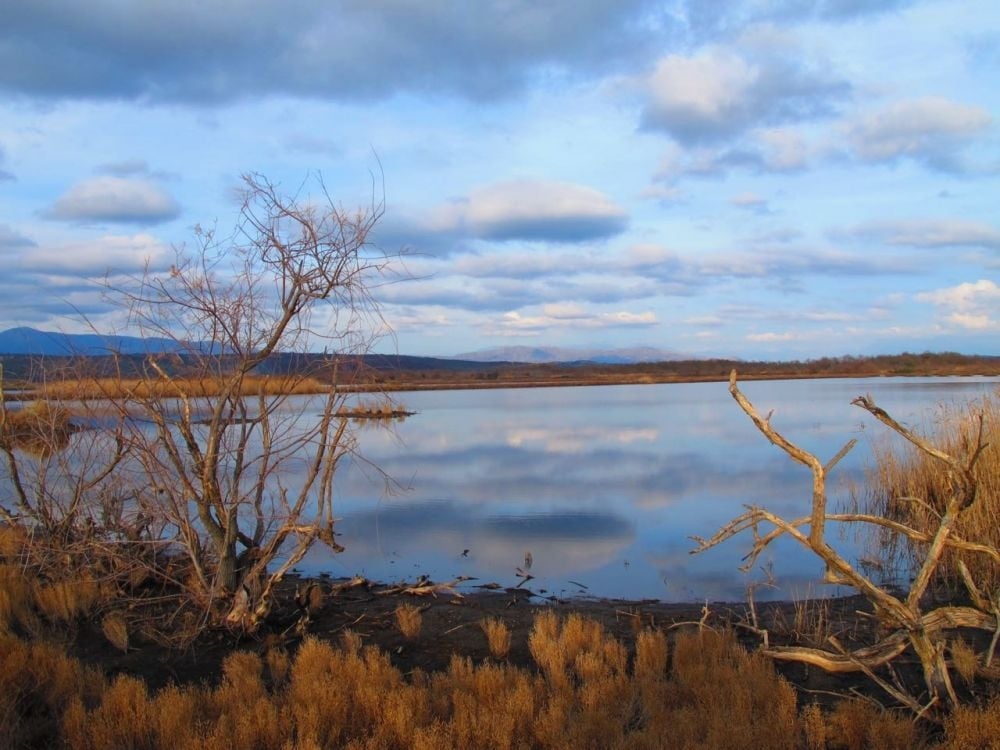 Our journey continued through the saline. Each moment you could see a different bird flying over head, or just resting a safe distance from the group of people, making noise in their peaceful area. We were all trying to silence each other but the excitement to be able to see all of this was too great! Our guide explained that some species of birds are living in the saline almost all year round, but most of them are migratory birds and they are coming for breeding, resting, nesting or to find some food. Saline volunteers are helping some with nests, by producing artificial nests that can't be damaged by the waters waves during the winter.
The walk through the saline was pretty long; we were hiking for about 20 km (according to our phone counter) and taking photos. We saw a lot of white heron birds, different flocks flying synchronized, some amazing plants specific for this area, a lot of cows walking around and grazing, but still no flamingos. Some of the group members were beginning to get bored, tired and unhappy and turned around and went back. But, most of us were very persistent and we kept walking until some of us shouted, "here they are"! The excitement was back in red! All of us gained a new strength and motivation to walk further in these uncomfortable rubber boots and our happiness was over flowing! The amusement was even greater when we got closer and took some amazing shots of these magnificent pink birds! Did you know that they weren't born pink? They turn pink during over time because they eat a special sort of pink shrimps, which gives them their colored feathers. The scene was spectacular – over 500 flamingos were dancing in the saline water, posing for us. But then, suddenly, a cow, which was grazing behind them, started making noise and moving. As they became afraid the whole flock raised in the air and flew away on the opposite part of the saline. Still, we were happy! We took photos of those interesting creatures, we had a story to tell and all that was left to is to go back, pick up our cars and go home with our amazing memories. 
References: CZIP