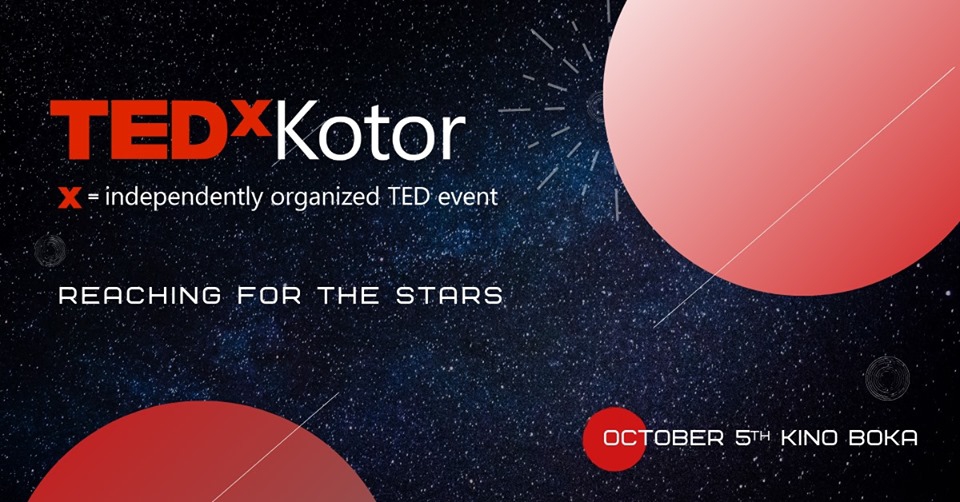 Event Details
TEDxKotor is an independently organized event licenced by the international organization TED. TEDxKotor is scheduled for October 5th and it will take place in Kino Boka in Kotor. This the first TEDx event organized in Kotor and a second in a row TEDx event on the Montenegrin coast.
The theme of this year's event is REACHING FOR THE STARS. Our mission is to encourage people to seek positive changes and to create them themselves, to connect like-minded individuals and hopefully set foundations for the great future.
TEDxKotor is a one-day conference that will welcome 12 speakers on its stage. With two coffee breaks and launch covered by TEDxKotor for all participants, we hope we'll encourage people to connect, relax, and enjoy a full day in Kino Boka.

Marina Orsag will be the host at TEDx Kotor! Marina comes from Zagreb, Croatia and she's one of the most known stand-up comedians in the region. Her satirical humour criticizes and inspires with the aim to break away from prejudice and spread positivity. Continuing her mission to spread positivity through laughs Marina bootstrapped Studio Smijeha, the first comedy club in the region. This is her second TEDx mission, but first time as a host. In her TEDxZagreb talk in 2017, she spoke about 'Smjehotres' and why it's so important to make as many people as possible be part of your own mission. Join us on October 5th and enjoy a day full of amazing stories mixed with crazy laughing.

Speakers:
Rainer Hoess (Das Erbe des Kommandanten) is first announced speaker at TEDxKotor. Rainer Höss, the grandson of Auschwitz commandant Rudolf Höss, former commandant of the Auschwitz Concentration Camp. He has turned against his family and the Nazi ideology that they still embrace to educate audiences on the dangers of hatred. He is also a member of the Footsteps team, a group that uses history and education to ensure that the lessons of the past are not forgotten and to help build a more tolerant world today. Rainer and the rest of the Footsteps team are dedicated to challenging all forms of hatred and intolerance – particularly when others are targeted, scapegoated, and harmed because of their faith, ethnicity, race, country of origin, language, political views, gender, sexuality, or age.
Vladimir Vulic is a digital transformation strategist, co-founder of Digitalizuj.Me, and Program Director of Spark.me conference. He's been recognised as 'Project Manager of the Year' by the Association of Montenegrin Managers. Vladimir has 12 years of experience teaching Strategic Management at the University of Montenegro. He was a keynote speaker in 20 countries across 4 continents, from Peru to Taiwan. Two-time TEDx speaker – TEDxZagreb and TEDxZemun, ready to deliver lucky number three – TEDxKotor on 5th of October.
José Woldring started her PR agency, The Media Nanny when she was 22 while studying at the university. Ten years later and The Media Nanny has become one of the biggest PR agencies in the world of entertainment, especially in EDM. José has been working closely with the biggest names in the EDM world such as Martin Garrix and David Guetta, taking care of their international magazine covers, online covers, radio, and TV appearances. Her vast knowledge of the industry and outstanding work with The Media Nanny put José on Billboard's annual list of Dance music power players of 2018. We are excited to hear José's first TEDx speech at TEDxKotor and learn what it takes to succeed as a woman in a male-dominated industry.