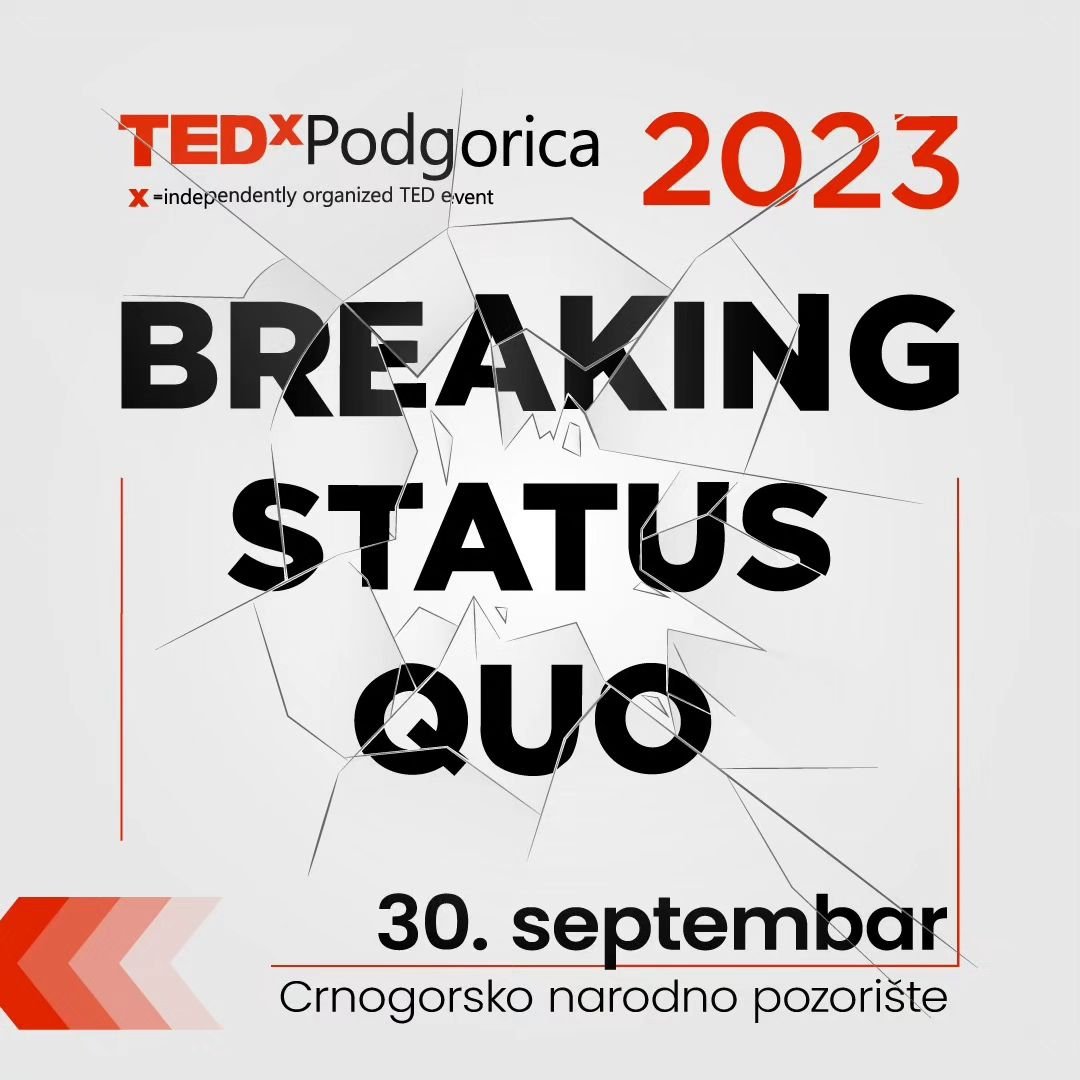 Event Details
With great excitement and pride, TEDxPodgorica 2023 has been announced to be held on September 30 at the prestigious Montenegrin National Theater. This year's event is special because it is part of the Days of Science and Innovation program, and the theme is Breaking the Status Quo - with the desire to encourage questioning of established patterns to create a better future.

This event is an opportunity to hear inspiring stories, push boundaries and think outside the box. TEDxPodgorica 2023 will bring together people from different walks of life to create change and shape the future together.

This year's speakers are accomplished personalities from various fields, and their stories will motivate and inspire you. We present to you the speakers announced so far:

1. Marija Vuković
Marija Vuković is the best Montenegrin athlete, world gold winner in the junior high jump category, silver medalist from the 2022 European Championships and national record holder both outdoors and indoors. Marija has set new standards in Montenegrin athletics, and she will share her story of success and passion for sports at this year's TEDx Podgorica.
2. Kristina Mihailović
Kristina Mihailović is a journalist and lawyer, founder of the 'Parents' Association in Montenegro. Her work is aimed at improving the rights of parents and children. Christina will talk about the balance between professional challenges and family obligations, providing inspiration to many.
3. Brankica Raković
Brankica Raković is the owner of a digital marketing agency, editor of the 'Lola Magazin' portal and author of the 'Oslobođena' podcast. With almost two decades of experience in marketing, Brankica will share her rich knowledge and experience with the TEDx Podgorica audience.
4. Ruza Ilić
Ruža Ilić is a passionate soccer fan who set new standards and supported the development of women's soccer. Through her work in the Football Association of Serbia, she enabled hundreds of girls to play football, breaking stereotypes and inspiring other women.