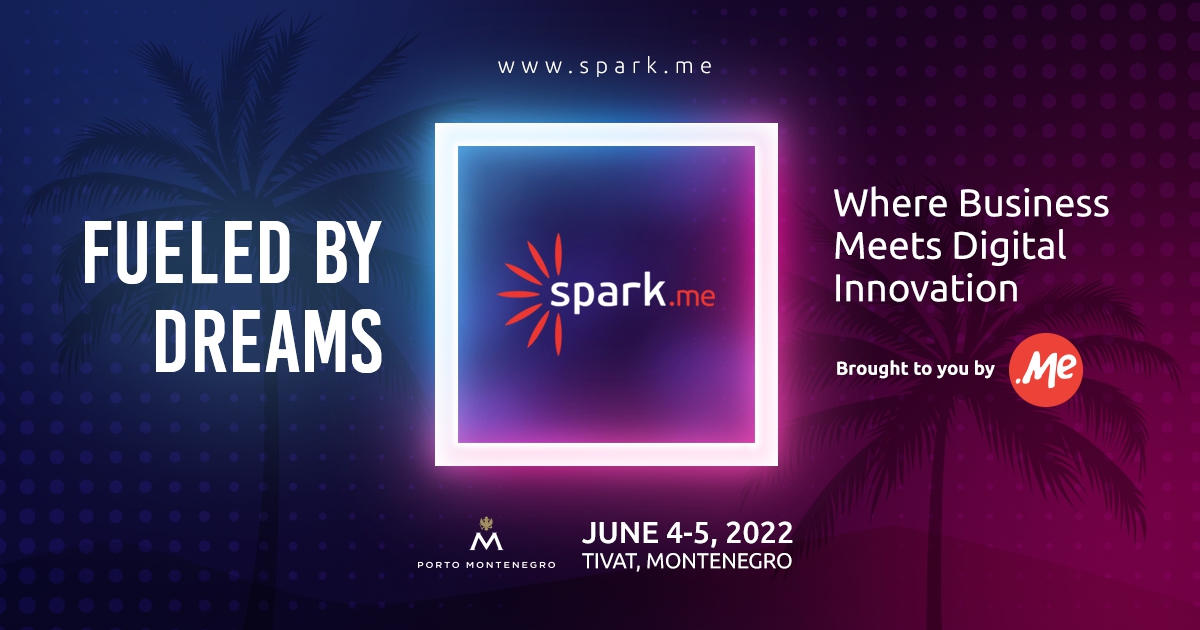 Spark.Me 2022
Sat Jun 4th 2022 to Sun Jun 5th 2022 at 09:00
---
Porto Montenegro

,

Tivat

,

Tivat

,

Tivat
https://www.myguidemontenegro.com/events/spark-me-2022
---
Spark.me
Make Enquiry
Event Details
Spark.me, one of the largest business conferences in Southeast Europe, this year will be held on 4-5 June in the Auditorium Porto Montenegro in Tivat, under the organization of the company doMEn d.o.o, a private company which is in charge of Montenegro's national internet domain - .ME.

Since 2013, Spark.me has hosted over 3,000 participants from 30 countries around the world and 80 internationally recognized speakers. It is an interactive conference designed to encourage the creativity of participants, to enable them to improve their knowledge thanks to internationally recognized speakers, to help them improve their business, as well as to design and start new business ventures. This is the eighth edition of Spark.me, and the second time that the conference will be held in Porto Montenegro, the heart of nautical tourism in Montenegro and one of the most exclusive marinas on the Adriatic coast. Previously a historic naval base, Porto Montenegro's reincarnated as the Mediterranean's leading luxury yacht homeport and marina village. The village attracts a vibrant year-round international crowd, with the scene of an event that extends to conferences, exhibitions, and cultural events.

THIS YEAR'S SPARK.me SPEAKERS:
Christopher S. Penn, a world authority in the field of digital marketing whose special expertise is in the fields of analytics, data science, and machine learning. The audiences gathered in Tivat will have a unique opportunity to hear the five-time award-winning data and artificial intelligence expert, according to IBM, while Brand24 ranked him in the top 100 digital marketing experts. The prestigious software company Onalytica counts him among the 100 most influential people in the field of artificial intelligence in marketing. Penn is currently co-founder and director of data analytics at Trust Insights, and some of his products have helped brands such as Twitter, Citrix Systems, GoDaddy, AAA, and McDonald's.
Fredrik Härén, a creativity researcher who has so far given over 2,000 lectures in more than 70 countries on six continents.Haren has spent the past 25 years traveling the world exploring human creativity. He has worked with world-renowned brands such as VISA, HP, KPMG, BMW and IKEA. Haren was awarded as the speaker of the year in Sweden, and he was included in the 10 best Swedish speakers of all time. He is the author of 10 books, including The Idea Book, which was selected among the 100 best books in the field of business of all time.
Pete Blackshaw, an internationally recognized digital marketing and branding expert, innovator, author and leader in digital and social media at Nestlé, Nielsen and Procter & amp; Gamble. After successful work in these corporations, he is currently the CEO of the startup catalyst and investment fund Cintrifuse.
Bleksho was the global vice president of digital and social media at Nestle, the world's largest food company, where he led innovative digital projects for hundreds of Nestle brands. He was previously the Marketing Director of NM Incite, a partnership formed by Nielsen and McKinsey. In his rich career, he also founded a team in charge of digital marketing in the global giant Procter & amp; Gamble. After leaving the company, he launched the site PlanetFeedback.com, one of the first online portals where consumers could express their opinions about products.
Michael G Jacobides, one of the 50 greatest business and management thinkers in the world in the regular biennial Thinkers50 selection.
Jacobides is a Professor of Entrepreneurship and Innovation and Professor of Strategy at the prestigious London Business School and is one of the leading international experts who helps startups and companies how to overcome the challenges of change in the digital environment. He is working on developing strategies for world-renowned organizations such as Haier, Huawei, Spotify, MasMovil, Vodafone, Nokia, SAP, Enel, Santander, Helvetia, Zurich, CS, Airbus, DeBeers, Burberry, Merck Serono, and the NHS. He has worked with the British Parliament on the future of financial services, as well as with European Council on Innovation in Europe.
Tickets for the Spark.me 2022 conference can be purchased on the official website -
www.spark.me
. The full price of the ticket is €300, but those interested can currently buy their ticket at a special price of €100 (limited promotional tickets). Additionally, as a motivation for all young people eager for knowledge, student tickets are also available at a price of only €50, which are intended for high school pupils and students under 27 years of age. The ticket price includes access to all lectures (June 4-5), startup competition (June 4-5), lunch for both days of the conference, refreshments at all coffee breaks during both days of the conference, as well as a cocktail reception (June 4).
Spark.me
has come a long way from a meeting point for a couple of dozen of tech enthusiasts and geeks to a must-visit tech and marketing event for the Balkan region and beyond. We are looking forward to seeing you there!