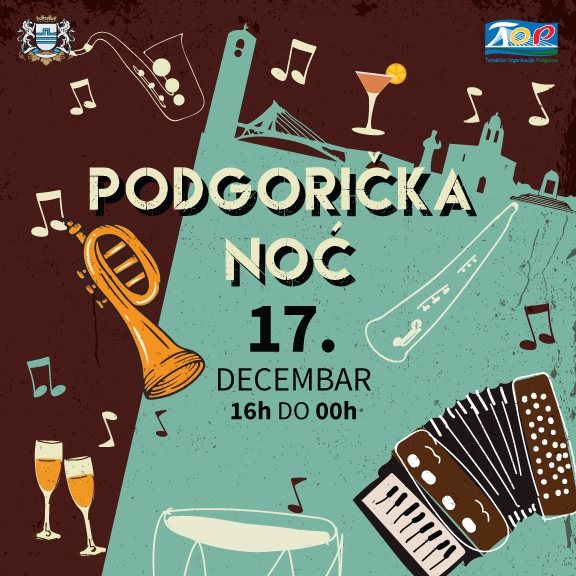 Event Details
On the occasion of the Capital City Day December 19th, the Tourist Organization of Podgorica is organizing the traditional event 'Podgorica Night' on Friday, December 17th.

On Friday, starting at 16 pm, visitors can expect special discounts in catering facilities throughout Podgorica, while the authentic atmosphere will be completed by music from the waves of the City Radio, with songs from old and new Podgorica. In the evening, a music program with a tasting of Podgorica specialties will be organized in the 'Hotel Podgorica' and restaurants '100 Manira' and 'Forest'.

In addition to the aforementioned, the partners of the Tourist Organization in the realization of the event 'Podgorica Night' are: 'Welder Pub'; 'Alpe bar'; 'Courtyard'; 'Inn 1928'; 'Strudel'; 'Hugo'; 'Loft'; 'Space'; 'Space 44'; 'Good old WWW'; 'Gallery'; 'F caffe'; 'Al caffe'; 'TO caffe'; 'Spaghetti'.

In addition, all visitors can expect interesting contents in the area of ​​Block V, where, from 6 pm to 9 pm, a Mini Bazaar will be organized in cooperation with caterers and businessmen from that area.

For the upcoming weekend, a big surprise is coming for the youngest fellow citizens and visitors, when the favorite characters from fairy tales will parade through the streets of Podgorica on electric scooters.

On Saturday, December 18th, the gathering will be organized on the Independence Square from 12:00 to 14:00.
On Sunday December 19th, the gathering will be organized on Sveti Petar Cetinjski Square from 12:00 to 13:00, respectively on Independence Square from 13:00 to 14:00.